FORMER FEDERAL MINISTER OF GERMANY FOR FINANCE
Image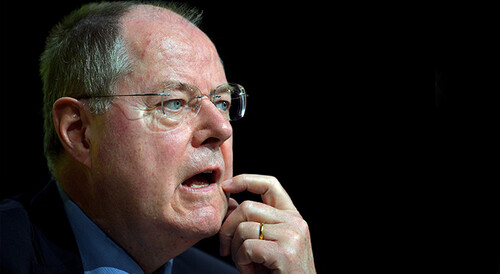 Image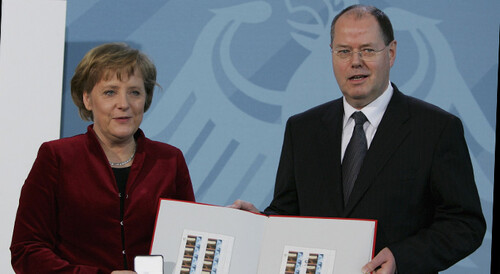 Image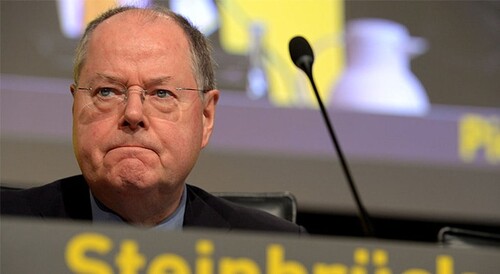 Peer Steinbrück is a German politician and the former German Federal Minister of Finance. After graduation, Steinbrück worked for several German ministries as well as working in the office of former German Chancellor, Helmut Schmidt. Steinbrück held positions in the Permanent Representative Office of the Federal Republic of Germany, in East Berlin from 1981 to 1985. Steinbrück was the chief of staff to the Minister President of North Rhine-Westphalia, throughout the 1980's.
In 1993, Steinbrück became the State Minister of Economic Affairs and Infrastructure, in the state of Schleswig-Holstein. Steinbrück then returned to North Rhine-Westphalia, where he then became the Minister of Economic Affairs and Infrastructure  in 1998 and then Finance Minister in 2000. From the years 2002 to 2005, Steinbrück served as the eighth Minister President of North Rhine-Westphalia. Steinbrück then headed a coalition government between the SPD and the Green Party of Germany.
In 2003, Steinbrück, alongside Roland Koch, together drew up a plan to reduce tax breaks and subsidies, including those on coal. The subsidies were a particularly sensitive issue in North Rhine-Westphalia, where most of the coal mines were located. Nevertheless, Steinbrück and Koch agreed that all subsidies were to be reduced by 12 percent over several years.
After the 2005 federal election, SPD and CDU formed a Grand Coalition, under the leadership of new Chancellor Angela Merkel. Steinbrück became the Finance Minister of Germany in November of 2005. Steinbrück was charged with reducing Germany's budget deficit, curbing public debt and introducing charges in the taxation system.
Following Steinbrück's initiative, Germany introduced a flat rate withholding tax of 25 percent on private income from capital and capital gains, with the aim of preventing tax evasion. Steinbrück oversaw and orchestrated the regulatory and fiscal efforts to counter the largest financial and economic crisis in post-war history.
From 2005, Steinbrück served as deputy chairman of the SPD. Ahead of the upcoming election, German foreign minister Frank-Walter Steinmeier included Steinbrück in his shadow cabinet of 10 women and eight men for the Social Democrats' campaign to unseat incumbent Angela Merkel as chancellor. In a joint article in The Financial Times in December of 2010, Steinbrück and Steinmeier proposed to solve the European debt crisis. Steinmeier then later proposed that Steinbrück lead the European Central Bank.
A notable and incredibly well respected that has held the prestigious role of German Federal Minister Of Finance, Peer is a prominent engaging and insightful keynote speaker that has the ability to deliver engaging and informative performances that are certain to benefit any corporate engagement.
Contact the Champions Speakers agency to book Peer Steinbrück for your event today. Simply call a booking agent on 0207 1010 553 or email us at agent@championsukplc.com for a free quote.
When he's at corporate events, Peer is known to cover the following topics:
International Finance
German Politics
European Union & Brexit
The Social Democrats