Innovation is a huge buzz word in today's rapidly changing world. The volatile business landscape is forcing organisations and executives to be more innovative and creative than ever before, with advancements such as artificial intelligence causing abundant change. The question here lies – what is innovation and how can it be achieved?
What is Innovation?
Innovation is defined as the practice of developing new products, services and ideas that are then systematically marketed for the adoption of customers. In a business context, innovation can mean scaling new products, developing new services and conceiving new process that when successful deliver new net growth for a business. Innovation is highly important for businesses, but it can be challenging to get right.
Source: McKinsey & Co
Why is Innovation Crucial for Business?
In a world where 43% of companies have a Chief Innovation Officer and 45% of businesses are 'innovation active', it is vitally important to encourage innovation in business. Innovation is a crucial factor that helps organisations to tackle change, and with the rapid rate of change we see in the world it is important that businesses are armed with the correct tools to challenge change.
Source: Harvard Business School, Forbes & Gov.UK
What is an Example of Innovation in Business?
Examples of innovation in business could be:
Product or services innovation – a focus on creating new products or improving services, that ultimately improve the experience of the customer.
Business model innovation – changes and improvements to a business model and operations.
Source: Harvard Business School
How Can I Learn More About Innovation?
A fantastic way to learn more about innovation is by hiring an innovation speaker. We are fortunate to work with the World's biggest innovators, who have worked tirelessly to improve the operations, products and services of the World's largest businesses. From the Head of Innovation and Creativity for The Walt Disney Company to the former Chief Design Officer of Apple, stay ahead of the curve with the knowledge of one of our esteemed innovation speakers.
Following a survey from 237 innovation and creativity events across 20 countries, Champions Speakers have used the feedback and scores from our happy clients to select the official top 18 innovation speakers to hire:
The Official Top Innovation Speakers To Hire:
Duncan Wardle - 9.9/10
Former global head of innovation & creativity for the Walt Disney Company - Duncan Wardle is a leading authority on creativity and innovation. He has spent over two decades refining his techniques in ideation. He is an expert on cultivating and instilling innovation into company culture. He has also delivered masterful TED talks on the subject of Innovation receiving hundreds of thousands of views for his work.
Official Feedback for Duncan Wardle:
"In one word I would describe Duncan's creativity training as transformative. One day with Duncan created more than a year of conversation and fresh approaches to brainstorming throughout our agency." - Pacific Gas & Electric Company
Lindsay Herbert - 9.8/10
Lindsay Herbert is the Author of Digital Transformation, she is extremely well versed in digital transformation, having lived for several years on the edge of the very latest technology working in extremely large-scale enterprises. Lindsay wrote the literal book digital transformation -"Digital Transformation: Build Your Organization's Future for the Innovation Age" which was incredibly well received and has cemented her status as a truly innovative thinker. As a result, she has become highly sought after as a speaker, being regularly requested by companies across the globe.
Official Feedback for Lindsay Herbert:
"Lindsay's talk was fantastic and so well received. I think it was the most engaging session out of the entire three-day meeting for our guests. Thank you again for your help in organising." - Jack Morton
Marc Koska - 9.4/10
Inventor of the K1 auto-disable syringe, Marc Koska is a pioneer in the field of medicine. Despite not having a medical background, upon discovering the dangers of reusing needles and the rise in blood-borne disease Marc developed the K1 syringe which revolutionised medicine across the globe saving billions of lives. Now booked as a speaker, Marc delivers talks on instilling an innovative mindset and a culture of continuous improvement.
Official Feedback for Marc Koska:
"A brief note to say thank you for your speech at our conference. We have had great feedback on how engaging and fascinating it was. Hope all goes well with your new venture - the World needs people like you and it was great to meet you." - BSI Group
Steve Wozniak - 9.6/10
Steve Wozniak is a real titan of industry, he is the co-creator of Apple Inc. and designed the ground-breaking Apple II computer. His era-defining work marked a real turning point for personal computing. He is a staunch believer in entrepreneurism and the human ability to innovate. Booked as a speaker, not only does Steve Wozniak deliver fascinating stories from the early days at Apple, but also deep insight as to what it takes to be truly innovative in technology and in business.
Neal Stephenson - 9.5/10
Best known for coining and popularising the term 'Metaverse', Neal Stephenson is a speculative fiction author. After writing his first book in 1984, Neal soon earned the credibility his work deserved when his 1992 book 'Snow Crash' – where he popularised the word 'metaverse' – won over the minds of readers and critics alike. He went on to become a No. 1 New York Times best-seller, win 2 Hugo awards and also claim a British Science Fiction Association Award. Neal is a real visionary and a talented writer and thinker, having delivered talks to Google and some of the most innovative organisations in the world.
Robert Brunner - 9.2/10
Technology expert and former Director of Industrial Design at Apple, Robert Brunner is an expert on design and innovation. He designed the infamous Beats by Dre headphones which generated billions in revenue for the company.  When booked as a speaker, Robert Brunner delivers raw open advice, cutting through the noise with a relentless drive to inspire real innovation
Martin Eberhard - 9.3/10
Martin Eberhard is one of the key founders of Tesla Motors. He served as CEO for several years and is the current Director of Electric Vehicles Development at Volkswagen Group. He is widely known within the industry as an innovative engineer and has recently been named in Fortune Magazine's Top 24 Innovators. Such an original thinker is a real asset to any organisation. Booked as a speaker, he brings a clear methodological approach to innovation, particularly in high-tech fields of artificial intelligence, product design and engineering.
Meri Williams - 9.6/10
Chief Technical Officer at one of the leading digital businesses in the UK, Meri Williams is responsible for driving innovation at Monzo Bank, the online banking app that won "Best British Banking App in 2019". She previously held senior technical roles at Proctor and Gamble and worked alongside the Government Digital Service as Head of Delivery. She has a long history of spearheading technology innovation in senior roles in highly technical industries. When delivering a keynote address, Meri speaks with clarity delivering unrivalled expertise to audiences.
Official Feedback for Meri Williams:
"I wanted to reach out and say thank you once again for joining our event and for your excellent and on-topic session. It was really well received, and the audience and panellists found it relatable and inspiring. Feedback has stated how natural, humble and engaging you were" - Caroline, DEI Culture and Projects Senior Manager, Flutter International
Mike Butcher - 9.4/10
Mike Butcher MBE is a highly regarded, award-winning technology journalist. He is currently the 'Editor At Large' at TechCrunch having previously written for The Financial Times and The Guardian. Mike regularly comments on technology for the likes of the BBC, Sky News, CNN and CNBC. GQ listed him as one of the 100 most connected men in the UK – he has vast experience and an elite contact book meaning he is perennially at the cutting edge of technology and innovation. When booked as a speaker, he is charismatic, entertaining and bursting with technological knowledge.
Steve Sasson - 9.8/10
The inventor of the digital camera, Steven Sasson is the walking embodiment of innovation, the American electrical engineer produced the first handheld digital camera in 1975, at a time when such technology was thought impossible. He holds the patent on the memory and storage arrangement that modern digital cameras use to this day. In 2009 Steven was awarded the National Medal of Technology and Innovation by President Barack Obama, the highest award available to scientists, engineers and inventors. In 2018, he was made a member and courtesy professor of the University of South Florida Institute for Advanced Discovery and Innovation.
Kane Kramer - 9.1/10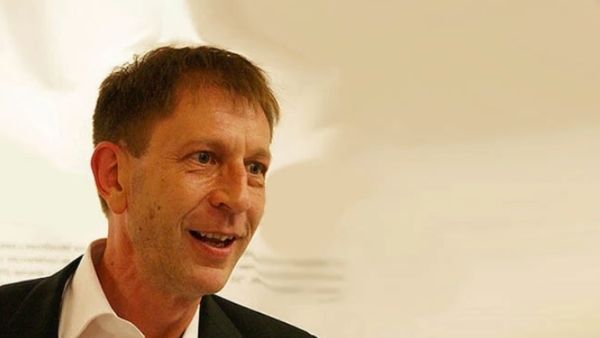 Kane Kramer is one of the world's most-demanded speakers, he invented the Digital Audio Player in 1979, a device which initially had the capacity of holding just a few minutes of audio and was world-leading at the time. By creating the device, Kane changed the face of the music industry with new methods of consumption never seen before. A truly innovative thinker, Kane went on to create more devices such as the Monicall, he is also a member of the International Clean Energy circle and the founder of the British Inventors Society. Kane is a prolific and talented speaker able to convey his ideas and share his expertise with both technical and non-technical audiences.
Marc Randolph - 9.6/10
Long-standing entertainment executive and Silicon Valley entrepreneur, Marc Randolph is most famous for co-founding and serving as the CEO of Netflix revolutionising the entertainment industry. Marc has decades of experience setting up and growing businesses with highly innovative business models. When booked as a speaker, Marc shares his expertise on consumer behaviour, strategy and marketing, he is a hugely innovative thinker with a passion for business and a desire to help people.
Sophia the Robot - 9/10
Created by Hanson Robotics in Hong Kong, Sophia the robot is a social humanoid robot first activated in 2016 she is the first robot to ever be granted a nationality when she became a citizen of Saudi Arabia. Sophia was the most advanced humanoid robot when she was launched and uses a combination of innovative technology - including artificial intelligence and facial recognition - to mimic human facial expressions and engage in conversation. When booked as a speaker, Sophia is the physical embodiment of technological innovation, having held several awe-inspiring conversations with high-profile individuals across the globe, thrilling audiences
Official Feedback for Sophia The Robot:
"Sophia was great, everyone loved her" - Dell
Mike Krieger - 9.3/10
Instagram Co-Founder, Mike Krieger, has amassed a vast amount of experience in building and scaling technology-based businesses. He completed his studies at Stanford University and went on to create the app that has defined the social media industry and some would say a generation. When booked as a speaker, Mike is able to convey his futuristic analysis with precision. He is an analytical thinker and a keen innovator and for corporations looking for someone to inject a spark, Mike is one of the most talented innovators in the world.
Official Feedback for Mike Krieger:
"We would like to express our sincere appreciation to you for sharing with us your valuable experience and deep knowledge at Turkiye Innovation Week." - Ismail, Chairman, Turkiye Innovation Week
Sir Jony Ive - 9.5/10
Former Chief Design Officer at Apple, Sir Jony Ive, is a radical innovator who designed era-defining products at one of the world's leading organisations. He played a crucial part in the success of the company, in designing the iPod and iMac. Since leaving the company in 2019 he has founded LoveFrom, a creative design practice. Sir Jonny Ive also holds a role as the Head of College at the Royal College of Art. When booked as a speaker he is insightful and exciting, and a delight to audiences.
Jane McGonigal - 8.9/10
World-renowned game designer and best-selling author, Jane McGonigal is one of the most sought-after speakers in the world with her Ted Talk fetching over 15 million views so far. She an innovation powerhouse with unparalleled experience, she has served as the director of Game Research and Development at the Institute for the Future and Chief Creative Office at SuperBetter Labs. With over 20 years of experience and games played by millions of people around the world, Jane has built up truly unique insights and knowledge to share with your audience.
Jeremy White - 9/10
Jeremy White is a leading technology journalist with decades of experience at some of the biggest and best media companies in the world. He is the Senior Innovation Editor of Wired, former Executive Editor of Wired UK and former Digital Editor for the Financial Times. Jeremy covers the latest technology innovations in artificial intelligence, IoT, quantum computing, fintech, retail disruption, health tech, digital transformation, cyber security and more.
Over the years Jeremy has developed a breadth of experience which has led to him being called upon by organisations such as HSBC, Deloitte, BMW, Johnson & Johnson, Zurich, Danone, Adobe and more to deliver keynote addresses on technology and the future. Booked as a speaker, Jeremy offers real insight and case studies into the technological innovations that are going to change the way we all live and work.
Official Feedback for Jeremy White:
"Jeremy's talk on the developing tech landscape looked at core areas of finance, but also charted how AI and machine learning will be fundamentally changing other industries. His case studies were not only relevant but intelligible, elevating the session from mete future-gazing to valuable insight." - Chief Executive, HSBC Bank
Susannah Schofield - 8.9/10
Susannah Schofield is the former Commercial & Innovation Director at Royal Mail Group, leading over 300 people in an extremely competitive commercial environment. Susannah earned a fantastic reputation as an executive through her original ideas and strategic leadership. Her book, "Mind The Gap", is referenced in the talks she delivers with her innovative approach to business strategy development proving to be hugely popular with business owners and executives who are striving for ideas, motivation and inspiration.
Official Feedback for Susannah Schofield:
"Susannah is a positive and inspirational business leader. She is as good as her word, delivering exactly what is promised, on time. Her astute commercial acumen and Dice Matrix System provide a real insight into any business from which competitive advantage can be gained." - Paul, MD, Cohesion. Design
Hire a Top Innovation Speaker Today!
If you are interested in hiring an innovation speaker to increase awareness of how to achieve innovation, get in contact with one of our dedicated booking agents by filling out our online contact form or by calling directly on 0207 1010 553.