Speaker Watch: Gary Lineker OBE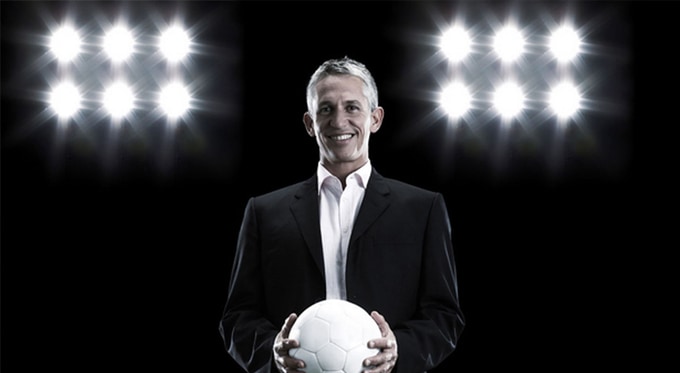 With Euro 2016 now well underway after the first weekend of action, sports speaker Gary Lineker OBE is going to be busier than ever. It will seem like the former Tottenham Hotspur and Leicester City striker is never off our screens, with matches played early evening and late evening virtually every day followed by highlights on Match of the Day.
Admittedly, the BBC is not covering every match live on TV, so Lineker will get a break, but it's safe to say that if you wanted to book him for a speaking engagement you might have to wait until after the Euro 2016 final on 10 July when tournament fever will be dying down.
Coincidentally, Lineker had a great time this year in terms of being a football supporter because the two teams that he scored 162 goals for (out of a career total of 238 club goals) were at one stage fighting it out for who won the Premier League. As we now know, Leicester won and at the death Spurs were pushed into third place by their London rivals Arsenal.
Lineker could barely contain his glee as it began to dawn on the football world that Leicester was actually going to do it and he began to regret his rash pledge that if his old team won the league he would present Match of the Day in his underwear. This is still a running joke (the internet is awash with mock-up photos of Lineker in various states of undress and the Prime Minister has even waded in) and it will probably still be running until the 2016-17 football season starts up in August when Lineker – fingers crossed – appears fully clothed.
Of course, internationally Gary Lineker was a key figure in the England team, scoring 48 goals in 80 appearances, and there's undoubtedly nothing he would love more than to be on the edge of his seat as England emulate Leicester and go into the final week with a real chance of coming out as winners.
One thing's for sure, Lineker will have plenty to talk about the next time he stands up as a guest speaker – how Leicester defied the odds, what they will achieve next season, how Tottenham amazed everyone by finishing in their highest position for 26 years (but it still felt like a disappointment), how England fared and – possibly – who should be the next England manager! Lineker might even talk about the less well known facts that he scored an extremely impressive 30 goals for Everton in just 41 appearances and that he played 103 times for Barcelona – just two fewer than he did for Spurs. In that time he helped the Spanish team to win the European Cup Winners' Cup and the Copa del Rey and – until Gareth Bale broke his record in 2016 – Lineker was the highest scoring Briton in the Spanish league.
It isn't just his time on the pitch or working for the BBC (including his eight years as a regular on the sports quiz show They Think It's All Over) that makes Lineker so interesting to listen to. This year he has been simultaneously visible on BT Sport covering the Champions League tournament and he is still (after 21 years) the preferred character for advertising a certain popular make of crisp – at one stage Walkers called one flavour of crisp 'Salt 'n' Lineker'.
In terms of screen presence, when he took over from the highly popular and incredibly smooth and talented Des Lynam, Lineker was inevitably in the shadow of the Match of the Day presenter and to watch those early episodes now even Gary must cringe. But he has definitely grown into the role and he is now an extremely confident presenter who feels so comfortable in that position that he is able to express some firm, strongly worded opinions. He is also known for saying what he thinks on social media and football fans have made it clear that they welcome his views.
Despite reportedly only getting four 'O'-Levels at school, Gary Lineker has shown himself to be an incredibly intelligent and articulate presenter and now surrounds himself on TV with other fellow former footballers who are equally as bright and quick-thinking. He also has that kind of cheeky grin that tends to win the hearts of the Great British public.
Book Gary Lineker Today
To book sporting speaker Gary Lineker OBE for your corporate event, conference or party, contact Champions Speakers by filling out our online form or by calling 0207 1010 553 today.