minute read
SAS: Who Dares Wins will return on Sunday the 10th of April 2022 at 9 pm, much to the delight of fans across the country. The action-packed show will see 20 new recruits embark on their hardest challenge yet, under the watchful, yet unforgiving, eyes of the DS. 
Jason Fox and Mark 'Billy' Billingham are no strangers to high-pressure situations, having each served in the British military. In this year's series, we see two new recruits join the Directing Staff - Rudy Reyes and Remi Adeleke, putting the contestants through their paces in the Jordanian Desert.
There are tears, tantrums, and six weeks of entertainment in store for audiences eagerly awaiting the first episode!
When is SAS: Who Dares Wins 2022?
SAS: Who Dares Wins starts on Sunday 10th of April 2022, airing on Channel 4 at 9 pm. 
SAS: Who Dares Wins 2022 Key Facts:
Two former United States operators are joining the directing staff - former US Recon Marine, Rudy Reyes, and former US Navy Seal, Remi Adeleke
The show will be filmed in a secret SAS military base in the Jordanian Desert
Jason Fox and Mark Billingham will return to the directing staff 
The 2022 Presenting Team
Which former SAS soldiers will be leading the show this year?
Jason Fox
Jason Fox is a former Royal Marine Commando who has tested himself in the most gruelling conditions on earth, Jason spent 20 years in the British Special Forces. This extensive experience allows him to offer incredible insight into high-pressure situations, leadership, and teamwork.
As well as building his profile on SAS: Who Dares Wins, Jason Fox also presented the hit Netflix docu-series 'Inside The Real Narcos' in 2018. Such popular appearances make him a fan-favourite, and a sought after addition to events of all shapes and sizes. Jason's insight into the hit show supplies audiences with a coveted backstage pass. 
Mark 'Billy' Billingham
Mark 'Billy' Billingham held several roles in the SAS over the course of his career, including Patrol Commander and Mountain Troop Specialist. He led hostage rescues at the highest level in war zones like Afghanistan and Iraq. Such experiences make Billy an influential public speaker, as his captivating stories leave audiences empowered to overcome adversity, as he has done.
Since leaving military life behind, Billy has worked as a bodyguard, protecting celebrities including Angelina Jolie, Kate Moss and Russell Crowe. At events, audiences enjoy hearing his star-studded stories, ensuring the success of your virtual or in-person occasion. Billy has returned for series six of SAS: Who Dares Wins, as his expertise is vital to the Directing Staff team. 
Rudy Reyes
Former United States Marine, Rudy Reyes joined the forces aged 26 back in 1998. Having received Honor Man and Iron Man status, Rudy was given the opportunity to try out for the Marine Force Reconnaissance - completing training to become a Force Recon Marine. Having run Counter Sniper and Counter Recon Patrols in Pakistan and participated in the invasion of Iraq, Rudy knows first-hand the challenges of combat. 
Since leaving the force, Rudy has worked as a Counter-Terror Contractor for the Department of Defence and starred in the HBO TV series Generation Kill. He is also the author of Hero Living: Seven Strides to Awaken Your Infinite Power, and is a passionate conservationist who founded the Force Blue Team.
Remi Adeleke
Remi Adeleke is a former Navy Seal, having joined the US Navy back in 2002. Remi trained with the elite Navy SEAL Programme, before serving for an incredible 13 years as a PO1 in the US Navy. Since retiring from the forces, Remi has enjoyed a successful acting career, starring in films such as Transformers: The Last Knight and 6 Underground. 
Dedicated to inspiring, educating and motivating people, Remi has published his life story, titled Transformed: A Navy Seal's Unlikely Journey from the Throne of Africa, to the Streets of the Bronx, to Defying All Odds.
Who Previously Presented SAS: Who Dares Wins?
Matthew 'Ollie' Ollerton
Ollie Ollerton, real name Matthew Ollerton, has been refreshingly honest since making his name on SAS: Who Dares Wins. Using his platform to open up on alcoholism and depression, Ollie has helped countless military veterans access support. As a motivational speaker, his presentations explore the power of mental resilience, and the techniques needed to achieve Ollie's level of emotional strength. 
After turning to drink following a prominent career in the Royal Marines and Special Boat Service, Ollie partnered with Vauxhall to share advice on how to "keep calm and carry on" when mentally and physically challenged. This military tough guy's candid discussion of trauma leaves a resounding impact on audiences at events.
Colin MacLachlan
Since appearing on SAS: Who Dares Wins in 2015, Colin MacLachlan has carved a successful career in public speaking. He shares his 25 years of security and risk experience with audiences, leading to an increased understanding of risk management, overcoming adversity and conflict resolution. 
Colin first joined the army in 1989 and was later selected for the SAS team aged just 23. His experience training for and completing such a challenging process is a testament to Colin's mental and physical strength, as well as a reflection of his impact as a motivational speaker. Audiences will be unable to believe their ears when Colin reveals his many jaw-dropping experiences at events. 
Jay Morton
Jay Morton first appeared as a guest on SAS: Who Dares Wins in 2019, before joining the presenting team as a fellow Directing Staff member the following year. He was the programme's first undercover host, gaining insight from the contestants and feeding information back to the team - his true identity was revealed later in the series, shocking those taking part.
As a public speaker, Jay reveals what it was like serving in the SAS and the techniques he employed to strengthen his mental resilience. Audiences receive exclusive insight into both the hit show, SAS: Who Dares Wins and Jay's experience in the British military, making him the perfect speaker for events ranging from mental health to risk management. 
Melvyn Downes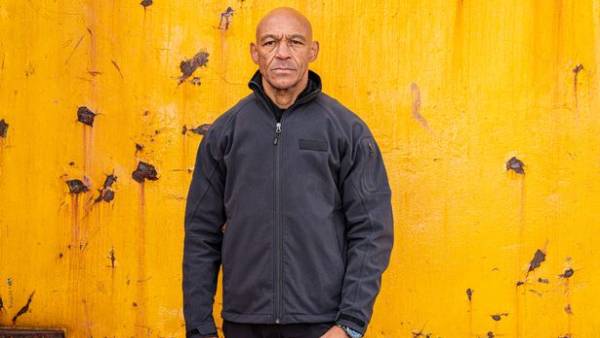 When audiences called for the show to become more diverse, former soldier Melvyn Downes stepped up to increase representation and set a new standard for British television. The first non-White presenter on the show, he has led operational tours in Iraq and Nothern Ireland, reflecting his vast experience and knowledge of the Special Air Service recruitment process.
Melvyn intends to "represent the under-represented in life", as the voice of both the British working class and mixed-race people. His appointment as Directing Staff will likely attract new, more diverse audiences to the show, who can now see themselves reflected in both the senior figures and contestants. 
Ant Middleton
Aside from being the hard-nosed Chief Instructor on SAS: Who Dares Wins, Ant Middleton has experienced an eventful career, both in the special forces and the world of exploration. After serving in the British army, Ant joined the royal marines where he won the King's Badge before enlisting in the Special Boat Service.
Since leaving the military and entering life on the TV screen, Ant has co-authored 'SAS: Who Dares Wins: Leadership Secrets from the Special Forces' with his fellow presenters and his autobiography 'First Man In: Leading from the Front', which became a Sunday Times bestseller in 2018.
Book a Motivational Speaker from SAS: Who Dares Wins 
We offer a wide range of military speakers, including the SAS: Who Dares Win's presenters, each leading experts on leadership and teamwork. To book, contact us by filling in our online contact form or by calling a booking agent directly on 0207 1010 553.