Transgender Awareness Speaker & Diversity Specialist
Image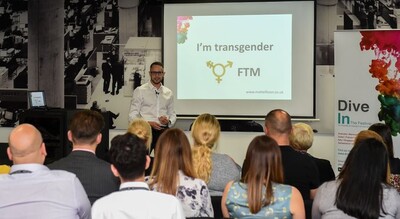 Image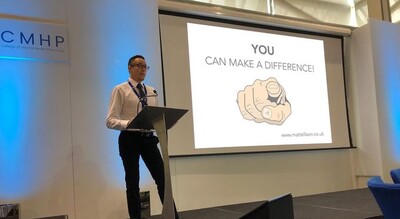 Image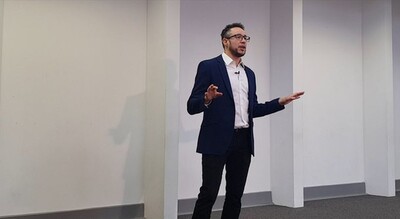 Matt Ellison's journey is one that amplifies the fears, acceptance, relief and joy of human life. Showing that daring to do can result in immense happiness, Matt transitioned from female to male (FTM) in 2013 after 39 years struggling with living in the wrong identity.
Making one of the biggest fundamental changes a person can make, he dealt with his own demons as well as the demands of the social side of transitioning. Matt's story details the highs and lows of his journey to identify outwardly the same way he always did internally.
His whole life Matt knew he was a boy. Overcome with fear at the thought of sharing his secret, he planned to take it to his grave. But over the years the need to transition grew and eventually Matt sought help. His very first counselling session unlocked the answers for him to face his fears enabling him to transition socially and medically. It ended up bringing him closer to family and friends dispelling all fears he previously had.
"It's been an incredible journey; I don't know why I was so scared."
Informing clients of his transition, Matt was also struck by the positivity from both parents and students of his guitar school. Inspiring stories of how students were quick to accept his transition is a common theme of his speeches. Speaking with courage and passion on the changes that have come to have a dramatic impact on his own life Matt educates audiences with stories that uncover humankind's ability to deal with change.
Matt was co-chair of FTM London, the UK's leading support group for trans men, he's engaged with NHS England to help improve trans care and he educates businesses on the legislation and safe practices for those transitioning. His influence has helped many people to access the support they need to transition and his efforts have extended into helping that the welfare of British trans people in transition is taken care of, but there is still a long way to go.
Matt discusses how small changes in approach can build an inclusive workplace environment and how a safe space for employees to share is important to a positive company culture. He uncovers the benefits of diversity and inclusion initiatives in work, as well as delivers workshops on topics such as mental toughness and overcoming adversity.
Able to discuss the trans community in relation to legislation, Matt offers leading insight on equality, the social and professional side of transitioning, as well as diversity and inclusion. Industries from education to business, healthcare to politics can all benefit from Matt's down-to-earth and cultured addresses.
A fascinating speaker ideal for Q&As and keynote presentations, Matt delivers an awe-inspiring account of his own experiences, tailored around the themes of any conference.
Champions Speakers' Managing Director, Jack Hayes, had the honour of interviewing Matt on his transgender journey. Matt revealed the reception from his family, the impact it had on his business, and what corporations can do to support their diverse workforce - find our more, in our exclusive interview with Matt Ellison.
How to hire Matt Ellison
Contact the Champions Speakers agency to book Matt Ellison for your event today. Simply call a booking agent on 0207 1010 553 or email us at agent@championsukplc.com for a free quote.
** We do not accept requests for autographs, signed merchandise, fan mail, birthday messages, or any other non-commercial contact with our speakers or acts.
Matt Ellison can speak on a number of topics that include the following:
Change, Courage & Motivation – Matt overcame his fears to risk everything; his family, friends, business and the fear of being branded a "freak" by society to take on the scariest challenge of his life; transitioning from female to male. Uncovering strategies to increase positivity, motivation, embrace change and overcome fear, Matt compels audiences with a down-to-earth presentation of his life-changing journey. 
Diversity & Inclusion – Matt offers practical advice on how diversity and inclusion can make a business thrive. From the business benefits of productivity, engagement and retention to the individual benefits, Matt discusses best practice, as well as policies and procedures. 
Equality & Rights – Matt can ensure businesses are working in accordance with The UK Gender Recognition Act. The act states the right to be respected and accepted regardless of race, religion, sexuality and gender identity. 
Gender & Identity– Matt explores self-identity and self-realisation, with reference to his own inner conflicts. Outlining the differences between sex, gender and sexuality, as well as the internal and external factors behind how a person identifies, he offers an inspirational keynote presentation. 
Social Norms – Social norms can be exhausting and severely limiting; Matt has questioned convention to enjoy the liberation of change, promoting his own self-identity and confidence. 
Trans Awareness & Acceptance – In raising awareness of transgender issues, Matt has helped transgender people and the support network of transgender people to understand and aid their loved ones. 
"One of the best talks I've ever heard at a conference!"
Robbie Turner - Director of Pharmacy and member experience, Royal Pharmaceutical Society
"Matt Ellison speaks with authenticity and truth. He shares his knowledge and life experiences with candour and emotionally connects everyone in the room in an instant. I learn something from Matt every time I hear him speak!"
Gina Battye - Authenticity Coach, Best-Selling Author, Award-Winning Speaker
"I have no hesitation in recommending Matt to speak at any event across any industry vertical. I think his stories around transformation and change, and the bravery and courage in personal journey, is something that is applicable to any type of person in any type of industry"
Jonathan MacDonald - Sunday Times Best Seller and International Speaker