CARDIFF, WALES & BRITISH LIONS DUAL CODE RUGBY STAR WHO IS HELPING RAISING AWARENESS FOR LGBT
Image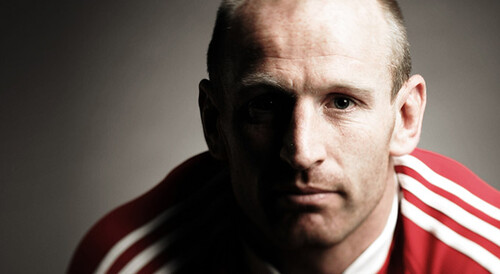 Gareth Thomas is an extraordinary inspirational speaker who has continually helped to break down boundaries for the LGBTQ community, in sport, the media and life.
One of the most courageous sports stars in modern history, Gareth Thomas has been where others have never been before. Tackling endless issues in society today, Gareth has shed light on issues including homophobia, HIV awareness and diversity, in addition to leading a memorable career in rugby. Gareth was, until 2011, the most-capped rugby union player in Welsh history. His career saw him rack up an impressive 100 caps for Wales, securing an impressive 200 points for the side, a score that puts him second in the list of all-time Welsh try-scorers.
Following a fantastic effort on the pitch, Gareth has impressed with his analysis of rugby coverage on the BBC. Featuring as a popular presenter and pundit on screen, as well as an after-dinner speaker on stage, he is without a doubt one of the top inspirational sports speakers in the UK today.
In the year Gareth came out as gay, in 2009, he was voted as the most influential gay person in the UK by The Independent on Sunday Pink List. A decade on from the announcement, which at the time was a monumental announcement for the LGBTQ community, Gareth made another one.
In 2019, Gareth announced that he had been living with HIV, offering hope and awareness once more to communities that already idolised him. The declaration drew huge swathes of support from all over the UK and further afield with thousands of people turning out to cheer Gareth on in the Ironman triathlon in Tenby, Pembrokeshire.
Footage of his run, broadcast on the BBC saw an emotional embrace with his father and featured support up and down Wales. His announcement would also prompt the BBC One Wales documentary, Gareth Thomas: HIV and Me. In the week when Gareth once again made history, this time fighting the stigma attached to HIV, even the Palace moved to support him, with Prince William tweeting - "Courageous as ever - legend on the pitch and legend off it".
Ideal for inspiring audiences as an LGBTQ speaker, rugby pundit, specialist in teamwork and leadership or motivational speaker, Gareth Thomas is well-received in all scenarios.
Contact the Champions Speakers agency to book Gareth Thomas for your event today. Simply call a booking agent on 0207 1010 553 or email us at agent@championsukplc.com for a free quote.
When at corporate events, Gareth is known to cover the following topics:
Rugby Speaker
Sports Speaker
Peak Performance
Overcoming Adversity
Maximising Success
The Stigma Of Homosexuality Within The Sports Industry
Due to the COVID-19 pandemic and the temporary halt of live events, Gareth attended the virtual 'Celebrating Pride 2020' event. See the feedback that he received from attendees, below.
"Thank you for a very honest and open talk. It was fascinating, and very emotional hearing your experience."

"Truly inspirational… thank you for sharing your story with such authenticity Gareth."

"I can't get the story about your parents' reaction out of my mind – so personal and emotional – and very powerful to share with others. Thanks for discussing with us so openly."

"Your outlook on only needing acceptance from the people that matter to you and reiterating how you can't please everyone all the time is such a powerful message and reminder for so many people. Thank you for reminding us all of this as it's so true. Been great to listen to you today and thank you for your time."

"Thank you for your openness – incredibly inspiring, moving and powerful."

"Thank you for sharing your story with us. It is so moving. The brave steps you took will have inspired so many others to be brave."

"Thank you for being so honest, open and vulnerable – it is important for us to hear this."

"You are such an inspiring man, god bless you."

"Wow, inspiring, insightful and sad in a way that in this day and age you've had to go through what you've been though. Thanks for sharing your story."

"You showed such strength, and your actions will inspire many for years to come."

"WOW! What an amazing session. Thanks so much Gareth for being so warm, genuine and open about his struggle to be authentic. This was absolutely inspirational. I have no words!"
Other Testimonials
"The speech from Gareth went fantastically well and he responded to the questions brilliantly and there were plenty. He is such a lovely and warm person considering his life success and stardom. It was a real pleasure to be able to meet him. Thank you for all your assistance with arranging Gareth's attendance, it made our conference really special and made all the stress in the preparation worth it." - Tracy Ceraldi, KeolisAmey Docklands Ltd
'It really was an amazing event, you guys and the BRG are amazing, impressive and courageous. Both Kellie and Gareth were so open and honest, we are really priveledged to have had them visit the office and share. Thank you so much.'
- CMAS
'My own personal take away was Gareth describing 'how faster you can run, how higher you can jump' when the burden had been lifted after he came out.'
- CMAS

"The event was a resounding success and Gareth Thomas was absolutely amazing. Professional, accommodating, attention to detail and incredible fun. It is by far the best event that I have hosted so far. Gareth did not disappoint in any way whatsoever. All my guests are still raving about the event and "Alfie" this morning."
Loredana Williams – IWC

"We all very much appreciated his kindness and honesty in sharing his journey with us.  Gareth was a huge hit and we have received nothing but positive feedback about the evening from clients and staff alike." - Stephenson Howard Law Firm    

"Wow, wow, wow !!  My favourite so far.  Gareth was truly inspirational, made us laugh and cry.  We have never had a speaker receive such a long round of applause before. Everyone was talking about it afterwards. Thank you very much for another great speaker, look forward to working with you again very soon." - UHY Hacker Young
"I thought I would just let you know that our event was a huge success! Gareth was a fantastic speaker and an all-round lovely guy. The feedback from my colleagues was all very positive, one even said that he was the best speaker we have ever had! Now the challenge is to find someone just as good for our November event!" - Cleo Phillips - PGIM Real Estate
"Gareth was amazing yesterday, such a lovely friendly guy, and his talk was extremely emotional and powerful. We have had some fantastic feedback. Please pass on my thanks to Gareth, it was great to have him here taking part in our Pride events for 2019." - Jennie, Shop Direct

"Thanks so much for the suggestion – he is doing amazingly with media." - Josh, Head of Regions, Broadcast Revolution 

"He was amazing! He had everyone in tears. Wonderful feedback - I will forward on some of the comments from our webcast in the next few days so that you and he can see them." - Sian, Senior Manager, Novartis

"No it all went incredibly! We have had the most overwhelmingly great response!" - Rebecca, HR Advisor, Danone plc