One Of The Most Knowledgeable & Accomplished F1 Speakers In The World
Image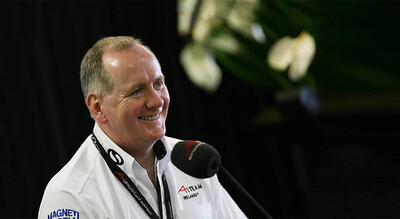 With a 30 year career in Formula One, Mark Gallagher is one of the most knowledgeable and accomplished motorsport speakers. Best known for his role on the senior management team of Jordan Grand Prix, once described by Murray Walker as 'the most motivated team in Formula One', Mark made things happen in the team, with decisive leadership and promotion of teamwork. Running Jordan Grand Prix's marketing for a total of nine years, Mark went on to form part of the management team for Jenson Button before accepting the offer to run both the sponsorship and commercial negotiations for the Jaguar Formula One team. Today, Mark is an author and broadcaster who provides industry analysis at the forefront of the global sport, also providing compelling keynote presentations and insights into the world of Formula One at corporate events. 
Mark once again demonstrated his business nous between 2009 and 2011 when he worked with Cosworth to reintroduce them as an engine supplier for Formula One. Supplying power units to Lotus, Marussia, and Williams, Gallagher played a significant role in securing Cosworth as a key player in the sport, as well as rejuvenating a legendary motorsport brand. With over two decades of experience of controlling media for Formula One teams and drivers, Mark has had the privilege of working with some of the legends of the sport, including Nigel Mansell and Michael Schumacher. Mark has also worked in the establishment of the Red Bull Racing commercial arm and the energy efficiency regulations adopted into F1 in 2014. He has also been a member of several technical working groups and played a key role in leading the digital transformation of F1.
Thanks to Mark's unrivalled involvement in motorsports, he has gathered knowledge in everything from the commercial and operational management of F1 to the business and technology landscapes of the sport. As a result of this knowledge, he regularly appears in live broadcasts for the likes of Sky Sports, BBC News, and Channel 4 News, providing his expert analysis of both on and off-track behaviour. Outside of working in Formula One and media, Mark is also famed as the Co-Founder and Owner of Status Grand Prix, a company that competes in lower formulae and international sports car racing. He also focuses on his consulting business, Performance Insights, with which he works with a variety of F1 clients to optimise their strategies. 
Mark is also a published author, having written the titles Grand Prix - The Last 25 Years and The Business of Winning. He has also collaborated with fellow F1 star, David Coulthard, on The Winning Formula which received recognition as a Sunday Times Bestseller. Mark has also been a film consultant, having worked on the Pixar Cars and Cars 2 films, and contributed his knowledge as a magazine writer to publications such as GP Racing Magazine and Autosport.
Mark has a wealth of experience as a keynote speaker, having attended conferences for multi-national companies to share his insights into data analytics, risk management, and innovation. As both a motorsports speaker, Mark can tailor his content to make his advice applicable to a client's brief. An engaging and compelling character, Mark strives to interact with guests during his talks to give a true insight into life in the fast lane. Although Mark is a motorsports expert his lessons can be transferred into the corporate world equally as well, which has led Mark to be one of the most popular motorsport speakers on the after-dinner speaker circuit. Focussing on topics such as how a team culture fuels high performance, using big data to accelerate success, turning safety into results, driving business benefits from the pace of change and sustainability in F1, book Mark Gallagher today for an engaging and insightful speech.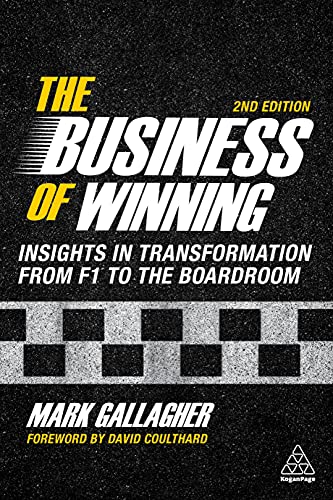 The Business of Winning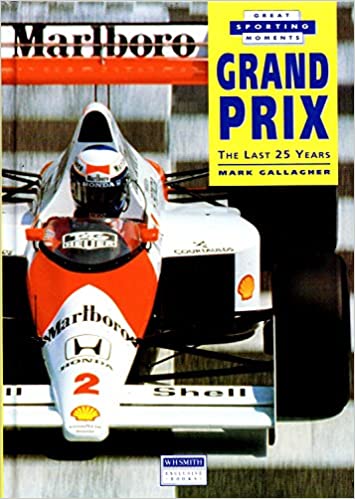 Grand Prix: The Last 25 Years
How to hire Mark Gallagher
Contact the Champions Speakers Agency to provisionally enquire about hiring Mark Gallagher for your next event, today. To get in touch, simply call an official booking agent on 0207 1010 553 or email us at [email protected] for more information.
** We do not accept requests for autographs, signed merchandise, fan mail, birthday messages or any other non-commercial contact with the speakers or acts. Each speaker on the website may not have necessarily worked with Champions in the past but are known to perform such engagements within the industry.
Mark's official speaking topics are listed below:
Teamwork & Leadership: How a Team Culture Fuels High Performance - A Formula One team has to design, manufacture, develop and operate a high-performance vehicle that combines technologies from aerospace, automotive and ICT. Compliance is essential, so too ensuring that the cars are safe, reliable and high performing. Deadlines cannot be missed; the Grand Prix which includes the FIA Formula One World Championships represents a series of non-negotiable deadlines. Teamwork is key; the top teams have 1000 staff, only 10% of whom attend the races, so the high-performance teamwork starts weeks, months and years before an event in the research & development facilities and factories where these fascinating Formula One machines are developed. Trackside, the high-performance teamwork continues, perfectly exemplified by the pit crews who can execute precision pit stops in 2 seconds. Developing the right team behaviour and culture is a key focus for the leadership teams. This means ensuring that everyone is accountable, takes responsibility and understands the importance of avoiding silo-mentality and embracing cross-functional communications. Alignment behind the team's strategies and ambitious goals is vital, so too having the agility to flex strategy in the face of constant changes in technology and the performance of competitors.


Data-Driven Performance: Using Big Data To Accelerate Success - Using Big Data to Accelerate Success More than any other sport, Formula One has embraced a data-driven business culture, particularly as regards its near-obsession with marginal gains and continuous improvement. Starting in the late 1980s, teams began to develop the ability to gather, process, store and utilise information streams in order to better manage risk, optimise performance and guarantee outcomes. Data acquisition and analytics is now a cornerstone technology, enabling drivers, trackside engineers and headquarters staff to determine precisely how the car and driver are behaving, diagnose issues, resolve problems and speed decision making. As information flows seamlessly around the globe, linking cars, teams and factories, data security is essential, and robust systems ensure protection from multiple threats. The use of simulators has transformed driver training, enabling systems to be learned, tested and developed in a virtual environment prior to real-world deployment. And with the advent of additive manufacturing, machine learning and AI across Formula One, the sport's use of Big Data to transform all aspects of its operations is set to accelerate further.


Safety & Risk Management: Turning Safety Into Results - Safety is a first-order priority in Formula One and the last 25 years have seen a profound change to the way in which the sport manages risk. Between 1950 and 1994 there were over 40 driver fatalities at events; there has been one since. This has been made possible by creating clear priorities as regards safety, mandated by the sport's leadership and shared by the individual teams and race promoters. Process safety has played a key part in this transformation, whilst a data-driven approach to understanding incidents and accidents, backed up by extensive research and development, has created cars capable of withstanding high-energy impacts, and fully protecting their occupants. The safety and risk management story goes far beyond the racing itself, the employees and contractors of the teams benefitting from best practices shared between the industry's HSE management. Furthermore, the sport's governing body, the FIA, transfers knowledge gained from motorsport into promoting road safety around the world through its Action for Road Safety Campaign, employing the United Nations Safe Systems Approach and is a founding partner of the European New Car Approval Programme (EuroNCAP) which has transformed vehicle safety.


Change & Transformation: Driving Business Benefits From The Pace Of Change - Business models break, new ones develop, technology evolves, regulations are revised and customers alter buying habits. Every industry is witnessing change, and Formula One is no different; as a multi-billion dollar sport, it has seen unprecedented change in the last 20 years. The number of events has grown, shifting from its heartland of Europe to a truly global calendar that sees 65% of events in long-haul destinations. The media landscape is changing out of all recognition; gone are the audiences made up of families watching television together, instead, global sports are having to develop products to appeal to all ages and demographics, across multiple digital media platforms. Not only are the sport's teams doing business in new places and in new ways, but diversification strategies are being implemented as business models evolve. The EU ban on Tobacco Advertising and Sponsorship in 2005 caused a seismic shift, so too did the aftermath of the 2008 financial crisis. Today teams are selling technology solutions into diverse sectors including automotive, healthcare, pharmaceuticals and aerospace; a radical transformation for Formula One teams, now operating as technology providers to the industry. Above all, Formula One's leadership teams have had to communicate, manage and implement transformation strategies, bringing their teams with them, and ensuring that they make the most from embracing change.


Sustainability In F1 - Formula One has a 2030 carbon neutral strategy for the cars, teams, events and World Championship operations. It is abandoning all fossil fuel use by the end of 2024 and already uses AI in manufacturing and race strategy. Formula 1 has been using petrol-electric hybrid engines since 2014, including the most energy-efficient engines ever produced, and is innovating a range of environmentally sustainable green technologies which will decarbonise the industry and provide wider relevance to transport. It has a very strong story to share about profound change in relation to abandoning fossil fuels and eliminating emissions.
FEEDBACK FROM VIRTUAL EVENTS & WEBINARS:
During the COVID-19 pandemic, Mark attended many virtual events, booked as the exciting guest speaker. Read the feedback he has received below.
"The session with Mark went really well and has received hugely positive feedback from the attendees. Please pass our thanks onto Mark and thank you very much for arranging the session." - Alison, DCC
"He was great. His delivery was excellent, and his content exactly on brief. Plus he's incredibly professional and really easy to work with. We had a couple of new people supporting the technical side today and he made it very easy for them." - Will, Three
FEEDBACK FROM IN-PERSON EVENTS:
Mark is regularly booked to engage audiences at in-person events, read his latest feedback below.
"Everyone was amazed and thrilled with Mark's presentation. Really awesome!! Many thanks for your help" - Bertha, Pure Innovation
"Fantastic! What a lovely gentleman to deal with." - The Aspiration Group Travel Ltd
2021 - Published The Business of Winning: Insights In Transformation From F1 to the Boardroom 
2012 - Managing Director of Performance Insights Ltd 
2009 -Business Unit Head of Cosworth F1
2005 - CEO & Team Principal of Status Grand Prix Engineering 
2003 - Director of Commercial Affairs at Red Bull Racing & Red Bull Technology 
1990 - Marketing Director of Jordan Grand Prix Ltd