2 x Olympic Gold Medallist, Polar Explorer & World Record Holder
Image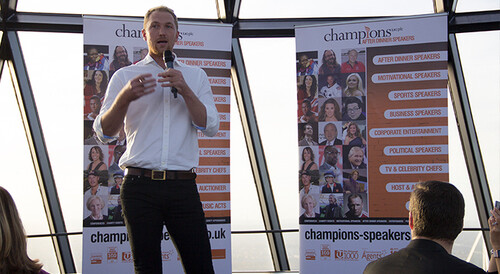 Alex Gregory is one of the leading rowers in the world with 2 x Olympic Gold medals and 5 x World Championship titles to his name. Further to this, Alex was a member of a World first arctic rowing expedition where he and an international crew of athletes undertook a new challenge – to row across the Arctic Ocean.
It took eight years of failure before Alex first became World Champion, but learning to adapt and make necessary decisions turned his disappointment around. It was these defeats that laid the foundations for Alex's Olympic success and the ability to overcome any difficulties that he encountered on the way. Taking audiences on an emotional journey through vivid and heart wrenching descriptions, Alex brings to life this journey relaying the need for 'true motivation' – words are not enough.
Bringing teams together became Alex's gift, turning him into one of the leading rowers in the world. He prides himself on his ability to adapt to others and bring out his teammate's full potential. Living proof that a team is greater than the sum of its parts, his words are relatable to all as he admits he was never the strongest or biggest athlete… "but it's how the skills of those around you are nurtured that counts". As a result, between 2011 and 2016 Alex was one of only three men in the world to win all consecutive major championships.
Having worked with some of sport's most successful athletes and coaches, Alex has a unique insight into what a successful leader is. In his talks he speaks openly about the various leaders he has encountered, drawing parallels and giving fascinating insights, as well as performing under the greatest of pressures in survival situations and on the Olympic stage – he truly has encountered it all.
Alex spent a month exploring some of the coldest waters in the world while on a pioneering Arctic rowing expedition in 2017. With the desire to push his boundaries and test his mental capacity in a vastly different environment to what he was used to, Alex learnt far more about himself, team dynamics and leadership than he ever expected. An extraordinary journey discovering little seen natural wonders, exploring a rarely visited part of the globe, battling dangerous seas, immensely cold conditions eventually finishing the journey on a little known volcanic Island, Jan Mayen. The expedition was a resounding success for Alex, filled with lessons and experiences that will enthral audiences in all walks of life.
As the father of three young children, Alex's attentions now lie in exploring the practical, healthy opportunities young people have in modern society. Passionate about the outdoors, Alex is writing a book on the subject giving parents a guide to outdoor activities that will create bonding moments and lasting memories between parent and child. His experiences in sport, as a parent and during Arctic expeditions give Alex an appreciation and understanding of what is important to him and his family. He is passionate about sharing these thoughts with others.
Alex Gregory has learnt many lessons from a life performing under extreme pressure which he can relay to audiences during keynote/after dinner speeches. He captivates audiences with his emotional journey through the highs and lows in the pursuit of his dreams, and inspires individuals to consider what they really need to motivate them to greatness.
Contact the Champions Speakers agency to book Alex Gregory for your event today. Simply call a booking agent on 0207 1010 553 or email us at agent@championsukplc.com for a free quote.
When he's at corporate events, Alex covers the following topics:
The Secret of Olympic Motivation: What is it that drives people to achieve their impossible goals?
The 5 Mindsets for high-performance culture: Five mindsets employed by a double Olympic champion to create a robust mindset that performs consistently and successfully.
Championing Change. Reflecting and setting new goals: How do we really find the motivation to make the changes necessary to pursue those new directions.
Olympic Performance: Technique, Teamwork, Communication and Consistency.
See what people had to say about Alex, when he appeared at their corporate events:
"Your presentation style is completely engaging and the humility you displayed as you spoke meant you could have held everyone's attention for at least a few more hours, I'm sure! The effective way you brought your inspirational story of ultimate sporting success following the overcoming of many personal adversities, back to the jobs of every individual in the room, meant everyone couldn't help but be left with a compelling feeling of personal motivation from your words.  A week or so since the event, you are still being quoted continually by members of our team – a sentiment to how well your story still resonates with us all." - Alistair Dicken, Restore Datashred
"If you can get Americans interested in hearing about a Brit winning a Gold medal in rowing you've done a pretty good job." - Bailard Investment Management
"Wow!!!! What a great sales kick off, the whole team is fired up and ready to rock. If you are looking for an inspirational speaker to motivate your team, please let me recommend Alex Gregory MBE. He gave a talk on his trials and tribulations as a Gold medal-winning Olympic athlete. He talked about how to never give up and to always believe in yourself no matter how hard things get. If you want it enough anything is possible..." - Jason Rowles, Wincanton Records Management
"Alex spoke about building and leading great teams, his journey and the pressures of being an elite athlete. An excellent and inspiring presentation. I will be sure to hire him again. Thank you." - Marcus Shah, Stanton House
"Alex's presentation gave us an insight into the world of elite sport, competing and performing at the very top, under excruciating pressure. The stories and messages Alex delivered were not only riveting but delivered humbly with humor. Key links to the power of trust and communication required within effective teams, the value of mentoring and the need for personal drive and ownership are immediately transferable to the challenges we all face in our businesses and lives" - Mark Versey - Chief Investment Officer, Global Investment Solutions, Aviva Investors
"Excellent speaker, inspiring story and really engaging presentation style. Had the whole audiences full attention and knowing how difficult it is to do that during our usual kick off meeting that is an achievement. Alex's story has points in it that reflect where we are as a business so it was really successful. Nice touch for Alex to bring his medals as they were fascinating to look at. The feedback from all the team was really positive too. We had a session this morning where we looked at parallels between Alex's experience and our business" - Phil, Schiedel
"Thank-you very much for the recommendation of Alex as a guest. He was absolutely brilliant. Such a nice guy with a great story to tell. Feedback from people at the event was that he was our best ever guest speaker.  He was a joy to have around, and I would happily recommend him if anyone was considering him for their event." - Channel Islands Sports Awards
"Alex was again excellent and the regional team really did take some helpful 'take homes' in terms of transferring his sporting achievements into the business world." - Michael, Schiedel
"Alex was brilliant, his speech was really engaging and there were some points where you could have heard a pin drop in the room which is quite an achievement with a fairly energetic group of attendees! Thanks for the recommendation, we had so many positive comments on Alex's presentation and he made a huge contribution to our Customer Day." - Lucy, Diebold Nixdorf
"Alex was excellent, we all really enjoyed his talk! It was very well received by the crowd and we were very pleased. Please do pass on our thanks to him, it was very much appreciated." - Jenny, Net Company
"Alex's talk was inspirational. He spoke a great deal about establishing a culture where everyone helped one another and wanted to get the best from each other for the sake of the whole team. Within school leadership, this is a vital ethos to embed and grow. Everyone could take away something from his presentation that was eminently memorable and relevant that they could apply to their own setting." - Frances Hardy,- Colden Common Primary School
"Just wanted to thank you again for helping with the organisation with last night's event. Please could you send on my thanks to Alex in what was such a great evening but made all the more special with his involvement. The evening ran very smoothly and I received lots of positive feedback from parents and students.  Alex was an inspirational speaker and every child (and parent) will remember holding his medals, along with a great opening talk and Q&A. Would definitely recommend Alex. I am still receiving loads of positive feedback event now on how much he inspired everyone. Best speaker yet! Very down to earth and engaged all in attendance." - Matthew, Rickmansworth School.
"He was very well received by everyone, really interesting and totally met our motivational requirements." - Berni, Armstrong Ceiling Solutions
"Yes it went very well and the immediate feedback following Alex was excellent. So many people mentioned it during the day. So it was a fantastic way to kick off the day. We will definitely come back for another speaker next year!" - Andy, Fortius PE
"Alex was a great speaker for an employee awards night we produced recently. His speech included a good mix of material and content to keep everyone engaged throughout, as well as being inspirational and appealing to a diverse audience. All our dealings with Alex and Champions have been highly professional and helpful and we'd highly recommend using"-Charlotte, Bladon Moore
"Everyone you spoke to last night enjoyed your company and have gone out of their way to tell me so today. I thought your after dinner speech was excellent on a number of levels and with some crucial and highly relevant messages for our people right now"-Peter, P&O Ferries

"Today I had the privilege of listening to Alex Gregory MBE talk through his pathway to achieving 2 Olympic Gold & Multiple World & European Gold Medals. It was remarkable and has really struck a cord with me. It's made me think how I review progress, challenges, success, failure and how critical confidence and people are to your and a teams goals. Alex was kind enough to spare some time with me at the end and gave me some advice on challenges I have experienced in recent months. Brilliant, very kind and generous with information an and real class act." -
Chris winder - channel manager - reynolds cateroring group