Why you need a sports speaker at your next conference (or event)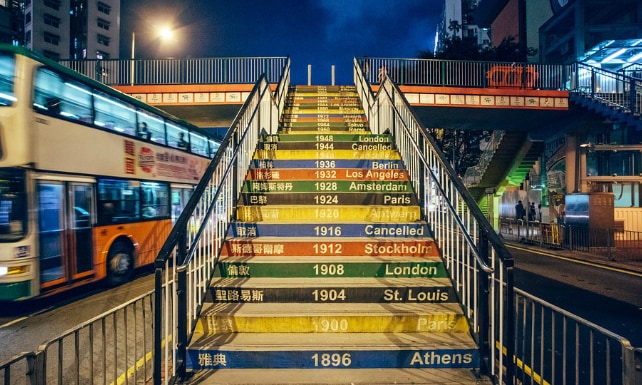 There are many parallels between the worlds of business and sport. Both are highly competitive and unforgiving fields where there is little margin for error, reputation is key, and success is as rewarding as failure is crushing.
Likewise, sportspeople and athletes have traits, characteristics and anecdotes which are just as applicable in the office as they are on the training pitch, making them ideal to address corporate conferences.
At Champions Speakers, we are proud to count a wide array of high calibre athletes and sportspeople among our speakers, and they are available to book through us for whatever speaking engagement you have coming up.
Here is a list of reasons why you should book a sports speaker to speak at your next conference:
Passion
Most entrepreneurs are driven by a passion for their business. It is what keeps them working evenings, nights, weekends and holidays, and it is what helps them going through rough times when anyone else would be asking, "why am I putting myself through this?" Athletes have the same drive, training day after day – Michael Phelps famously practices on Christmas Day – and shedding blood, sweat and tears in order to achieve their goals.
Perseverance
When things are going well, it is easy to go to work. The successful entrepreneur, however, continues to work even when things get difficult. When faced with failure, the entrepreneur refuses to give up and will find ways to be successful. Similarly, perseverance drives the successful athlete to continue to train even in the off-season, and to return to the game even after an injury.
Vision
Seeing a path to success is a typical entrepreneur trait that entrepreneurs possess, despite what critics may think. Likewise, a successful athlete has a clear vision of himself or herself as a winner. Regardless of the odds stacked against them, both are single-minded in their vision.
Self-confidence
An entrepreneur has the confidence that they will be able to succeed, and is more willing to take risks because of that self-confidence. Equally, the athlete or sportsperson needs to be confident in their own abilities to help them stand apart from thousands of others within the same sphere.
Flexibility
Being able to make changes, take on additional job responsibilities or move the business in a different direction is a key characteristic of a prosperous entrepreneur, while the successful sportsperson can adapt to different weather conditions, playing arenas, field position, teammates, coaching staffs and many more variables.
Rule-breaking
By defying conventional wisdom, the entrepreneur is able to create new technologies, processes and products that revolutionize the business world. Likewise, the athlete must be willing to break the rules of society that tries to discourage them from not sticking to the beaten track and reaching greatness.
Tolerance for fear
It can be frightening to assume the risk of starting a business, venture into an unknown field or ask for funding for a product that doesn't yet exist, just like it can be risky to pursue high level sports and perform in front of hundreds, thousands or even millions of people. The successful entrepreneur and the successful athlete, both move beyond the fear and perform at peak ability.
---
At Champions Speakers we boast dozens of incredible sports speakers who have risen from humble roots to conquer the world in every sporting discipline imaginable.
To check out all of our sports speakers for a keynote or after dinner leadership speech, or as an event or conference host, please fill in the Champions Speakers online form or call us on 0207 1010 553 today.