Prince Harry's Vision Pays Off At The Invictus Games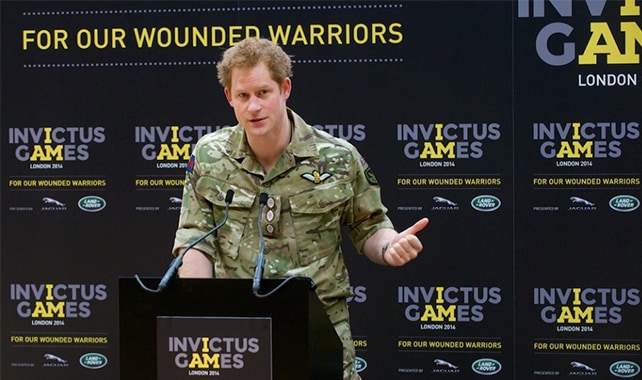 Last night, Sunday 14th September, saw a sell-out concert at London's Queen Elizabeth Olympic Park bring down the curtain on the inaugural Invictus Games in London. The brainchild of Prince Harry, the Paralympic-style Games brought together more than 400 disabled athletes from 13 countries to demonstrate what positivity can achieve and to celebrate the strength of the human spirit. Such has been their success, plans are already afoot for the next Invictus Games and we could soon see them become a fixture on the international sporting calendar.
The Games made use of a number of London 2012 venues, playing their part in ensuring the Olympic legacy is prolonged and that the progress made by Paralympic sports in recent years continues. Champions Speakers have access to a great number of Paralympic and Olympic speakers, all of whom are the perfect fit for your corporate event. They will give your audience a strong sense of how to overcome adversity and reach their full potential.
In 2013 Prince Harry attended the Warrior Games in the United States, an event for wounded servicemen and women, and was so impressed that he brought the idea home and immediately began planning the five day showcase. With his military experience it was only natural that the Prince wanted to give something back to service people who had been injured serving our country.
The Games benefited from £1m of funding provided by the Royal Foundation, a charity established by Prince Harry along with the Duke and Duchess of Cambridge. That amount was matched by the Treasury and Jaguar Land Rover got involved with sponsoring the project. With the funds in place it was full steam ahead for the young Prince, who turned 30 today.
Athletes took part in a number of sports, including archery, wheelchair basketball, wheelchair rugby, swimming, cycling, sitting volleyball, indoor rowing and powerlifting, and events were held at the Lee Valley Athletics Centre and Velopark, Here East, the London Aquatics Centre and the Copper Box Arena. Athletes came from around the world, representing the likes of Afghanistan, Australia, New Zealand, Great Britain, USA, France, Germany, The Netherlands, Georgia and Italy.
The closing concert featured both The Kaiser Chiefs and The Foo Fighters with 26,000 people in attendance. Prince Harry led the celebration, invoking the crowd into a mass Mexican Wave, and he read out a message from Queen Elizabeth. He told the audience, "These games have been about seeing guys sprinting for the finish line and then turning round to clap the last man in. They have been about team-mates choosing to cross the line together, not wanting to come second, but not wanting the other guys to either."
To book Lance Corporal Derek Derenalagi or any one of our fantastic roster of Olympic or Paralympic speakers, fill out our online form or call Champions Speakers on 0207 1010 553.