Former Red Arrows Pilot Blazes A Trail In The Middle East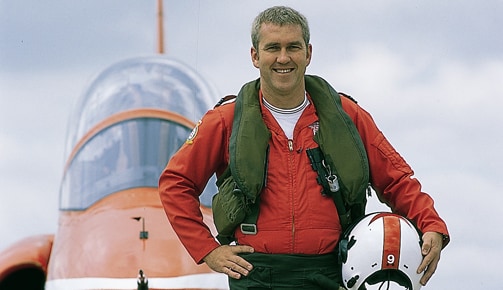 Champions Speakers has scored another success in booking ex-Red Arrows pilot, Justin Hughes, to make a keynote speech for the SAP Training & Development Institute in partnership with AHK, the German-Emirati Joint Council for Industry & Commerce, at a conference to be held on Monday February 9th 2015 at the Etihad Towers Hotel, Abu Dhabi, United Arab Emirates.
During his officer training, Justin was awarded the Wilkinson Sword for Outstanding Leadership and went on to exhibit superb man-management and motivational skills throughout his military career, so he is the perfect candidate for the conference, which is set to concentrate on high performance teams and how to develop and lead teams to their peak performance.
The title of his address will be 'Leading a team to peak performance: Lessons from the Flight Deck' and we wish him all the best as we continue to bolster our long-term relationship with the SAP Training & Development Institute, who provide training for young people all across the Middle East and North African regions.