minute read
Justin Hughes began his career in the RAF, achieving the Wilkinson Sword Award for Outstanding Leadership during his training and graduating as the top cadet of his entry. He has taken part in operational deployments worldwide, including UN peacekeeping operations, becoming force commander on the Tornado due to his outstanding service. Subsequently, Justin was selected for the Red Arrows where he eventually became their Executive Officer.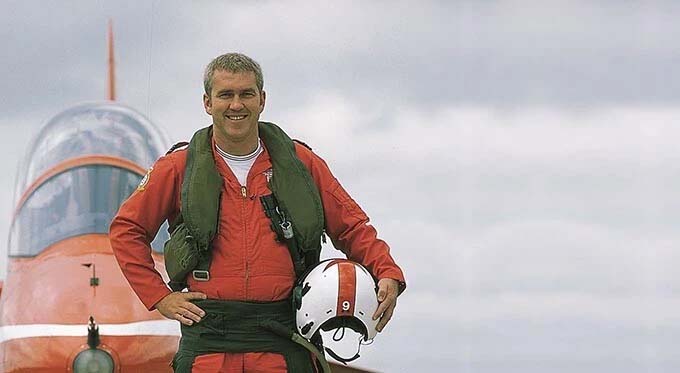 In this inspirational interview with our Director, Jack Hayes, Justin's wealth of knowledge is captivating. As a driver of high performance, his unique insight into a career where failure was not an option makes for a compelling narrative.
If you want to motivate your audience and provide them with actionable strategies to thrive in high-pressure environments, then get in touch with a member of our team to discuss booking Justin Hughes for your webinar, event or private corporate workshop.
Q: What are the key attributes of a Red Arrows pilot?
"Some years ago, a Team Leader answered this question: 'good pair of hands [good pilot] and likes a beer.' A slightly more accurate answer would probably be some combination of high professional standards, decent core flying skills and a team player. The last one, in particular, is very difficult to measure in any objective way and so that's why shortlisted candidates are invited to spend a whole week with the team – over that time, you start to get a sense of what somebody's really like."
Q: In your opinion, what makes the Red Arrows the best?
"This is difficult – the national display teams don't really engage in bragging rights. However, several factors drive the professional standard. Part of it is simply the attitude of the people – they generally combine the will to succeed with humility and a growth mindset – always open, and eager, to learn.
"That hunger is fed by a performance feedback loop where every flight is critically appraised with the learning carried into the next one. And the thing that supports all of the above is a culture of psychological safety which starts with the Team Leader."
Q: What was the inspiration behind your book, The business of Excellence: Building High-Performance Teams and Organisations?
"Apart from the obvious and shameless exercise in self-promotion, I had been encouraged by several clients to 'write it all down'. The book is basically a description of a simple high-performance model that is informed by time as a fighter pilot and on the Red Arrows, and some 15 years observing clients and learning from them.
"I have tried to distil that experience into just a few factors that I believe are consistently present in high-performance teams and organisations."
Q: What would you say the main pillars are for building a high-performance team?
"This is an easy one. I wrote a book! People, Capability, Delivery and Learning. People – attitudes and behaviours, building Capability through clarity, alignment and empowerment, a disciplined outcome-focused approach to Delivery and the glue that joins it all together is a culture of learning and continual improvement."
Q: What is your favourite book and quote?
"Wow. I have read a lot and like a lot of quotes. It's hard to choose one book, but I'm going to go with The Undoing Project by Michael Lewis. A quote is even harder. Let's step away from my usual suspects – Einstein, Buffet and Churchill to name a few.
"How about this from Ward Edwards: 'A good decision cannot guarantee a good outcome. All real decisions are made under uncertainty. A decision is, therefore, a bet…' People underestimate the impact of uncertainty and luck in life."
Q: What advice would you give to a newly appointed manager trying to create a team culture?
"You'll get what you reward. Think very carefully about what you role model, what you reward and recognise and how you deal with 'non-compliance'. People will form an opinion of you as a person and a leader, not by what you say, but by what you do."
Book Justin Hughes
To book Justin Hughes for your event contact the Champions Speakers agency on 0207 1010 553 or email us at [email protected] for a free quote.