MUSICAL VIRTUOSO AND LEADERSHIP COACH
Image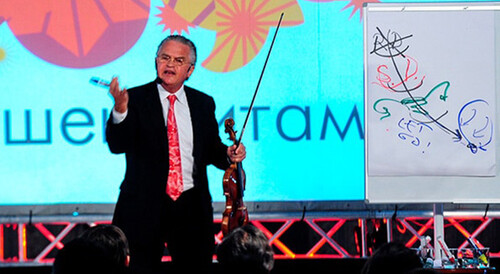 An exceptional virtuoso, both on the musical stage as well as on the management platform. He is the creative force behind cultural and diplomatic missions; his music is medium for his thoughts and his vision development. He is actively engaged in cultural, business and political spheres as well as academia and civil society, while his visions had led him to explore the influence of formative principles of Art on the evolution of society.
It is his practical insight that creative environments need to be developed, where on a raised resonance platform Art forces attract, "compose" and bind together different social fields. His method of interdisciplinary transfer from musical masterpieces to leadership and cultural development, inspiring scores of global brands companies like Shell, Novartis, ING, Porsche, Nike and Microsoft, leading business schools, UN agencies and gatherings like Alpbach and World Economic Forum.
For over 20 years he has been the main speaker at meetings of most successful multinational companies like: Johnson & Johnson, Bosch, IBM, Microsoft, Coca Cola, Shell, BIAH, Electroloux, Unilever, Airbus, Lego, Expedia and Porsche.
Contact the Champions Speakers agency to book Miha Pogacnik for your event today. Simply call a booking agent on 0207 1010 553 or email us at agent@championsukplc.com for a free quote.
When he's at corporate events, Miha is known to cover the following topics:
The Art Of Leadership
Change Management
Creativity Masterclass
The 7 Arts Teambuilding Workshop
HR: From Human Resources To Human Resonance
Reinventing identity: Europe, Unfinished Masterpiece
"Miha, you are truly a friend whom I never forget, especially your presentation in Budapest."- Steve Wozniak aka "The Woz" Co-founder, Apple Computer Inc.

"After a turbulent year of re-designing the organization, it was time to revitalize the team and make sure that they accept the changes and find the energy to look forward positively, shift their focus towards the market and grow the business. For this reason, we asked Miha to perform his inspiring act and touch the people. We were together with 120 people and Miha was able to touch them all; in a different way, but all were somehow touched; that is what music process does to people. In combination with an inspiring speech about transformation, we were able to set the scene for the next days. The meeting ended up with a totally revitalized team that is looking forward to focus on our customers, find new customers and grow the business. Thanks Miha for creating the conditions to reach this result!"- Remko Goudappel, Senior Vice President at Kemira, EMEA, Municipal & Industrial

"Miha is a fantastic communicator and one of the very few people I know who understands well what important role the arts and culture can play in an age where the fundamentals of leadership and business are put to the test. He captures his audience with verve and passion and opens radically new perspectives for innovation." - Philippe Narval,  Managing Director bei European Forum Alpbach

"Looking at the video brought tears to my eyes and transported me back to the remarkable moment we lived at Sanofi….For a moment, I had a burst of adrenaline to get back in a CEO position and contribute to lift us all to our true being and the opening of our inner intelligence that your work does. As chairman of the Board of companies, I am continuously reminded  of the need to bring this breath of life to the corporate world." - Yvon Bastien, past CEO Sanofi Canada, chairman of the Board of 4  health care related companies, director of 6 companies

"For more than a decade I have enjoyed the remarkable talents of Miha Pogacnik. Since my first exposure to him at a leadership retreat, I have asked for Miha to help through rare wisdom and relevant insights guide my organization along its evolutionary journey. Miha delivers a novel message of organizational development theory, laced together through an allegoric compilation of classical music pieces. His energy is only eclipsed by his imagery, which he presents in entertaining fashion to the delight of both novice and connoisseur." - Mark Parrish, President, CEO, & Director at Stuart Dean Company

"Miha is a true inspiration to individuals both in their personal and working life! A visionary and creative entrepreneur, he can move people and entire organisations in directions never thought of. He has many talents and his incredible mind, passion, energy and never ending enthusiasm for new things make him truly unique!" - Nicola Owen, Business Development at 3M GTG

"Both before I became MInister for Culture in Denmark, during that period and now after I stepped down as Minister, I have followed Miha Pogacnik's work. Miha has played a pioneer role in productively connecting Art and business. In out time of great changes and challenges Arts and Culture can not afford to play glorified entertainment side-role, no matter how brilliant it is. But instead must Art and Culture get creatively (entrepreneurially) involved in the transformation of societies." - Uffe Elbæk, MP at The Danish Parliament

"I consider myself as a very lucky person having that opportunity 4 years ago and also 2 years ago to see Miha at work! From the 1st minute of Miha's performance He captures all of your attention and pushes you out of your comfort zone, Miha pushes you to think, think outside the box! "- Galia Amirova, Investor Relations Manager at Baring Vostok Capital Partners

"I had a very inspirational time with Miha during the shooting for my documentary JETZT! Bewusstseinswandel in der Wirtschaft" at Castle Borl (Slovenia) and he inspired the whole event "Wirtschaft neu denken" at MARTa Herford (Germany). The people were speechless. I am looking forward to work with Miha in the near future again!!!!" - Julian Wildgruber, executive producer & production manager bei Studio360Grad GmbH

"Peter Drucker defined Management as a liberal art. It draws from humanities, social and natural sciences. Hence it is fortunate when accomplished musicians such as Miha Pogacnik help to strengthen the bridge from arts to management in an original and unique way." - Richard Straub, President Peter Drucker Society Europe

"You are energetic and passionate as ever and now including cloud computing and IT in your visuals too!  Keep going Miha, you are changing the world!" -Brendan Barns, Founder, London Business Forum

"Miha is an incredibly high energy and inspiring motivational speaker/performer. Through the recommendation of my peer in Germany we hired Miha for an HP leadership meeting. He tied together his outstanding musical talent with relevant leadership messages, and it was an inspiring way." - Carol Potts, Vice President, Americas Global Accounts Sales, Hewlett Packard

"Miha is not only a great musician and performer – he makes you really feel developments and change with your own emotions. Working with Miha is always full of real inspiration. Together wil Miha you can create a feeling, that it is you who can develop a better future and real positive changes. My experience as Change Management Consultant is that Top Managers really get personally involved in Change processes after having made the experience with Miha and his performance." - Manfred Hoefler,  Managing Partner at ICG Integrated Consulting Group

"I had the pleasure of seeing Miha 'in action' at THNK – the Amsterdam School for Creative Leadership. Bridging the gap between art and entrepreneurship, besides the beauty and mastery he demonstrates on the violin, Miha will open your mind and, through music, will move you to insights for positive breakthroughs and change." - Peter Mandeno, CoFounder & Chief Engagement Officer at Wok+Wine

"I was lucky to attend one of your events in Bucharest which targeted senior leaders of outsourcing and call centre industry in Romania. I strongly recommend your out of the box interpretation of leadership to all the senior leaders who would like to offer a different perspective to their teams." - Amalia Sterescu, Senior Business Consultant at Oracle Corporation

"I indeed have enjoyed your thought and the new way of thinking and looking to our daily life. Everything you've said had left deep effects on me and I believe in all participants. You are not THE BEST – YOU ARE A GENIUS :)" - Ahmet Shala, Former Minister of Finance, Republic of Kosovo

"Miha works magic. Through his consummate violin artistry and his deep appreciation of the human journey, he is able to take his audiences into their own experience with change and transformation. I have seen his magic work with very diverse audiences, from corporate executive teams, to school teachers, to interested individuals all over the world. He never fails to create a spell that allows us to go more deeply into our experience, and from those depths extract new levels of awareness and capacity." - Margaret Wheatley, author of Leadership and the New Science and co-author of A Simpler Way

"What I love about Miha is his unstoppable enthusiasm and power to pursue whatever goal he sets for himself." - Sir Ernest Hall, Chairman, Dean Clough, UK

"I was very impressed by the approach. Emotional intelligence is one of the areas that interest me greatly and influence my management and leadership style. The use of music in the way that you used it is new to me. Much appreciated. I hope to have the opportunity to meet with you and learn from you."- Najeeb Al-Shorbaji, UN WHO

"When Miha went to the stage, it was very clearly a breath of fresh air.  The energy, the power… The audience was tired, exhausted, but at the end of the performance, incredibly re-energized, revitalized. " - K.N.Tang,  Chairman Emeritus,  Asia Pacific,  ACNielsen

"What Miha does is fascinating, fresh and astonishingly beautiful.  I think that he would be a wonderful addition to any leadership programme.  He decomposes musical masterpieces to illustrate the leadership journey.  I would highly recommend him if you want to add an innovative and very beautiful slant." - Avivah Wittenberg-Cox, President, European Women's Network

"It's a new way for the business world to see things.  Pogačnik 's approach allows you to draw out the best part of yourself, of your intelligence, your intuition, your inspiration.  It combines the rational part of ourselves with our emotions… which is a key to success." - Cecilia Gobbi, President, Gobbi Foundation

"[Miha Pogačnik brings] the vision and interdisciplinary know-how for helping culture transcend artificial borders…"- Javier Perez de Cuellar, former U.N. Secretary General

"Thank you again, Miha, for your wonderful presentation of transformational relationship musical masterpieces can have on organizational development. This resonates deeply with our striving for excellence and inspiration here at Porsche." - Kurt Walbert, CEO, Porsche Holding Gesellschaft mbH Salzburg

"It has been my belief that art in any form is the real source of inspiration and creativity. Miha Pogačnik, with his violin, his music, his presentation has proven once more to me the validity of this. In the Mattel environment, so driven to creativity, Miha's music and presentation has been a wonderful, inspiring, rejuvenating experience. His artistry playing the Guarnieri's violin touches the most inner cords of human being". - Aldo Fauilli, Sculptor, Mattel Corporation