Green & Black's Chocolate Co-Founder, Inspirational Speaker & Leading Entrepreneur
Image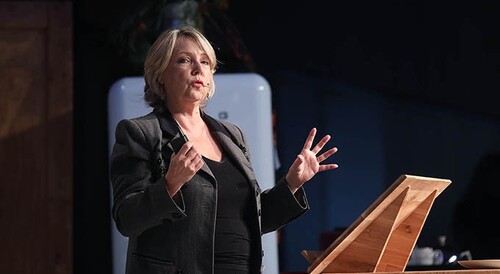 One of the nation's leading entrepreneurs, Josephine Fairley is the creator of Green & Blacks, a confectionary brand that has grown from a £20,000 start-up to a brand worth £100 million in less than 20 years. Despite its widespread availability, Green & Blacks has maintained its exclusive and luxurious branding, a trick that has led to Green & Blacks being the only brand to feature consistently in the UK's CoolBrands top 20.
A pre-eminent retail speaker, Josephine highlights the social responsibility of food producers and the need to promote Fairtrade producers in our major retailers. From its inception, Green & Blacks was always an ethical brand, sourcing cocoa direct from third-world farmers and paying a fair price for their produce. Becoming the first company in the UK to be awarded the UK Fairtrade Mark with Maya Gold, now all of Green & Blacks' portfolio holds this certificate.  As a retail speaker, Josephine stresses the importance of producing a brand that speaks to consumers, as ethical issues and environmental responsibility become an ever growing consideration in shopper's minds.
With rapidly increasing demand as a business speaker, Josephine addresses conferences and audiences at events as a keynote speaker to establish underlying corporate themes to proceedings. Recent clients of Josephine's include HSBC, O2 and Business Link. With speeches breaching topics of Women in business, corporate social responsibility and entrepreneurialism, Josephine appeals to a wide range of audiences and walks of life. With Josephine's talks as a keynote speaker having the ability to be tailored to client's briefs, Fairley is a flexible and diverse retail speaker who enjoys the challenge of presenting an alternative perspective on how to appeal to consumers and create a retail phenomenon.
Contact the Champions Speakers agency to book Jo Fairley for your event today. Simply call a booking agent on 0207 1010 553 or email us at agent@championsukplc.com for a free quote.
When at corporate events, Josephine is known to cover the following topics:
Retail Speaker
Business Speaker
Social Responsibility
Branding & Reputation
Ethical Consumerism
Women In Business
"She had an action-packed day at the College, speaking with local hospitality employers at a lunch, inspiring our current students at two workshops and motivating our award winners to believe in their ideas and ambitions at our annual awards ceremony in the evening. Jo's experiences and achievements were shared so well with all audiences, everyone enjoyed their time with her. Her talks were from real experiences, sharing real problems and real solutions. Her friendly nature and positive attitude were a great example to all who attended, and her easy going personality made managing all three events an easy task. I would certainly recommend Jo to other organisations who are looking for a 'down-to-earth', inspirational and motivational speaker. Jo was a pleasure to host and I would welcome her back to the College again." - Kate, Marketing Officer, City College Plymouth
"Jo's story and presentation was incredible and well received by the attendees of the event.  Everyone was fully engaged as she shared her real experiences with the audience providing an inspirational and valuable insight into her business and business practices. Jo has a very friendly and down to earth demeanour and was extremely generous with her time throughout her talk and at the Q&A session. After the event Jo graciously spoke to all those who wanted to chat directly with her. Jo's positive attitude to business is a shining example to entrepreneurs." - Avril, Brilliant Red Ltd
"Jo met the brief and event objectives 100%. She handled everything with the up-most professionalism and her comments were enlightening." - Jergens Naturals
"Josephine Fairley spoke at our Chairman's Annual Business Dinner on the 15th March 2013. Jo was absolutely fantastic, her talk was so inspirational and completely fitted our audience of 160 business delegates. Jo's story gripped the crowd by being both honest and funny, holding everyone's full attention for 40minutes. Jo also communicated well in lead up to the event ensuring that she had an understanding of the audience that would be present as well as providing me with contact details, making my role as an event manages that little bit easier. On the evening and shortly after the event, I received an abundance of compliments from delegates all praising Jo's talk so once again, thank you." - Suzanne, Plymouth Chamber or Commerce & Industry
"I just wanted to pass on that Jo Fairley was absolutely brilliant! The learners benefited a great deal from these talks." - Jayne, Newcastle-under-Lyme College
"It was wonderful that Josephine Fairly could speak at our first 'An Evening with Women in Business' event.  Her openness and honesty about her business development provided everyone with plenty of food for thought to add value and help grow their own businesses." - Clarie, Smith Partnership
"I have received such positive feedback from across the company about how insightful, entertaining, and engaging your talk was. The fact that you tailored your story, which is equally inspiring on its own, to also reflect on insights into ATG was the perfect fit for the day. With of course the very generous added bonus of a bit of chocolate for everyone!" - Olivia, Ambassador Theatre Group
"An absolute pleasure to work with and hugely engaging with the guests in sharing her story and inspiring others. Really looking forward to working with Jo again." - Elisabeth, Wilson Hartnell PR (Organisers of Allied Irish Bank event 'Backing a Sustainable Future').
"Jo was the perfect speaker for our International Women's Day Business Breakfast. Thought-provoking, inspirational, insightful and engaging, we've had really great feedback from our clients. A pleasure to work with and an ideal speaker for our audience of entrepreneurs and business people. I wouldn't hesitate to recommend her." - Julie, PR & Marketing Officer - BE Offices.
"Jo's story and presentation was incredible and well received by the attendees of the event. Everyone was fully engaged as she shared her real experiences with the audience providing an inspirational and valuable insight into her business and business practices. Jo has a very friendly and down to earth demeanour and was extremely generous with her time throughout her talk and at the Q&A session. After the event, Jo graciously spoke to all those who wanted to chat directly with her. Jo's positive attitude to business is a shining example to entrepreneurs." - Avril, Brilliant Red Ltd
"Jo delivered an engaging and interesting account of Green and Blacks' which drew in the audience. Her thoughts and lessons learnt from the business was very insightful especially from the perspective of a women in business. We thoroughly enjoyed her talk (especially the chocolate!) and recommend her highly." - Sacha, Hargreaves Lansdown
"Jo is an inspiring entrepreneur, a resilient and creative businesswoman, and a self-confessed chocoholic. As the co-founder of one of the world's most well-loved confectionary brands, Jo Fairley offers hugely valuable insight into the world of international trade and growing a business overseas. As part of our Trade Horizons Roadshow events, Jo hit the brief to a very high standard, taking care to ensure that her presentation was structured around the customer experience which we had designed. It was clear that the audience left inspired by Jo's story. Jo also made a point of allowing ample time for her Q+A - something often overlooked – this also included a chocolate prize for the best question!" - Jim, Business West

"We were delighted to have Jo Fairley share her business story, experience, and business advice at our annual conference. Jo met her 'Think Different' brief perfectly giving an entertaining, high energy, engaging, motivational, thought provoking, and behaviour changing presentation. Her powerful message was delivered with humour but sprinkled with excellent take away business tips and advice (and delicious chocolate) for our delegates to enjoy. I can highly recommend Jo for any event." - John SightCare Group

"Jo was a huge success at the event on Friday - everybody loved her and her speech was inspirational and relevant. Thanks for all your help, it's been great working with you." - Be Bold PR

"Jo Fairley is a phenomenal story-teller. Our audience was dazzled by her wit and extraordinary knowledge of branding and organic businesses." - Alex, IPO

"Everything went very well and Jo was amazing! - Hugo Boss

"You truly inspired us with your story and what you said about sustainability, thinking different and that no idea is too crazy and I think you could tell by the amount of questions, that there was a lot of interest in those topics and your personal journey." - Hugo Boss

"Jo was amazing! Such a delight to work with, and spend time with before and after her keynote. The audience loved her, got some really great feedback – and the little touches like the chocolate have really gone really well!" - Richmond Events

"Thanks again for all your help with securing Jo for our event. It was a great evening and we had a wonderful response from having Jo speak." - Bianca, Bain & Co

"Everything went really well all the ITAs have been telling me how good they thought Jo Fairley was. The room of 70+ (Including me) were all captivated by her story. She is knowledgeable, funny and approachable happy to answer any one's question and the Green & Blacks chocolate she bought were an added bonus." - Joanna, Newable Trading Ltd