WORLD'S YOUNGEST PERSON TO CLIMB EVEREST AND REACH THE NORTH POLE
Image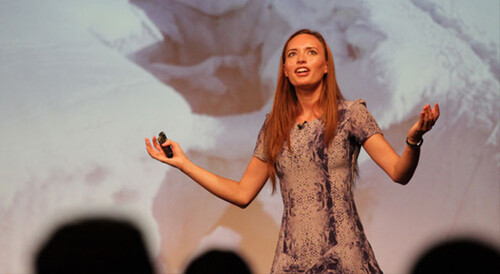 Image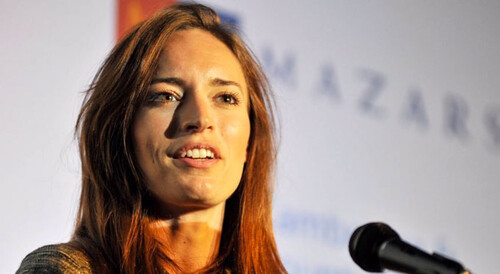 Image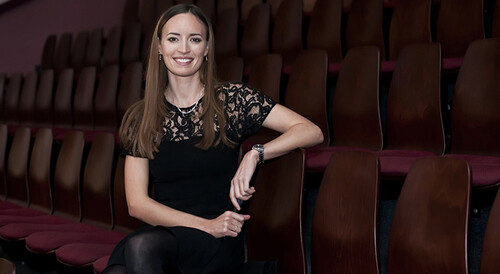 Image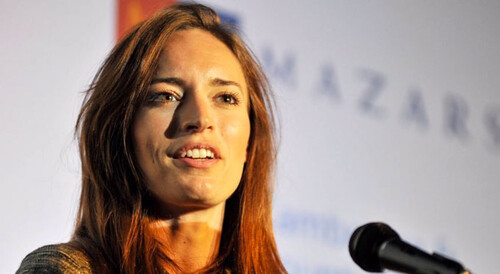 Bonita Norris is one of the UK's leading adventurers. She has spoken at hundreds of events over her 5 years as a speaker and has been touted on numerous occasions as the most inspiring speaker event organisers have ever come across.
When it comes to taking on seemingly impossible challenges, Bonita Norris is the real deal. Not only is she a great story teller with thousands of hours of presenting under her belt, she is also a respected mountaineer and juggles motivational speaking around her expeditions to the world's most dangerous mountains.
In 2016 she took on her biggest challenge to date, and being faced with so much risk has only added another level of sincerity and humility to the stories she will share with your audience. Bonita Norris's presentation is her story of going from novice climber to standing on top of Mt Everest in only two years. It is a journey against all odds that speaks to the hearts and minds of every audience member.
Her aim is to make every individual reflect upon their own life goals and the challenges they face, and equip them with the techniques she used to get through her toughest moments. Bonita Norris tells of the lessons she learnt as an ordinary girl taking on an extraordinary and overwhelming challenge. Her message of marginal gains, not giving in, and always keeping our minds open to new opportunities and challenges is as relevant to graduate's as it is the board of directors.
Accompanied by stunning photographs from her expeditions to the Himalayas, Bonita Norris's talk is heart warming, humorous and ultimately inspiring- she is not afraid to tell people that when they most want to give up, they still have so much more to give, and that they can achieve great things when they start to trust in the smallest of steps.
Expect tears and laughter, grimacing and gasping and for the buzz surrounding her presentation to be with your event for the rest of the day, and the impact on audience members to potentially last a lifetime.
Contact the Champions Speakers agency to book Bonita Norris for your event today. Simply call a booking agent on 0207 1010 553 or email us at agent@championsukplc.com for a free quote.
When Bonita's at corporate events, she is known to cover the following topics:
Drive & Determination
Overcoming Adversity
Peak Performance
Overcoming Obstacles
Keeping An Open Mind
Dealing With Pressure
Read what people had to say about Bonita, when she appeared at their corporate events:
"One of the most inspirational speakers I have met. Totally applicable experience for a leadership programme. Eloquent and modest she totally drew the listeners in. Some of us forgot where we were, we were so enthralled. Absolutely fantastic."
 Rachel, Thales Learning and Development
"Bonita's visit exceeded all of our expectations. She was warm and friendly with an incredible story to tell. The children were hooked from the minute she started speaking (as were all of the adults present). Her amazing photographs added to the story. She talked passionately for an hour – the children did not move. They were truly mesmerised. Overall it was a very special afternoon. Bonita was extremely engaging and her determination to achieve was evident. She was passionate yet realistic. Her motto 'Aim High' really resounded with us all. I can honestly say that everyone at our school who was part of this event was touched by Bonita and her incredible journey."
Andrew, Southway Primary School.
"I have seen many speakers over the years and less than a handful have been able to capture an audience for an hour without anyone realising that time had passed. She was funny, articulate and somehow humble even given her achievements and whilst the word is used rather too much these days, she was genuinely inspirational"
Lyndon, Capabilities & Consulting TT&C
"I sat through her presentation and thoroughly enjoyed it. I spoke today to so many colleagues who also really loved it. She provided the students with so many stories, humorous anecdotes that I am sure they will always remember and most importantly, with tips for motivation. She truly is an inspiration!"
Julie Derrick, Invicta Grammar School.
"I have taught in London for ten years and then been at Charlton for the last seven. Never have we had, nor have I seen a better speaker. I have seen almost every type of speaker at all functions….Bonita made people sit up and take notice. It was absolutely amazing and afterwards, I spoke to so many students who were so buzzing because of what she said. Kids (and parents) need people like her to raise their spirits, hopes and overall game."
Helen, Charlton Academy.
"Bonita is a rare combination of qualities – she is determined yet humble, really human yet clearly incredibly driven – she made our course delegates feel that if she could achieve what she had from such a standing start they could too. She particularly connected with the women in the audience; young, female and super-successful she was a genuine role model for our talented women."
Claire, Marks and Spencer
"I want to say thank you so much to Bonita for the talk that she gave to the 300 young people on Friday evening in Loughborough. Her story and presentation style resonated fantastically well with the themes of the camp and we were able to use excerpts from what she told us about her experiences throughout the weekend. The audience of talented young athletes and coaches were gripped from start to finish and I am certain that they will take away some really significant learning and influence from the session."
Will,  Youth Sport Trust.
"You have beat me to my thank you to Bonita and yourself!!  She was absolutely perfect.  Please share our heartfelt thanks (although I assure we did in person yesterday as well).  What an impressive individual in every way."
Duracell
"Bonita was absolutely fantastic! We were so pleased with her presentation, it couldn't have been any more fitting for our conference if we'd planned it. It is always risky organizing for someone to speak at a large event like our conference particularly when they are not directly linked to the focus of the conference and you haven't heard them present before but both her delivery and presentation were fantastic. Please can you pass on our thanks to her. We would recommend her without a doubt."
Sara, Partners In Learning, Teaching School Alliance
"Bonita did a fantastic job, I can't thank her and yourselves enough! I've had so much positive feedback about her from both our people and our senior leaders. She did such a good job winding in our needs to her speech and wow is she inspiring!! Please pass on my thanks to her, she really did great."
Louise, Royal London
"The students really enjoyed Bonita's presentation.  We even had one student who was about to 'drop-out' of the NCS programme, but after listening to Bonita, decided that she would go, and face some challenges. They are now back from their residential trip and the student had a fantastic time, and so glad she went."
Gill, Harlow College
"The event went very well thank you - with lots of very positive feedback about Bonita's session from many of our guests. Bonita was lovely to work with and I believe we sold around 30 of her books, which is great news. Many thanks for working with us to ensure the event's success."
Claire, Smith Partnership
"She went down a storm and the feedback was excellent so very happy".
Aidan Moran, Proximity

"Feedback has been very positive and Bonita was certainly very inspiring in her delivery.  She clearly has a passion for what she does and her determination both before she got to the mountain and then whilst on it was incredible."
Caroline, Brit Insurance

"In sum Bonita was fantastic, her talk was from the heart and held relevance to the style of leadership that we are trying to instil and expose our Officer Cadets to, she held the whole of the Playfair Library and the relaxed manner of her delivery was exactly what I had envisaged. The whole evening was a total success and Bonita's talk added the 'wow' factor I wanted. Please pass on our heartfelt thanks to Bonita, thanks again for all your assistance."
Major JM Anderson RLC - City of Edinburgh Universities Officers' Training Corps

"Bonita was absolutely inspirational and incredibly motivational! We were hooked for the whole hour.  Fabulous context, fabulous photos which had my knees knocking! She taught us a lot about team work and just concentrating on taking small steps to reach your 'mountain'. Couldn't have asked for a better ending to the conference." - HM Treasury

"This was once again a speaker who exceeded our expectations. You could have heard a pin drop in the meeting room as she told a very inspirational story of her Everest climb. All of our delegates took something from this event either by way of personal or professional development. Many thanks once again for your recommendation of Bonita" - Alistair, Lidl
"We had a lot of really good feedback on Bonita's talk – with a lot of the guests saying that it was interesting to hear a slightly different perspective from someone who wasn't necessarily in competitive sports but also faces similar challenges to them and she had a lot of really useful insights. Everyone loved her speech and pictures and she really captured the room's attention. It was also so easy to work with her in terms of her needs and how organised she was ahead of the event"
"Bonita was exceptional and the feedback we have received from parents, governors and students has been outstanding"-Anne Kelly, Higsted Grammar School
"We loved the talk and big thanks to Bonita! I got a lot of good feedback after her talk." - Laura, Edwards
"The group was absolutely thrilled with her presentation and her story. We really appreciate her making the trip here for the day"-Kristen, Planview
"A short message to thank Bonita for her inspiring talk today at the MMR offices in Oxfordshire. People have been buzzing all afternoon! I appreciate her efforts to echo some key messages from the event." - Andy Wardlaw, MMR Research Worldwide
"Bonita was utterly fabulous. It could not have been better. We've never done a kick off event before so we've well and truly set the bar high. Lots of super positive comments from right across the team and a sense of people feeling very motivated and empowered as a result of the event. Bonita did a great job of weaving in our theme and values but also (by accident) other aspects of our event like marginal/incremental gains"-Alex Coates