Sport Relief raises over 50 Million Pounds for charity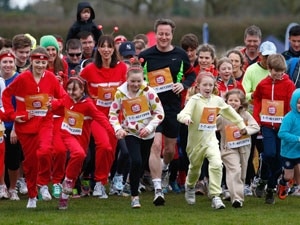 This year's Sport Relief took place over the weekend and has so far raised nearly £54 million for charity. On Friday night, the live show welcomed a host of famous faces including a sketch featuring David Beckham and a live reunion of former Neighbours stars Kylie Minogue and Jason Donovan.
Sebastian Coe and John Bishop led two teams of celebrities that went head-to-head in a series of sporting challenges which were eventually won by the former Olympian's team.
David and Samantha Cameron joined hundreds of runners in the Sport Relief Mile in Oxford and the England cricket team took time out from their Twenty20 World Cup campaign to run a mile in Bangladesh.
Comedian Russell Brand also joined regular pundits Gary Linekar and Alan Shearer on Match of the Day and jokingly criticised Wayne Rooney after his two goals sank his team West Ham. Brand said: "I think David Beckham's goal is a very beautiful and iconic goal, and wasn't immediately preceded by some terrible elbow work,"
Champions Speakers has a fantastic array of celebrities and sporting speakers available for booking. Browse through the selection today and choose a personality for your event.