Qatar 2022 World Cup to be moved from summer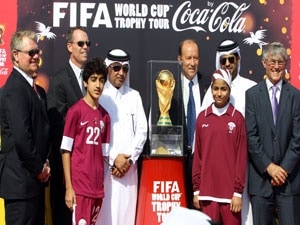 News has emerged today that the 2022 World Cup will not be held in June and July, according to the FIFA general secretary Jerome Valcke. After months of speculation about the weather conditions in Qatar, it has been agreed that the intense heat of the summer would be too dangerous for teams to play in.
President Sepp Blatter had already announced that the tournament would be held in winter but organisers still held out hope that a summer World Cup could be arranged.
The World Cup was controversially awarded to Qatar in 2010 and debate has raged as to the wisdom of awarding the summer tournament to the country. It is expected that the World Cup will be moved to winter between November and January, which will mean interruptions to football seasons across the globe and potentially the Africa Cup of Nations which is already scheduled for January 2013.
In summer, temperatures in the Middle Eastern country can rise upwards of 50 C and average around 25 C in winter.
England legend Peter Shilton played in three World Cups and has shared his thoughts on the decision with us:
"Qatar is a great up-and-coming sporting nation but the decision to award a summer tournament to them has to be questioned. Moving the tournament to winter will have a big effect not only on the Premier League, but for top leagues across the world.
The quality of the leagues will be affected because of players becoming tired after playing so many games in a short space of time and the interruption will affect the amount of money the league brings in. At the moment, the winter period is one of the busiest in the Premier League and this announcement will certainly cause plenty of headaches for organisers."