minute read
Corporate lunch and learns have taken off in recent years, providing a perfect platform for your team to meet, network and benefit from industry insight. Working to increase collaboration, as well as engage and motivate a team, lunch and learns have become a valuable tool for businesses.
Due to them taking place in an employees lunch hour, lunch and learns are in most cases, voluntary. The participants are treated to lunch in exchange for their time. But there is so much more than a free lunch that makes them beneficial to all in attendance.
Let's take a look at what makes them worthwhile and the things you should ensure ahead of your event. Here is your team-building lunch and learn checklist, complete with ideas to make yours stand out.
Corporate Lunch and Learn Ideas & Top Tips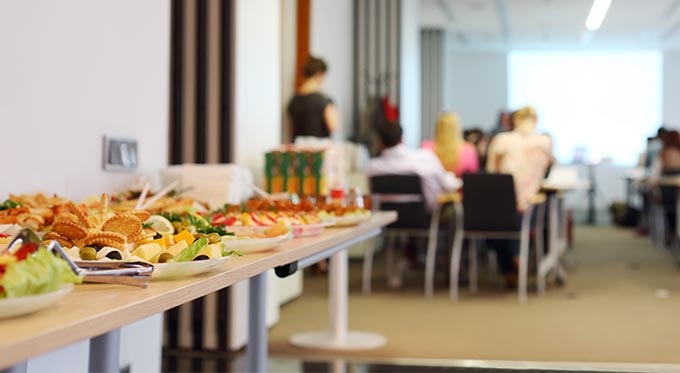 A lunch and learn can provide an opportunity to express a message that is useful to all in attendance. It allows employees to pick up industry tips and tricks that can further their understanding of the role they do, the business they work for or the industry they work in.
1. Something for Something
While lunch and learn sessions are a great place to get across business goals and strategies to your wider team, too many of these types of meetings might make your team resent them. Remember, free lunch or not, they are giving up their valuable downtime, and are looking to use that time effectively.
Look at a lunch and learn as 50/50, something for something arrangements. Both parties gain and both parties give back for the privilege. Express your message sure, but entertain and educate them too!
2. Keep it Interesting
You want to use your meeting as a chance to motivate your team, make them feel good and show that you care about them, as well as getting across your core message. The balance between all will keep attendance up in future lunches. Make sure your speaker, whether it is a team member or a professional guest speaker engages your team.
The speech, seminar, video or presentation should be well thought out to ensure it is relevant to all in attendance. The more focused it is, the more likely they are to be on board with your aims.
3. Don't Skimp on the Food
Not skimping doesn't have to mean excessive expenditure. It could mean a free buffet or a food voucher for your in-house canteen. It could be a pizza and salad bar, a sandwich station or nibbles on the tables. Simply make it filling, ensure there is enough, make it accessible and not too messy, and you have the recipe for a successful lunch and learn.
4. Inspire All
Inspirational speeches serve to bring up morale and improve teamwork, so by giving your team a masterful pep talk, you can not only make your team feel good about themselves and their work but also improve productivity levels.
5. Make It Serve a Purpose
Corporate lunch and learn can be deemed a success if the goals of both parties are met. Knowing exactly what you want to get out of the lunch, as well as knowing what your team expect to get out of it can serve to further the quality of your event delivery. It can be the difference between eyes wide shut and eyes wide open.
Be transparent with your team and they will approach the lunch and learn positively. Set your goals early and work step by step on your order of ceremony to ensure the purpose is met.
6. Book a Keynote Or Leadership Speaker
Central to the success of a lunch and learn is leaving your guests better-informed. You may have internal experts that can teach new things to your team, and this can be a good time for them to share their experience and insight.
But it can be refreshing to hear from an outsider. To hear trade secrets and best practices from the experiences of industry-leading experts can be advantageous.
No matter if you are looking for motivational, keynote or leadership speakers from a range of specific fields - they can bring a sense of refinement and care to your conference, without you having to plan the event in too much detail. An industry professional in the lunchroom is also a fantastic way to fill seats!
FAQs for Corporate Lunch and Learn Sessions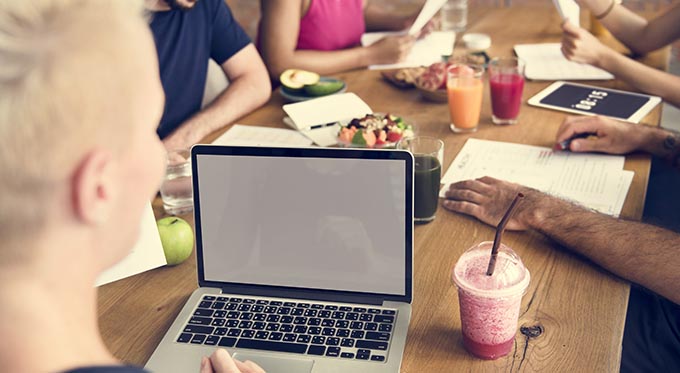 Let's take a look at some of the commonly asked questions surrounding lunch and learn ideas for businesses, and make sure that you get it right for yours.
How Long Should a Lunch and Learn Be?
This depends largely on the aims of your lunch and learn sessions. If the aim of it is to provide a business update or inform on new practices, short and succinct is the best practice. If your lunch and learn presentation is more in-fitting with the traditional values of the meeting type and serves to offer your guests a takeaway (aside from their lunch) then it should be as long as it needs to be.
Again, try and sum up the key messages in a concise fashion, but be aware of the best learning methods. Make it visual, intriguing, entertaining and your attendees won't mind spending an hour of their lunchtime getting a free lunch and an inspiring speech. Win/Win!
How Often Should You Schedule One?
Don't make this so regular that you can hear the collective drone in the hallway when you put another one up on the notice board. Keep them excited by the possibilities and lunch and learn presentations will earn a reputation as being a useful, insightful aspect of work that they all look forward to.
Quarterly lunch and learns is a good idea, while we would suggest not going over monthly meets. Quality over quantity!
How Do You Promote a Lunch and Learn?
Promoting a lunch and learn can be simple. An email chain can be enough if the event is likely to turn heads, while posters could also spread the word. By promising a tasty lunch and a popular speaker, you won't have any problem filling seats.
Make sure you ask your team to confirm their spot so you know the numbers ahead of the event though, and if numbers are low, you know to offer another incentive or make the event seem even more appealing to all.
Event Topics
If you need advice on how to find the corporate lunch and learn topics for managers or employees, as well as book speakers for your event, our team are experts at sourcing a speaker based on the requirements of your event. Here is a list of some of the most popular topics:
Book a Speaker for Your Corporate Lunch & Learn
The Champions Speakers agency regularly host a networking breakfast at the Gherkin in London, having featured the likes of Jonny Wilkinson, Kellie Maloney and Miles Hilton-Barber in recent times.
We know the key benefits of such events, and the impact they can have on personal, business and organisational development. Booking a keynote or leadership speaker can give your lunch and learn the authority it deserves, as well as tapping into the lunch and learn topics you wish to get across.
Get in touch via our online form or call 0207 1010 553 and let us help you organise your corporate lunch and learn.