Physicist Stephen Hawking Dies Aged 76
One of the world's most famous scientists Stephen Hawking has passed away this morning at the age of 76. Renowned for his work with black holes and relativity, he became the first person to set out a theory regarding cosmology as a union of relativity and quantum mechanics.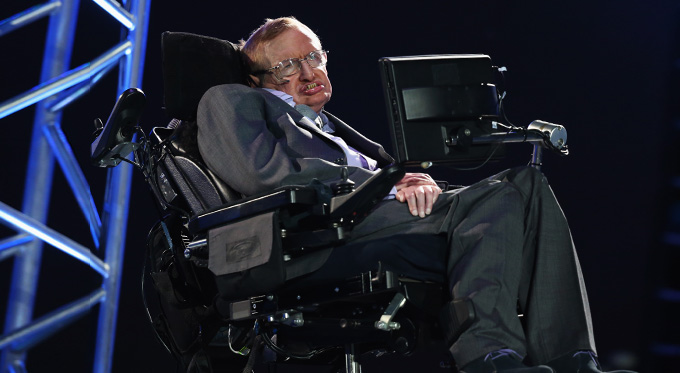 Having written several books on a whole range of physics topics, Stephen established himself as one of the greatest scientists in the world. His career is even more remarkable when you consider that aged just 22 he was given only a few years to live when he was diagnosed with a rare form of motor neurone disease. This illness left him wheelchair bound and unable to speak apart from through a voice synthesiser.
Despite suffering from such a terrible illness, Stephen still went on to live a full life defying the doctors and living until the age of 76. Making many scientific breakthroughs along the way, he passed away peacefully in the early hours of Wednesday morning at his family home in Cambridge.
In a statement his children Lucy, Robert and Tim said: "We are deeply saddened that our beloved father passed away today. He was a great scientist and an extraordinary man whose work and legacy will live on for many years. He once said, 'It would not be much of a universe if it wasn't home to the people you love.' We will miss him forever."
Another phenomenon he discovered was that black holes leak energy and fade to nothing, a breakthrough that would become known as the Hawking radiation. As his career progressed he began to conduct frequent lectures on a whole host of scientific topics performing at some of the most prestigious institutions in the world including Harvard University, University of Cambridge and the University of Geneva. Until his death he held the position of Lucasian Professor of Mathematics at the University of Cambridge where he continued to contribute to ongoing physics projects.
At all of his talks Stephen gave audiences a remarkable insight into his truly wonderful mind, and he was so well regarded that he also became a TED speaker bringing his expert views to audiences across the world.
One issue that he was particularly outspoken about was artificial intelligence (AI). An area that is advancing all the time he very much viewed it as a threat to mankind once saying it had the potential to end the human race.
He explained: "The development of full artificial intelligence could spell the end of the human race. fear that AI may replace humans altogether. If people design computer viruses, someone will design AI that improves and replicates itself. This will be a new form of life that outperforms humans. "It would take off on its own, and re-design itself at an ever-increasing rate."
Stephen was also concerned about climate change issues, believing that humanity could become extinct by 2600 as a result and that within the next 100 years humans will need to colonise another planet to combat climate change as well as the misuse of technology, asteroid strikes and overpopulation.
Not only did he make an impact on the world of science, but as he gained more and more popularity he began featuring on some of the world's most popular television programmes and was always happy to appear in comedy roles portraying himself. He featured in the likes of The Simpsons and The Big Bang Theory. Stephen's life was also immortalised in film with The Theory of Everything released in 2014 seeing Eddie Redmayne take on the role of the professor.
Tributes from all over the world have been pouring in amid the announcement of his death, and he will always be remembered for the life he lived, advancements he made and wisdom he imparted on the world.
"Look up at the stars and not down at your feet. Try to make sense of what you see and wonder about what makes the universe exist. Be curious." Stephen Hawking 1942-2018.