Rachel Gauntley
Describe a day at the Champions After Dinner Speakers Agency:
I always like to get in a little early, in order to sort through my emails and get everything organised before 9am. Some would say I'm a bit of a 'keen bean', but this time of the day is great for checking any of the international leads we receive overnight - the diversity of different requests we get is huge so every day is different. When the day really kicks off I begin with processing contracts, checking how events the night before went for our after dinner speakers, before moving onto phoning potential leads.
Talking to our clientele on the phone is hugely important. Not only does it allow us to get a real feel for the type of personality they are looking to book for their event, but it also gives us the opportunity to put any worries to rest about the processes of booking a celebrity for their function.
As I'm relatively new to the agency, I'm often testing myself to use the systems and databases we use to keep track of the whole process. Keeping fresh on the technical aspect of my role pays dividends once bookings are made and ensures our clients get the best possible result.
What do you love most about your job?:
I love speaking to the vast majority of differing clients we have and particularly enjoy when someone is after a famous politician or journalist, as both topics are a passion of mine so I love compiling a selection of these personalities.
What has been your biggest and best booking?:
I recently booked the comedian Katherine Ryan for an event, which was exciting. I've got quite a few big jobs coming up though, but they're a secret at the minute for the guests so you're getting nothing out of me!
Who is your favourite speaker?:
I've watched cricketer Matthew Hoggard MBE deliver an after dinner speech and that was hugely entertaining. Hoggy is so down to earth and funny that it feels as if you are listening to a good friend. His impressive career bears the fruit of some intriguing anecdotal tales too, a great bonus!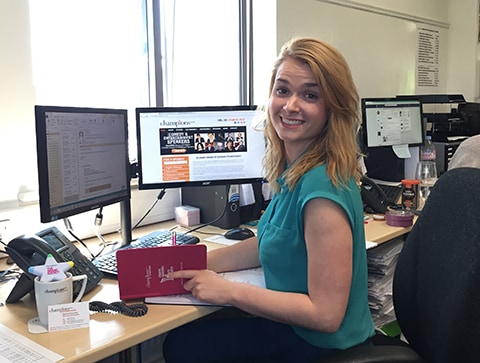 What's your ideal night out?:
I'm an advocate of organised fun. Of late we have been bowling, played mini golf and have plenty more activities planned, spending time out of work with my colleagues is terrific fun and brings us together as a corporate collective in the process.
Tell us a joke:
Why did the scarecrow win a nobel prize?
He was outstanding in his field.
What's your favourite food?
Despite all the world has to offer, I still think a Roast Dinner is hard to beat. Topped off with Ben & Jerry's Peanut Butter Cup Ice Cream, and I'm in heaven!
What's your desert island disc?
This has got to be Use Somebody by the Kings of Leon. Absolute tune.
For more information on our after dinner speakers and celebrity personalities, call today on 0207 1010 553 to discuss booking one for your event.