Actor Who Has Played Ken Barlow In Coronation Street Since It's First Episode In 1960
Image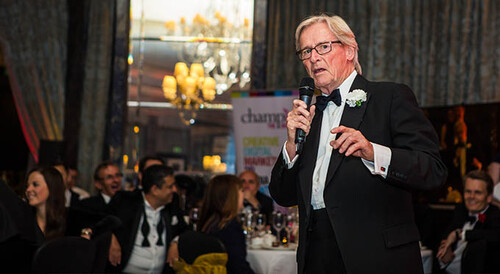 William Roache is one of Britain's most beloved actors and is probably best known for his long running portrayal of Ken Barlow in the popular British soap opera Coronation Street. With more than fifty years as a TV star under his belt William Roache didn't always want to be an actor; intending to follow in his father's footsteps and become a doctor Roache began studying medicine. Bill Roache might never had graduated into acting had he not been called up for national service: deciding to stay in the Royal Welch Fusiliers for a further five years where he rose to the rank of Captain serving around the world in countries from Germany to Jamaica.
Upon leaving the army Bill turned his mind to his career; he had been an amateur actor in his younger days and won awards for his acting abilities whilst at school, his first roles as an actor were in the TV series Skyport and Knight Errant, and it was whilst appearing in a theatre performance of Marking Time he was approached by then unaired ITV series Coronation Street. William Roache's performance as Ken Barlow quickly became one of the most popular on Coronation Street; he has appeared consistently in the show throughout the years and is continually applauded for his skills as an actor.
Bill Roache appeared in the very first episode of the BAFTA award-winning soap opera; he has played Ken Barlow for more than fifty years and is one of the biggest TV stars to come out of the show. He was given a Lifetime Achievement Award at the British Television Soap Awards in 2000 and holds a Guinness World Record for his long-running role. William gained the highest honour in 2001 when, as part of the Queen's New Year's Honours, he was given an MBE for his services to television drama and work as an actor. Now an established TV star William is known for his deep spiritual beliefs; family is of the highest importance to Bill and he is a proud father and grandfather. Two of his sons have also gone on to become TV stars in their own right, with his youngest son James also appearing as an actor in Coronation Street, as Ken Barlow's grandson.
Bill's vast and loyal fan base have remained strong throughout his many years of TV stardom, and his popularity and status as one of Britain's most beloved TV stars was recognised by the University of Chester with an honorary doctorate. Outside his work as a professional actor William Roache is an avid supporter of various charities, he is a Patron of Crimestoppers and supports the Prince's Trust, St David's Hospice, Childhood Eye Cancer and Henshaws Society for the blind. William has taken his own experiences of hardship and bankruptcy and now uses them to help inspire, enlighten and assist others; a conscientious and dedicated person William Roache dedicates much of his spare time to helping those who find themselves in similar situations, Bill further compliments this by advocating responsible money lending and is actively involved in WACCA (Worried About Consumer Credit Abuse) and strongly opposes instant loan companies. Following the sudden death of his wife, Sara Bill Roache founded The Sara Roache Foundation which raises money to support various worthwhile charities.
In 2008 William Roache MBE released his first book: The Soul Of The Street which gave inspiring personal insights into Bill's own spiritual beliefs and the moments and events that have shaped his life and his understanding of the world. Two years later in 2010 Bill released a second book: 50 Years On The Street – My Life With Ken Barlow, which gave fans a fascinating view into William's connection to his character beyond his capacity as an actor. William's impressive stage presence and experience as an actor make him an excellent choice for event host or guest at various functions; the longevity of his career and admirable public standing mark him as a commanding host, his class and authority capture the attention of all audiences whilst the kindness and generosity of his personality make him an enigmatic speaker and actor.
Contact the Champions Speakers agency to book William Roache for your event today. Simply call a booking agent on 0207 1010 553 or email us at agent@championsukplc.com for a free quote.
"The best life stories I have done so far." - Piers Morgan

"The Q&A went was great and the room was very quiet which is not always the case! Bill also did selfie's with everyone in the room, the queue just got longer and longer! He's a really nice guy and hope we looked after him" - Leicester Tigers

"Please pass on my thanks to William for his time – it was brilliant." - William, Reach plc