CEO And Chief Mentor of ThreeEQ
Image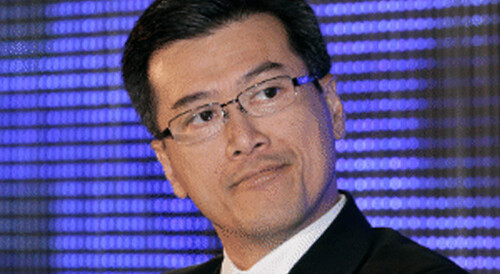 Jason Ma 馬良傑 is Founder, CEO, and Chief Mentor of ThreeEQ Inc., a premier global education and business consultancy that helps select high-end families and enterprises worldwide achieve great outcomes. Based in innovative Silicon Valley, ThreeEQ's mission is to transform chosen young people into impactful, next-generation leaders and help shape the G20 business and education world.
For select families, ThreeEQ serves as a foremost college admissions, career, leadership, and life coach and mentor for driven teens and young adults (Gen Z'ers), as well as a trusted parent coach. ThreeEQ maintains a 100% success rate with coachable and committed high achievers.
Ma is the acclaimed author of the groundbreaking book Young Leaders 3.0: Stories, Insights, and Tips for Next-Generation Achievers. He is also the former Forbes contributor on Mentoring Young Leaders (for elite college admissions, next-gen leadership, and entrepreneurship success) with over 1 million views. In addition to serving often as the chief mentor for client families, Ma is a sought-after speaker to Family Office events, (U)HNW private groups, and other summits. Ma's work has been featured in various top media, including CNBC Asia (Managing Asia and Squawk Box), Business Rockstars, Fast Company, Channel NewsAsia, and various other media outlets. ThreeEQ is featured as the preeminent Gen Z success mentor in Black Tie Magazine (published also in Chinese 中文).
In the business world, Ma personally helps select enterprises and institutions win and grow profitably by serving as a globally connected, high-powered (tech) CEO/Board advisor and global rainmaker, executive coach, and/or keynote speaker/masterclass leader. Ma is a speaker and Global Advisory Council member at the World Chinese Economic Summit, a speaker and Steering Committee member for DC Finance's Family Office conferences, and a charter member at the Family Office Club. Ma was a privately invited APEC CEO Summit delegate, Pacific Basin Economic Council member, and Forbes Global CEO Conference delegate for 8 years.
Ma is a leading member of the B20 with the G20 through the G20 and B20 Presidences of Australia, Turkey, China, Germany, and Argentina. The G20 represents 85% of the global nominal GDP of close to US$90 trillion and 66% of 7.6 billion people. The Business 20 (B20) is the business/private sector's voice of the G20. Serving on the B20 Employment and Education Task Force, while observing the Digital Economy and other task forces, Ma has helped shape the private sector's employment/human capital and education policy recommendations for the G20 Leaders and governments. Ma pays particular attention to the future of work/talent/education, impact of AI/ML, and digital economy/transformation.
Ma's perspective is enhanced by 35 years of seasoned industry operating experience and global connections in innovative technology, education, and other industries, and with over 2 million miles of world travels across Asia Pacific (Greater China, Southeast Asia, South Asia, Japan, Korea, and Australasia), Europe/Israel, and the Americas. As a tech senior executive and entrepreneur earlier in his career, Ma successfully made deals with and sold big-ticket communications and networking systems and services internationally to major mobile/telecom operators, Internet service providers, and various enterprises. He co-built leading tech companies and teams (subsequent IPO or M&A), and co-founded, invested in, and exited astutely from a few U.S. and Asian tech/media/telecom, edtech, and private college counseling/education services companies. Along the way, he has amassed a high-powered, high-level global network.
Ma earned a Bachelor of Science in Industrial Engineering and Operations Research at UC Berkeley College of Engineering in 1984. He also attended the evening MBA program at Santa Clara University Leavey Graduate School of Business for a few years but ultimately chose real international business over graduate school.
Originally from Hong Kong, Ma is multicultural, fluent in Cantonese, and proficient in Mandarin. Proud Americans, he and his wife are joyful parents of two happy, high-achieving Gen Z daughters (ages 22 and 19). In the Ma family (playfully, the "MAfia"), Ma values unconditional love, humor, and high standards on what matters.
These days, besides advising CEOs/C-suite executives, global rainmaking for business clients, and speaking on the world stage, Ma finds his own personal fulfillment by inspiring and guiding private family and individual clients to achieve great outcomes (college admissions, careers, and other key milestones) in their life stages (from driven teens to multimillionaire boomers) with joy and well-being, including pragmatic emotional, social, and leadership intelligence (3EQ).
Contact the Champions Speakers agency to book Jason Ma for your event today. Simply call a booking agent on 0207 1010 553 or email us at agent@championsukplc.com for a free quote.
When at corporate events, Jason is known to cover the following topics:
Global Trends & Development
The Future of Work & Talent
Globalisation
Technology & Digital Transformation
Geopolitics
Intergenerational & Multicultural Shifts
Corporate Leadership
Mentoring & Tranforming Multigenerational Teams Worldwide
High Net Worth Success
"My son was feeling great when he finished the call with you last evening. You have a gift in the way you work with these kids. I get it."
– Don Levy, former Senior VP, Marketing and Communications, Sony Pictures

"Many many thanks to Mr. Jason Ma & his team. Words cannot describe our gratitude! ThreeEQ services have prepared my daughters for successes in life by equipping with them the right mind-set, training them the usage of correct life's formula, and inspiring them to be creative in all areas of their lives. My daughters are ready for whatever that comes at them in life & they are ready to create a life for themselves and others in their world. In the beginning, we started out not sure what ThreeEQ can do for my daughters at age 14 & 11. However, by making the commitment & doing the work, we are amazed with the results my daughters have received. Again, THANK YOU Mr. Ma!!!"

– Galy S., parent

"Thank you very much for all your help and guidance. We didn't even know we must execute those requirements prior to meeting you. Without your help and wisdom, my son wouldn't have applied to Stanford Early Action and wouldn't have gotten in!"
– Dipty D., parent of student admitted Early Action to Stanford University

"My son is doing well. I believe his early consultation with you was very effective. Thanks again!!"
– Gary C., parent of student attending UC Berkeley 

"My daughter was accepted by UC Berkeley and NYU. She cannot get in Berkeley without your important and high quality guidance. Your great help would be always appreciated by our family! Take Care and thank you again for your great work! Thank you so much!"
– Parent of student at UC Berkeley

"You're a great speaker! I love the way you talk."
– J. Morton Davis, Founder & Chairman, D.H. Blair Investment Banking Corporation

"I would like to thank you for speaking at our 4th annual Florida Family Office Meetings. Your discussion regarding impact investments were eye opening as well as intriguing. Your participation brought along a wealth of knowledge and depth, setting a new standard for all our conferences. I also thank you for moderating the New Technologies Panel at our Tech-dedicated Family Office Meeting that took place on March 28th in New York. The panel was a great success and was a major interest during the conference. I look forward to our future events."
– Denny Chared, Managing Director, DC Finance

"On behalf of The Asian Strategy & Leadership Institute (ASLI), I would like to thank you for taking time to share your invaluable perspectives with the participants at the 8th World Chinese Economic Summit 2016. Your participation has indeed contributed significantly to the success of the Summit. We certainly look forward to the privilege of working with you again in our future events."
– Tan Sri Michael Yeoh, Chairman, WCES and CEO, ASLI

"It was truly a pleasure to host Jason Ma as an honorary speaker at the APAC Investments Summit 2015, where he addressed some of the region's top family offices and institutional investors with excellent insights on empowering the next generation for a sustainable future. Jason is a highly engaging speaker and a fantastic collaborator, and I do not hesitate to warmly recommend him to any event organizers."
– Maya Filadska, Senior Executive Producer, APAC Investments Summit

"Thank you, Jason, for leading this panel so smartly and with lots of humor! The audience was so inspired and delighted by you and the panelists!"

– Orit Rabin, Conferences Manager, DC Finance

"Mr. Ma inspired a room full of overachieving Stanford students and instructors with a relatable and actionable presentation. His talk included colorful personal anecdotes and a good sense of humor. We were very grateful for his contribution."
– Rebeca Hwang, Lecturer, Stanford University, and Managing Partner, Rivet Ventures

"Our entire team of administrators greatly appreciated your motivating and thought-provoking presentation.  As we work to ensure that every student graduates college and career ready, your advice on how to engage students is valued."

– Christopher Downing, Superintendent, Local District South, Los Angeles Unified School District

"On behalf of Business Rockstars, we wanted to personally thank you for your great guest appearance on the show. Your segment was both insightful and entertaining! You're a millennial mentor who cares about the future of the generations to come. Your book Young Leaders 3.0 is a must-read for all aspiring entrepreneurs!"
– Brittany Lehman, Producer, Business Rockstars

"Jason's experience as a speaker made it very seamless and straight-forward to collaborate with him for our Fireside Chat. His passion to educate and empower the next generation of leaders emanates with each word. His decades of experience in mentoring high performers gives him unique insight on how to build inter-generational bridges. It was a privilege to work with him!"

– NAAAP San Francisco

"Mr. Ma left the audience speechless and awe inspired as he addressed issues that most high school/college students often stress out about. As a high schooler, I know that his words and wisdom have definitely helped trigger my passion and potential to bring about change and clarify issues that serve as a constant worry for my teenage mind. I am so ecstatic to see the next generation of young leaders that will inevitably shape the future under the counsel and advice of the humble and philanthropic Mr. Ma."
– Joshua Yao, former Vice Chair, City of San Jose District 4 Youth Advisory Council and event organiser

"Thanks for such a great interview. You work is very powerful and is changing the world in so many positive ways."
– Lewis Harrison, Host, "That Was Zen, This is Tao," WIOX 91.3 FM – NPR Affiliated Station

"Jason Ma is a very engaging speaker. His presentations are thought-provoking and educational for our sophisticated audiences. His ideas and proposals are concise and insightful. I thank him very much for presenting and contributing at Horasis global summits."
– Dr Frank-Jurgen Richter, Chairman, Horasis: The Global Visions Community

"Jason Ma has proven to be an extremely astute company builder and a respected global business leader."
– Alfred Chuang, Founder and former Chairman and CEO, BEA Systems, Inc. (acquired by Oracle for US$8.5 billion in 2008), "The CEO's CEO" per Ben Horowitz, Co-Founder and General Partner, Andreessen Horowitz

"I have known Jason Ma for many years. Jason is very knowledgeable about diverse business environments in Asia Pacific. He proved his strong business sense and leadership abilities and can get challenging things done like introducing new products in new markets and achieving leading if not dominant position in existing major markets."
– Dr. Jin Ho Hur, President and CEO, Neowiz Internet Corp (sayclub.com, the second largest social networking service in Korea); Chairman, Korea Internet Corporations Association

"Jason Ma has impressed me as being very professional in conducting his business, very persistent in pursuing the objectives while being very pleasant to work with.  I trust him implicitly."
– Joseph Cho, Founder, Pacific Epoch;  former CTO, Panasonic Mobile and Alcatel China

"Jason was an invited speaker in my MBA class at INSEAD and my students and I were very impressed with his insight and energy.  Specifically, I found his advice to students on how to structure their entrepreneurial careers as very actionable and useful."
– Balagopal Vissa, Associate Professor of Entrepreneurship, INSEAD in Singapore

"Jason Ma is a great networker with high energy."
– Steve Jurvetson, Managing Director, Draper Fisher Jurvetson