Speaker Watch: Gyles Brandreth
It's probably fair to say that Gyles Brandreth is misunderstood – but in a good way! The man has so many strings to his bow that the general public who saw him on TV recently is almost certain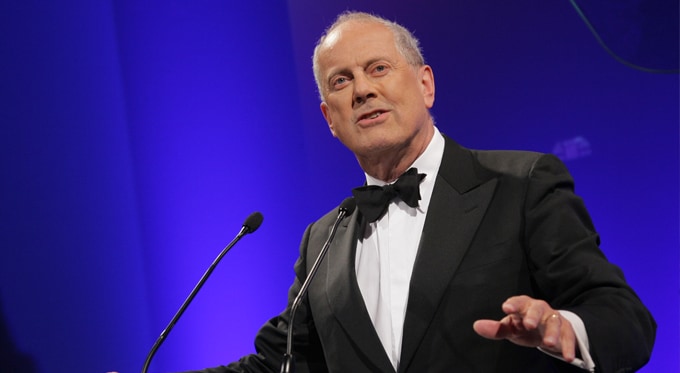 ly unaware of the amount of talent that he possesses.
The first thing you should know about Gyles Brandreth is that he is incredibly bright. When you hear him talk on Just A Minute you get a taste of the amazing way that his brain works and the speed and depth of his wit. Speaking for 60 seconds on a single topic without hesitation, repetition or deviation is extremely difficult to do but Gyles makes it look easy. And if you've seen him on shows such as Have I Got News For You, Countdown and QI, you'll know already that he is capable of expressing thoughts that you would never have come up with and yet they seem so obvious.
Hardly surprising that Gyles is so clever really, since he was educated at the boarding school Bedales, the Lycée Français Charles de Gaulle (aka the French Lycée), and New College, Oxford. But despite his cleverness and his decidedly posh accent, Brandreth is no snob.
On the EU referendum, Gyles was a genuine delight, saying what most of the population was thinking – "Find that coin and toss it!" – but not knowing precisely how to articulate it. If only Gyles Brandreth was a politician, people would definitely vote for him.
Wait… he WAS a politician for seven years. He was Conservative MP for the City of Chester and he was a government whip. You can imagine how persuasive he could be, with MPs having no choice but to bow to his superior knowledge and even chuckling at the slightly comedic way that he put his argument across! As a speaker, Gyles is able to
deliver his presentation in such a way that it doesn't matter what political hue his audience has. People can't help but shelve their affiliations when he speaks because they are way too busy laughing!
Appearing on radio and TV and operating at the very heart of government would be enough for many people in terms of lifetime achievements but Gyles Brandreth has done so much more… and continues to do so.
Amazingly, Gyles has worked in the theatre for over 40 years as a writer and producer of countless plays. And apart from various pantomimes, he has also been the star of many highly acclaimed stage performances – including The Importance of Earnest: A New Musical – and has even written a musical which ran in the West End of London and won an award. The musical was called Zipp! 100 Musicals in 100 Minutes or Your Money Back. He has also written the much-loved musical Now We Are Sixty, the subject of which was the life of Winnie The Pooh creator A A Milne.
On top of all this, Gyles has written many TV series – including Dear Ladies, which ran for two series in the 1980s – and written six murder mystery novels based on Bram Stoker, Arthur Conan Doyle and Oscar Wilde.
You won't be surprised, then, to learn that Gyles Brandreth is in substantial demand as a speaker but if his kind of wit and humour is what you are looking for at your corporate event, conference or party, contact Champions Speakers by filling out our online form or by calling 0207 1010 553 today.