Speaker Spotlight: Who Is Aston Merrygold?
As one of the most popular members from JLS, Aston Merrygold has enjoyed a greatly successful music career. Since featuring on The X Factor in 2008, where JLS came second to Alexandra Burke, the band have gone on the sell millions of albums. With Aston fronting the group, JLS have built a dedicated fan base, all eager to see the band's reunion in person on their 2021 Beat Again tour.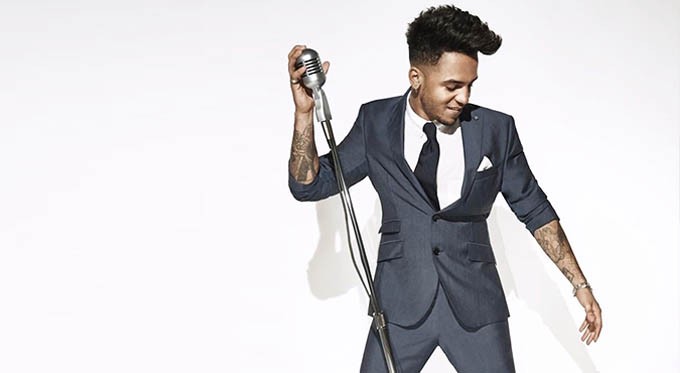 When Aston isn't commanding the stage, his influential work with a range of charities has benefited marginalised groups, victims of bullying and those suffering with life-changing conditions. When booked for events, this eloquent speaker talks passionately about such causes, resonating with audiences. As a corporate entertaining, Aston's successful solo career means that he has more than enough material to entertain guests all event long.
Take a look at Aston's journey to music stardom, as we answer the question; who is Aston Merrygold?
Early Influences
Aston has been dancing and singing since he was a young boy, a reflection of his lifelong passion for entertaining. With school productions, auditions and musical performances dominating his early years, Aston found his signature style pretty quickly. Signing with Pop Star Studios, he later appeared on Fun Song Factory in 2004, a popular children's programme, projecting Aston into the limelight.
During one of his early television auditions, Aston met Marvin Humes, a future member of JLS. Their impactful friendship set the wheels in motion for JLS' success, with Marvin encouraging Aston to join the group a matter of years after they first met.
TV Appearances
Stars In Their Eyes
One of Aston's most notable early appearances, was on the prestigious show, Stars in their Eyes. Donning flared trousers and a 70s inspired print shirt, he effortlessly recreated Michael Jackson's smooth charm and talent. Flawlessly singing Rockin' Rockin at the young age of 14, Aston made a single statement on the show; watch this space.
JLS Stardom
Did you know?
JLS have sold over 2.3 million total albums and 2.8 singles in the UK across their career so far, with one million of those album sales coming from their debut release, JLS, in 2009.
The X Factor & Beyond
JLS auditioned for The X Factor in 2008, after Marvin Humes and Oritse Williams asked Aston, and later JB Gill, to join the group. The group thrived on the influential show, building a loyal fanbase over the course of the competition. With thousands of votes streaming in, JLS came second overall, finishing just behind Alexandra Burke. As the fourth band to reach The X Factor's final, Aston, Marvin, Oritse and JB were firmly set on a path to success.
They were quickly signed by Epic Records in 2009, and released Beat Again, their debut single, only six months later. The track reached number one in the UK Singles Chart, and was quickly followed by their eagerly received album, JLS. From global tours to multiple number one hits and even a four-time Platinum certified album, JLS is considered to be one of the most successful British boybands of the 21st century.
Many of JLS' releases supported such charities as Comic Relief, Sport Relief and Children in Need. Since 2010, the quartet have become regular faces on the impactful Children in Need programme, where they have performed charity singles and even met a fan suffering from brittle bone disease, in 2011.
JLS: Where are they now?
In 2019, JLS announced that they would reunite, much to the joy of their fans. Many had been following the members' solo careers, with each performer carving their own greatly successful brand. Now, JLS are not just working on new music, but a 2021 tour titled the Beat Again Tour, which is predicted to sell out in seconds. Boasting decades of experience between them, JLS are set to come back stronger than ever, with the UK Charts firmly in their sights.
Award-Winning Success
Following their incredibly successful career, JLS have earned a wealth of accolades from some of the most prestigious music awards in the world:
2007 Urban Music Awards: Best Unsigned Band
2009 MOBO Awards: Best Song for Beat Again & Best UK Newcomer
2009 BBC Switch Live Awards: Switch's Outstanding Artist
2010 BRIT Awards: British Breakthrough & British Single Award
2010 BT Digital Music Awards: Best Group & Best Video for Everybody in Love
2010 MOBO Awards: Best UK Act & Best Album
2010 Urban Music Awards: Best R&B Act & Best Group
2011 BT Digital Music Awards: Best Video for Eyes Wide Shut
2012 MOBO Awards: Best Video for Do You Feel What I Feel?
Solo Career
When JLS split up in 2013, Aston embarked on his solo career, following a record deal with Warner Bros. His debut album, Get Stupid, was released in 2015, followed by Show Me, I Ain't Missing You, One Night in Paris and Precious. Reminiscent of Aston's early performance on Stars in their Eyes, there were heavy Bruno Mars, Michael Jackson and Prince influences in his EP, drawing an even more diverse range of fans.
In 2015, Get Stupid was featured on Samsun's television commercial for the Galaxy 9, chosen for its upbeat, positive sound. Aston was later chosen as Elvis Duran's Artist of the Month, and performed Get Stupid on NBC's Today, marking his shift to international solo fame. In 2019, he accepted the role of Jordan in CBBC's Almost Never, harking back to Aston's early success as an actor.
Passion for Good Causes
The JLS Foundation
The JLS Foundation, founded by the band, fundraises for six essential charities. These include the MS Society, Beat Bullying, Childline, Brook, Rays of Sunshine and Cancer Research UK. Even during the band's hiatus, the foundation remained to support these life-changing organisations, which have improved the wellbeing of people across the globe. As JLS continue to raise money, their dedication to good causes is undeniable.
Beat Bullying
Having himself suffered at the hands of bullies, Aston is a committed ambassador of BeatBullying, a heavily relied upon charity. Aston experienced first-hand the devastating effects of racial bullying in school, having been born to a Jamaican father he was forced to endure heavy abuse from a young age. Such a defining experience drives Aston's support for BeatBullying, as he endeavours to protect children from the abuse he suffered in school.
Book Aston Merrygold
Whether he is booked as a special guest, entertainer or for charity fundraisers, Aston is a delight to witness live at events. Contact the Champions Speakers agency to book Aston Merrygold for your event today. Simply call a booking agent on 0207 1010 553 or email us at agent@championsukplc.com for a free quote.