Remembering the Extraordinary Life of Formula One Legend Niki Lauda
Tributes poured in from all over the world of sport following the death of true champion and 'very special man' Niki Lauda on 20 May 2019. Following a career that saw him leave an unmatched impact on Formula One and those around him, we look into the moments that made him F1's favourite superstar.
A real loss to Sport and a big hole in our hearts. Courageous, chatty, and extremely funny. I am going to miss you being around the @F1 paddock but the legend of Niki Lauda will live on, because you were a very very special man. Thanks for all the memories #3timesWC @SkySportsF1 pic.twitter.com/aUIRML0lNv

— Johnny Herbert (@johnnyherbertf1) May 21, 2019
A Courageous Recovery
Niki Lauda was the number one name in Formula One in the mid-seventies, having taken the Championship title in 1975. However, 1976, was to see him involved in a life-threatening crash at the German Grand Prix in Nürburgring. Luckily Lauda escaped from the wreckage of his burnt-out Ferrari 312T2 but suffered severe burns and issues relating to his inhalation of hot toxic fumes. He was even passed his last Rites. In a BBC Radio 4 interview aired following Lauda's death, fellow- three-time World Champion Sir Jackie Stewart even stated:
"During that accident, he died twice and was resuscitated."
In an outrageous twist of fate, not only did Lauda survive and recover quickly from a coma, but was also back on the track within 40 days. A character that defined determination and rewrote the rule book, there was nothing but himself that could stop Niki Lauda - and he certainly wasn't going to stand in the way. The moment he returned to the track has since been hailed by many as one of the bravest moments in sporting history. In the BBC Radio 4 interview with Sir Jackie Stewart, he continued to speak of Lauda's bravery. He said:
"His courage, his commitment, focus, determination and bloody-mindedness. All the naysayers were saying that 'Lauda is finished' but his health and condition at Monza was just remarkable.

"I will never forget him putting his helmet on and he was suffering so much pain. When he came out from driving at the end I was there and the blood was running down out of his helmet."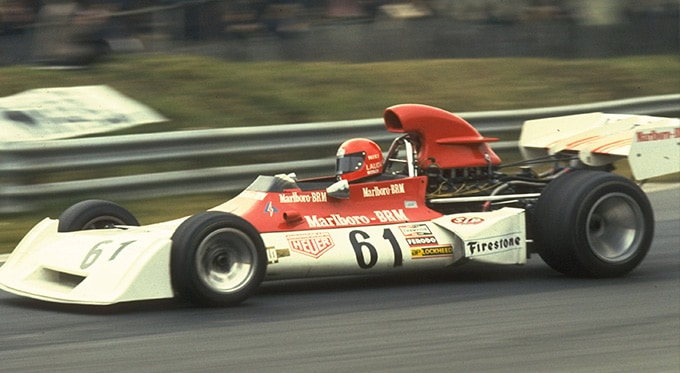 The Ultimate Comeback Complete
Amazingly Lauda missed just two races, and still mounted a challenge for the title, narrowly missing out to James Hunt in the 1976 Championship. The incredible season and surrounding years were later dramatized in 2013 film, Rush, which captured the intense rivalry between the two drivers. Lauda returned once more to head up Ferrari's title challenge in 1977.
On 23 October 1977, just 448 days after his accident, Lauda was holding up the Formula One Championship trophy for his second time in his career. His consistent form, which didn't see him fall below fifth, and featured three Grand Prix wins, saw him win the title with two races to spare.
Lauda left Formula One and returned to Austria to run his own chartered airline, Lauda Air in 1979, before making a 1982 return with a salary unheard of at the time. McLaren offered Lauda $3 million to race for them, a sum that proved good-value when Lauda won his third championship title two years later in 1984, making him the first driver to have won with two different teams.
Following Formula One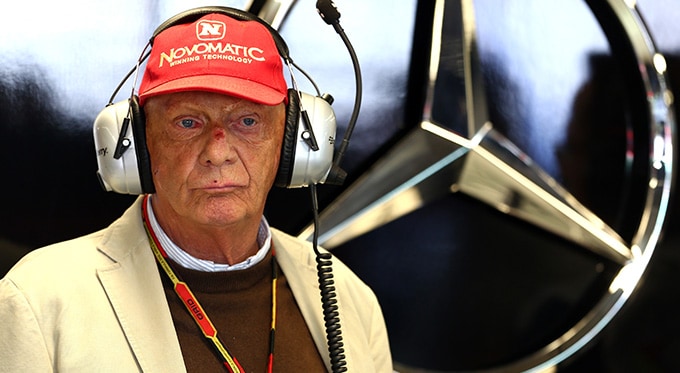 After retiring, Lauda took his penchant for precision into consultancy and management roles with Ferrari and Jaguar, as well as returning to Lauda Air as the airline's manager. He later sold his shares in Lauda Air and began new airline, Niki, which merged with Air Berlin in 2011.
He was inducted into the International Motorsports Hall of Fame in 1992 and began a career in commentary. In the years that followed, Lauda became a constant fixture of our screens, and became Non-Executive Chairman of Mercedes-Benz, helping them to five consecutive titles between 2014 and 2018. In 2016, Lauda was presented with the lifetime achievement award at the Laureus World Sports Awards.
'Niki Lauda's Legacy: Immeasurable' - Tributes to an F1 Legend
First Hunt and now Lauda. Two of the greatest drivers who didn't care about how they looked or what they said. Always a straight answer to a straight question without any of the modern bullshit. Two icons together forever and never to be forgotten.

— Tiff Needell (@tiff_tv) May 21, 2019
I'm struggling to believe you are gone. I will miss our conversations, our laughs, the big hugs after winning races together. God rest your soul. Thank you for being a bright light in my life. I'll always be here for your family should they ever need me. Love you man pic.twitter.com/cotUpuvW2F

— Lewis Hamilton (@LewisHamilton) May 21, 2019
There are very few people I have ever been in awe of but the great Niki Lauda was one of them. A fantastic racing driver, an incredible man. RIP to a real legend, you will be terribly missed. pic.twitter.com/TV8sUfG9IA

— Perry McCarthy (@original_stig) May 21, 2019
"I think Lewis takes inspiration from Niki. He'll want to win this weekend to dedicate it to him."

The #SkyF1 team look ahead to the #MonacoGP - which will hopefully be a fitting tribute to the great Niki Lauda

Full schedule: https://t.co/e3uhE0pgWq pic.twitter.com/SUNXGuZJPB

— Sky Sports F1 (@SkySportsF1) May 22, 2019
Wins: 25

Podiums: 54

Poles: 24

Fastest Laps: 24

Championships: 1975, 1977, 1984 ?

Niki Lauda's legacy: immeasurable #F1 pic.twitter.com/K1bi8Rjg2C

— Formula 1 (@F1) May 21, 2019
Earlier today, LaudaMotion A320 OE-LMB conducted a special flypast at Vienna Airport with a special message written in the windows, 'Niki wir vermissen dich!' — "Niki we miss you!' to mark the passing of Formula 1 and aviation legend Niki Lauda.https://t.co/zsgz3No4RX pic.twitter.com/BEAn3t4JXj

— Flightradar24 (@flightradar24) May 21, 2019
If you would like to book somebody from the world of motorsport to appear at your event, the Champions Speakers agency offer a range of different motorsports speakers that can be booked for corporate events, functions and conferences. Enquire today by filling in our online contact form or by calling a booking agent directly on 0207 1010 553.