Jo Pavey Takes European Gold At 40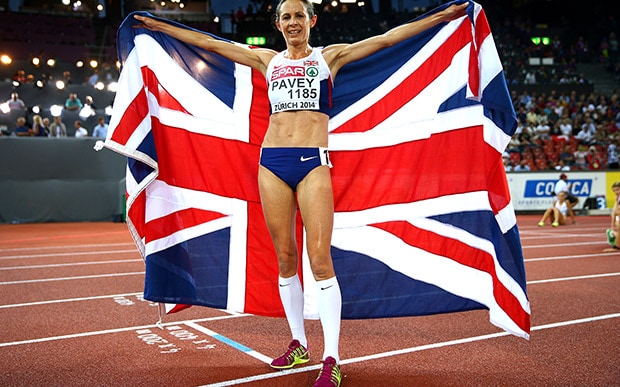 Great news came last night for those of us who are starting to feel like our best years are behind us. Jo Pavey, a 40 year old mother of two and stalwart of Great Britain athletics, recorded a career-defining victory to take gold in the 10,000m at the European Athletics Championships in Zurich. Timing her race to perfection, Jo had more than enough left in the tank to run clear of her French rivals on the final straight.
Achievements such as these bear testament to the leaps and bounds dieticians, conditioning coaches, psychologists and other professionals have made in recent years to allow athletes and sportspeople to maintain and extend peak performance and deliver amazing results when the odds are seemingly stacked against them. Insights in this area can be as invaluable to business people as they are in sport and Champions Speakers has a fantastic selection of motivational and Olympian speakers all ready and able to share their ideas and knowledge at your corporate event.
Pavey, of course, has tasted success at the European Championships before, claiming an impressive silver in the same event two years ago in Helsinki, but none will have been sweeter than last night's win. Coming off the back of a surprise bronze in the 5,000m in Glasgow at the Commonwealth Games last month, Jo was clearly in fine fettle yet few will have predicted a woman of her age defeating Europe's best - many of whom were more than a decade her junior.
What is perhaps most incredible about Jo's achievement is that she only gave birth to her second child, Emily, eleven months ago. Moreover, she was still breast-feeding in late April a matter of weeks before the deadline for her to post a qualifying time for the meet in Switzerland.
In the aftermath of her victory and amid scenes of astonishment, Pavey told reporters "I just can't believe it. I was finding it quite a long way. I was thinking, is this the right event? I'm really thrilled. I tried to do a controlled last lap, but when I got to the home straight I thought, just give it all you've got, so you don't regret anything."
Jo, who becomes the oldest ever woman to take gold at the European Championships, was watched in the stadium by Emily, her 5 year old son, Jacob, her parents and her husband and coach, Gavin, who can only be said to have done a wonderful job himself. She is said to be considering an assault on the Rio Olympics, when she will be 42, and then continuing on until the next Commonwealth Games in Australia in 2018.
Whenever she hangs up her spikes, she has given thousands of Britons renewed hope and proof positive that it's not all downhill at 40.
To book Jo Pavey, Sir Chris Hoy, Daley Thompson CBE, Baroness Tanni Grey-Thompson or indeed any one of our other top class sporting speakers, fill out our online form or call Champions Speakers on 0207 1010 553.