How Did Jeff Bezos Become One Of The World's Best Entrepreneurs?
Jeff Bezos will be known to many as the CEO of Amazon, a position which has afforded him a reputation as the richest man in modern history. His immense success saw him become recognised by business publication Forbes as the world's first 'centi-billionaire', having amassed a total net worth of more than $140 billion to date. Champions Speakers takes a look at Jeff Bezos' incredible ascent through the entrepreneurial ranks.
How It All Began
Originally hailing from Albuquerque, New Mexico, Bezos was raised in the city of Houston, Texas. Following his studies at Princeton University – where he acquired degrees in both computer science and electrical engineering – he held various positions on Wall Street.
Having worked for the likes of Fitel and Bankers Trust, Bezos soon made the move to hedge fund D.E. Shaw & Co., where he became a senior vice-president at just thirty years old.
Bezos became a fully-fledged entrepreneur in the mid-1990s, planting the seed for Amazon back in 1994. Although primarily conceived as an online bookstore during its early stages, Bezos considered the business capable of diversifying its offering further down the line. Receiving support from early investors, Bezos continued to develop Amazon for several years before taking the business public.
Numerous well-known media outlets, including Barron's and Fortune, initially proved skeptical of the venture. Nonetheless, Bezos continued his pursuit undeterred, having been convinced of the Internet's potential to beat competition from major booksellers such as Barnes & Noble. Today, it is this same confidence and self-belief that has seen him become one of the world's most sought-after inspirational speakers.
From Online Bookstore to e-Commerce Giant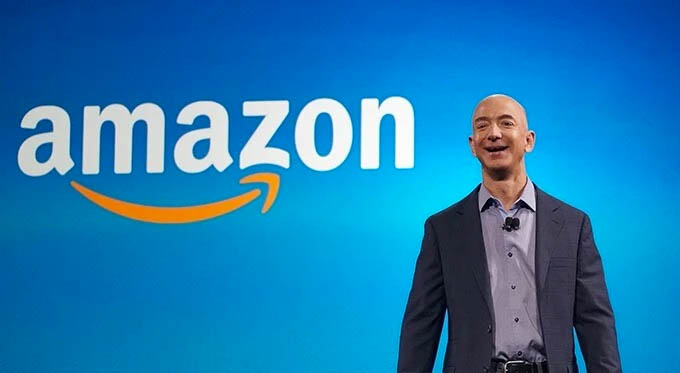 Under Bezos' direction, Amazon began to significantly diversify its offering during the late-1990s. Focusing on the sale of consumer goods, music and video, the move proved to be the first step in Amazon's eventual dominance of the e-Commerce sphere. During this time, the company also launched its own cloud computing arm – Amazon Web Services.
Following a period of financial turbulence, Amazon was able to beat the odds and continue its work as a major player in the e-Commerce sector. One of the company's most significant innovations – the Amazon Kindle e-reader – helped to revolutionise the way in which modern consumers interact and engage with books.
Further notable innovations would follow, including the Amazon Echo Dot, the company's voice-assisted smart speaker. Within a matter of years, Amazon would be officially recognised as the world's biggest online shopping retailer, amassing a total value of more than $1 trillion to date.
Further Ventures
Aside from his work with Amazon, Bezos is noted for his involvement in many other entrepreneurial ventures. His work as the founder of space exploration company Blue Origin – which has announced its intention to begin transporting humans into space by the end of 2018 – is undoubtedly one of the most notable.
As part of Blue Origin, Bezos has become a major player in what is often referred to as the 'billionaire space race'. Involving the likes of Virgin Galactic founder Sir Richard Branson and SpaceX founder Elon Musk, the race is characterised by an intense rivalry aimed at pioneering the industry of private space travel.
As if that weren't enough, Bezos is also involved with venture capital firm Bezos Expeditions, investing in the numerous sectors including healthcare and technology. His entrepreneurial foresight was again proven following his early investment in Google, which famously yielded $3 billion from an initial $250,000 investment.
Through Amazon, Bezos is also indirectly involved in the success of more than 40 subsidiaries, including the likes of Goodreads, Audible, Zappos, IMDb and Amazon Robotics. He also acquired iconic American newspaper The Washington Post back in 2013, which saw him transform the paper's previous business model. Under Bezos' leadership, the paper returned to profit in 2016.
If you would like to book a entrepreneur speaker for your corporate event, function or conference, simply contact the Champions Speakers agency by filling in our online contact form or by calling a booking agent directly on 0207 1010 553.