Founder Of Ecademy, Co-Owning Director Of Business Is Personal, Founder & CEO Of The Business Cafe
Image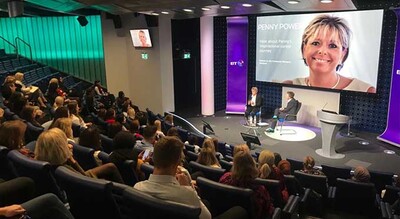 Penny Power widely refers to herself as an accidental entrepreneur. First joining the technology industry back in the 1990s she is famed for creating the first social media intended entirely for business use and preceded the creation of LinkedIn. Named as the 65th Most Influential Entrepreneur of 2019, Penny is now often booked as a speaker for events themed around business and technology. When booked as a speaker, Penny uses her experiences as a high-flying businesswoman and shares her top tips on how to grow a business.
Famed for creating the first business social media, Penny alongside her husband is the co-founder of Ecademy. Created back in 1998, Ecademy was the first and only social media for businesses at the time of creation and allowed hundreds of like-minded business professionals to share their expertise and experiences, paving the path for platforms like LinkedIn to come to fruition. Penny is also known for being the CEO and Founder of The Business Café and the Co-owning Director of Business is Personal.
Penny first started her career as a Sales and Marketing Director for Bytech Distribution HP DEC Software. In this role she learnt first hand what it meant to have a responsibility in business, spearheading a team of 150 members of staff and overseeing a substantial £80 million turnover. She also built her expertise in the technology industry, developing marketing channels within the technology sector. With an increased understanding of technology, Penny then went on to found Ecademy, a social media site that was only accompanied by MySpace and Friends Reunited at the time. For 14 successful years, Penny and her husband Thomas Power were trailblazers in the medium of social media- increasing the popularity of many prominent social media elements such as blogging and joining groups.
In 2014, Penny and Thomas made the difficult decision to leave Ecademy behind and focus their attentions on other ventures. Penny has since focused her attention on being the Founding Director of the Digital Youth Academy and the Founder of The Business Café. She has also enjoyed the time as a chat show host on Business Blondes TV and authored the books Know Me Like Me Follow Me and Business Is Personal. Throughout her career, Penny has forged a reputation for connecting people and helping people to create both the career and life that they want for themselves. In reward of her hard work and commitment to entrepreneurs across the country, Penny was appointed OBE in 2014.
A highly respected businesswoman, Penny Power is now often booked as a speaker for a variety of corporate conferences and events. Passionate about conference speaking, both in person and virtually, Penny shares her experiences of taking responsibility, dealing with change and overcoming adversity. She is also known to discuss topics such as managing loneliness in business, mental health, social capital building, being a leader and entrepreneurship. Having been a professional speaker for over two decades, Penny Power is the ideal business speaker who provides authenticity and insightful takeaways in each speech she delivers.
How to hire Penny Power
Contact the Champions Speakers agency to provisionally enquire about Penny Power for your event today. Simply call a booking agent on 0207 1010 553 or email us at [email protected] for more information.
** We do not accept requests for autographs, signed merchandise, fan mail, birthday messages or any other non-commercial contact with the speakers or acts. Each speaker on the website may not have necessarily worked with Champions in the past but are known to perform such engagements within the industry.
When she's at corporate events, Penny is known to discuss the following topics:
Entrepreneurship and intrepreneurship
Emotional and mental health in business
Community and social capital building
Being a leader of your life and business
Managing loneliness in business
FEEDBACK FROM VIRTUAL EVENTS & WEBINARS:
During the COVID-19 pandemic, Penny attended many virtual events, booked as the exciting guest speaker. Read the feedback she has received below.
"Penny delivered a powerful discussion to the Madison Logic team on the topic of taking control of your life in business. Penny was able to share real life experiences that shaped her and her perspective, which is very helpful and resonates well for those on the receiving end of the discussion. As Penny shares practical activities to implement in your daily routine, participants are sure to leave the discussion with beneficial information. Her lively personality coupled with her positive outlook on life and business is truly admirable." - Nicole, HR Generalist, Madison Logic
"Penny was absolutely amazing, the feedback that I had was amazing and I think a few people want to book her for her own private business, Thank you for sending over the link, I know lots of people are going to want to watch it. Once again please pass my utmost thanks to Penny."
FEEDBACK FROM IN-PERSON EVENTS:
Penny is regularly booked to engage audiences at in-person events. Read her latest feedback below.
"After seeing Penny Power OBE speak on two different occasions, and both times feeling hugely inspired, I invited Penny to be one of the keynote speakers at a 3-day entrepreneurial conference I organised. Penny's contribution to the entrepreneurial world is commendable and her experience is vast. There is no wonder she is a holder of a prestigious OBE title. Better still, she combines this with absolute honesty, open heart and at times, "powerful vulnerability", as I call it. As such, Penny leaves her audience deeply inspired and with a treasure trove of useful ideas for their business and life. Penny is a true gift to us - and I warmly recommend her as a speaker to every event organiser who wants to bring the caliber of speakers to the next level, and make a long-lasting impact for their audiences." - Lenka, Managing Director & Principal Coach
"Penny is confident, enthusiastic, optimistic and full of interesting life experiences who gave us great insight in looking at self-actualisation and career progression within our diverse group at Aristocrat. We would definitely recommend and need another reason to bring her back!" - Dipexa, Human Resources Manager EMEA, Aristocrat Technologies Europe Ltd
"What I love about Penny Power is that she draws you in from the very beginning. Her honesty and vulnerability engages everyone immediately. You feel 'she is like me'.  Experience always delivers pearls of wisdom that are priceless. Penny's journey as a working mum, entrepreneur and pioneer in the digital community space with Ecademy and now as a new breed if business owner is inspirational. Her expertise on how to be a successful business person is really welcome. I'd like to think she is in 'my tribe". - Anita, Family Business Place
"Wow Penny was absolutely brilliant, her talk was very aspiring and she hit the nail on the head with the brief. Penny engaged the audience brilliantly, and the support she showed for the programme pre- and post-talk was amazing. She networked, tweeted (lots) and facilitated some great discussions amongst the delegates." - Emmie, NTU
"Hi Penny - I tried, but failed to get to you through the throngs of adoring women around you at the breaks, you were truly wonderful so no surprise. You're talk was amazing, your presence even more so." - Susie
"Hi Penny, absolutely loved your talk yesterday, really resonated and helped me shift so much, thank you so much for sharing your powerful and beautiful message" - Lia
"It was so great to hear about your journey. Thank you for inspiring us to keep packing each other's parachute!" - Beatrix
"We booked Penny to speak at our Female Speakers Conference this year and could not have wished for a better speaker to open the event. Penny has achieve SO MUCH in her business career and still is on of the most humble human beings I know. Her talk was deep, honest, insightful, inspiring and so much more. If you are looking for a speaker at your next event that really shows POWERFUL authenticity combined with business knowledge: go for Penny! We can't wait doing more work with her in the future." - Annik
"Hi Penny, I just wanted to write you a brief mail to say how much I enjoyed your talk at Donnie's event last Monday. I particularly thought your openness about the ups and downs of life as an entrepreneur and the mental health challenges was exemplary: in my experience, it is extremely rare for anyone to be candid in a big company; and if they do, it tends to be in hushed, euphemistic tones to HR and not to colleagues (who might think them weak/not dependable)." - John 
"Thank you Penny - your words really resonated with me - they really made a huge impact at the right time - your journey, tips and advice are particularly helpful - especially the balance between Ego/Spirit points - and the management tools you offer- thank you!!"
"Hi Penny, I didn't get a chance to talk to you after your talk but thank you for sharing your wisdom today. Your heart is so big and you are in a unique position to bridge the old world and the new with your credibility and understanding." - Samantha 
"Penny it was truly a brilliant talk that touched me on so many levels - I found myself holding back tears as some of what you said really struck a chord. Thank you so much for that." - Lara 
"I heard Penny speak at the Female Speaker's Conference in London where, for me, she stood out remarkably from the rest. She was not just a speaker, she was a very much a human being speaking. She delivered her message in an engaging and passionate way but most of all she was clearly, obviously and authentically herself. It was a privilege to listen to a talk is so original and so refreshingly genuine." - Hazel 
"I've always admired Penny for her contribution to the business world, and recently I've had the honour to hear her deliver a captivating speech on the importance of keeping business personal. And all I can say is - WOW. It is quite remarkable that businesswoman of Penny's caliber also has a great deal of approachability and humility, two qualities of extraordinary leaders. Penny sets a bar for all entrepreneurs and speakers alike. What a Power Woman!" - Lenka
"This was my first time seeing Penny speak at the Female Speaker Conference and my overwhelming thoughts were around how bloody wonderful it is to hear a story about a woman in business who has achieved so much and who is NICE! She spoke a lot about the importance of connection in business and that business is personal. This proved to me what I already hoped was true about success in business. I wrote in big letters across my page 'The most enriching thing you can do is be yourself.' Something I have always tried to live by and a great reminder. Thank you Penny." - Helen 
"Thank you Penny Power OBE for your huge contribution this evening. So many of the Alumni apprentices genuinely touched by your message and heartfelt sharing of how they can engage positively with their world." - Ben Pike
"I think Penny Power OBE inspired the whole world and each one of us in ways that are beyond our immediate perception. Takes time for the world to understand a true visionary..." - Marina 
"We booked Penny for our Encouraging Women into Franchising annual award ceremony as we were looking for a key note speaker to deliver an amazing presentation to our audience, and Penny did not disappoint. Penny really wow'ed the audience with her story and the feedback we've had has been brilliant (in person and on social media – examples attached). She had the whole room captivated. Her warm personally really shone through and her story about how she's overcome so much adversity in her life was truly inspiring. Her 'real' approach to business really resonated and she gave lots of useful tips that our audience could implement in their business and personal lives. In the lead up to the awards, we had a call with Penny to go through our requirements, which she totally understood. She had already done some research on our organisation and completely set my mind at ease that she understand us, our audience and the theme/feel we were going for. She has also been great on social media, promoting the awards prior to the event and also interacting with our audience during and after the event. I would 100% recommend Penny." - Helen, EWIF
"Thank you again for arranging for Penny Power to speak at our event today. She was fantastic, and many of the attendees made a point of telling me how much they were inspired by her knowledge and honesty. As I don't have her contact details, I would be extremely grateful if you could pass on my thanks for an incredible job at such short notice. I also sincerely hope that we work together again soon. Considering I found you guys via a Google search in something of a last minute panic, your support and knowledge was hugely appreciated. Thank you!" -  Paul, The IPM
"Just a quick email to say how excellent Penny was as our conference keynote speaker yesterday. Penny was a hit with our independent business owner members with her refreshing and emotionally charged talk enabling her to immediately engage with her audience who left energised to take on board her message that humanity in business is critical when we are all under pressure and overcome by the many challenges in both business and personal life. It is also so refreshing to have a speaker who, without hesitation, was willing to support our conference in other ways by both presenting our awards and giving a breakout session."
- John, Sightcare
"I just wanted to say that your speech today at the PA forum really struck a chord with me. You are well and truly an inspiration and you are now one of my top role models in the industry. It was a true pleasure to hear your speech today and I wish you well for the future. I'll definitely be buying your book too!"- Daniel, PA Forum
"Penny, thank you so much for your inspiring talk last night at the Techworks 2019 Gala & Awards. I have had so much positive feedback it is incredible - your standing ovation was so well deserved. You touched the hearts of many CEO's and Business Owners and Professionals in the room by talking about your own experience and the empathy felt by so many in the room was outstanding. It was a true pleasure to meet you."
- Alan, CEO at TechWorks
"Penny was great, everyone was really impressed!"- Deborah, Nicholas Humphreys
"Penny Power exceeded our expectation and before we have even finished our conference that was the highlight and really resonated with our team. What an inspirational women !!" - Smith & Nephew
2020 - Chat Show Host for Business Blondes TV 
2019 - Co-owner & Director of Business is Personal 
2014 - Appointed OBE 
2013 - Founder & CEO of The Business Cafe 
2011 - Founding Director of Digital Youth Academy
1998 - Founder of Ecademy 
1993 - Sales & Marketing Director for Bytech Distribution HP DEC Software 
Author of Know Me Like Me Follow Me and Business is Personal 
Named as the 65th Most Influential Entrepreneur of 2019