FORMER WARWICKSHIRE CCC & ENGLISH CRICKETER
Image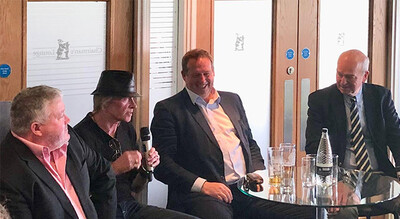 Paul Smith, the former cricketer who was an exceptional all-rounder and an especially big-hitting right-hand batsman and an impressively fast bowler. Playing for Warwickshire between 1982 and 1996, Paul also represented England during the Hong Kong and Singapore Sixes. Playing a very impressive career Phil became the youngest Warwickshire player to score 1,500 runs in a season in 1986 and also made four first-class hundreds in his 221‐game career.
Paul was named Man of the Match after winning an unprecedented Treble in 1994 in the Warwickshire v Worcestershire Benson and Hedges final. Paul is also a world record holder with his opening partner Andy Moles after the duo shared eight consecutive opening partnerships of 50 plus. Paul boasts an exceptional first-class cricket career, scoring 8173 runs in total at 26.44 with a best of 40. Showing his talent as an all-rounder he also took 383 wickets, inclusive of a best of 6 for 91 and two hat-tricks.
A force to be reckoned with in the one day game, Paul had the ability to turn a match whether he was batting or bowling. With Warwickshire, he won all the domestic trophies several times and won 3 titles in the 50 over game. From his one day career alone he gained over 4430 runs and took 234 wickets.
Later in his career, Paul became the first white cricketer of the Cape Town club St Augustine's CC, this was something he took pride in as it was during the dismantling of apartheid. St Augustine's CC carried cultural significance as it was the former famous cricketing home of Basil D'Oliviera, a legendary cricketer. 
Following his career in cricket, Paul moved to America and got involved with Compton Cricket Club in Los Angeles which uses cricket and it's disciplines to encourage youngsters away from crime. As a result, he was awarded by Los Angeles City a Certificate of Appreciation in 2003. Paul's autobiography entitled Wasted? was published in 2007 and ended up being nominated for the Sunday Times Newspaper Book of the Year Award. Receiving rave reviews, the book was described as "refreshingly honest" and a "far from conventional read". 
Paul makes for an exceptional cricket speaker who shares insights into the world of cricket but also life after sport and his journey dealing with this transition. He is an honest speaker with plenty of stories to share. 
How to hire Paul Smith
Contact the Champions Speakers agency to provisionally enquire about Paul Smith for your event today. Simply call a booking agent on 0207 1010 553 or email us at [email protected] for more information.
** We do not accept requests for autographs, signed merchandise, fan mail, birthday messages or any other non-commercial contact with the speakers or acts. Each speaker on the website may not have necessarily worked with Champions in the past but are known to perform such engagements within the industry.
When he's at corporate events, Paul is known to cover the following topics:
Cricket & Tactics
Life After Cricket, The Transition
Succeeding & Failing
"Paul was invited and spoke back in February at Leicestershire County Cricket Club, to around 100 people. He was engaging, interesting, confident and had some great stories to tell. I have personally known Paul for over 25 years and during that period of time, he has spoken and been invited back to speak at many events, dinners and functions both cricket and non‐cricket. I have no problem in endorsing Paul's credentials as a high quality speaker and have no doubt that he will remain in demand, particularly across the cricketing landscape." - Wasim Wasim Khan MBE Chief Executive Leicestershire County Cricket Club 

"Speaks with wit, wisdom and an undiluted panache" - David English – Ex manager the Bee Gees, Eric Clapton – Bunbury`s 

"He's very good. He has some excellent anecdotes from his long career in the game ‐ he was the fastest white bowler in the world for a while, took 2 hat‐tricks, won the man of the match award in a Lord's final and was, until Ian Bell broke his record, the youngest man to make a century for Warwickshire ‐ involving the biggest names in the sport. But what really differentiates him is his experience after cricket. Paul has slept rough, been hungry and gained a new perspective of the world. And he's used that experience to make life better for others. And the one thing he'll do better than anyone is charm a room. He's very, very good at the 1‐to‐1 talks you have before and after such speeches. He'll take the time that others won't. In short... I'm very happy to recommend him." - George Dobell Senior Cricket Correspondent ESPN

"During Walmley Cricket clubs Annual Dinner, Paul Smith spoke and entertained the whole party with tales from his playing career both on the field and off. His manner and range of topics engaged the cricket players who have membership but also our social members and everyone was thoroughly entertained. I have also seen Paul speak at Four Oak Saints CC at their end of season dinner and he was also the entertainment at functions for Nick Knight and Tim Munton during their Benefit Years. On each occasion he did not disappoint the audience. I highly recommend him as a guest speaker for any type of function." - Gary Burnett Chairman of Walmley Cricket Club

"Paul has been the guest speaker at the Herefordshire Cricket Society and combined tales of cricketing exploits against the likes of Botham and Hadlee with a fascinating insight into his life after cricket. He speaks with amazing openness about the problems he confronted. He is not the straightforward MCC blazer wearing ex‐player talking just about the game but a real character whose thought provoking words stay with you. I am very happy to recommend Paul as a speaker." - Tim Lowe Chairman Herefordshire Cricket Society

"Paul was a real eye opener on the night. He gave an amusing and informative talk around his first class playing career which one normally expects from someone who played in a successful team with International stars. However it was his stories around the challenges he faced towards the end of that career and his work with the Princes Trust and specifically around the power of sport to change peoples lives that really enthralled. His recollections around the gang culture in LA and work in the South African townships with Dr Ali Bacher was particularly insightful and a hot topic at the moment with the review of Sport by the Government. Such recollections appealed to a wide cross section of people, including those who were not from within the cricket family. He came smartly presented and on time and stayed all evening mixing naturally with the clubs members well into the
late evening. I would have no hesitation in recommending him as an after dinner speaker not only to sports clubs of all types but to organisations who are interested in social impacts." - Russell Perry Chairman Northumberland Cricket Board 

"We are extremely pleased to have had Paul Smith speak at our end of season dinner. Paul was very professional and easy to communicate with leading up to the evening. His speech was both very entertaining and informative giving an insight into both his life in and after cricket, as well other stars he has played with, against and under during his time in the game.He finished by inviting questions from guests and there was no shortage of intrigue from guests who wanted to find out more. The feedback since the evening has been overwhelmingly positive with most agreeing it was the best speech for some years. I would like to thank Paul for making the evening so memorable." - Marc Webb Olton and West Warwickshire CC

"My name is Ian Thornton. I'm an English novelist living in Canada, and also a cricket tragic. I've known of Paul since I was a boy, and it was a joy to hear him speak and then meet him in Los Angeles, as I was researching the story of the Compton cricket club in my role as their biographer. Paul's impact on the boys at the club remains a profound one to this day. Here is a piece I wrote for The Guardian, Paul's influence comes shining through I hope. http://www.theguardian.com/ What was immediately obvious was Paul's ability to speak to and engage a crowd who knew little about cricket, was not English and was of varying ages and different sexes. He is a master of his art, probably why the BBC turn to him again and again and again. I saw/heard Paul speak twice more. Once at the Lancashire Cricket Society in Manchester and then on my home turf of Headingley two years ago. His standard never dipped below a marvellously lofty and elevated bar. I am constantly impressed by his desire to help the disenfranchised, the at‐risk. Many in sport like to talk the talk; few walk the walk. He is also a genuinely funny man. And I choose the word "genuine" with absolute care for utmost impact. I'm now proud to call him a friend." - Ian Thornton Novelist

"Having heard Paul Smith speak several times I can say he is one of the funniest and knowledgeable speakers I have heard." - Professor John Richardson – Preston, Lancashire

"Hagley Cricket Club was delighted to receive Paul Smith to speak at our Annual Dinner held at Stourbridge Golf Club. Paul arrived in good time and mixed with club members and guests before and after the dinner. His speech appeared to be well prepared and was both interesting and amusing where he shared personal memories and anecdotes from his time as a professional player in both England and overseas. This included interesting reference to some very high profile players. Our members and guests found to be a natural and relaxed speaker whom they warmed to. The all male attendees covered a wide range of ages and the feedback after the event was excellent. The time Paul spent talking to guests after the dinner was very well appreciated. I have no hesitation in recommending Paul as an after dinner speaker." - Mark Goodwin Hagley CC Committee – Social Secretary 

"Old Hill CC was delighted when Paul Smith agreed to speak at our end of season Dinner for Players and Guests. Paul arrived in good time and mixed with the guests before and after the dinner. His speech was entertaining and amusing with many personal memories and anecdotes giving an insight to his time spent as a professional sportsman both on and off the field. Paul is a relaxed and natural speaker whom the audience immediately warmed to. At our dinner we had guests across a wide range of ages, both men and women, and the feedback after the event to the organising committee was excellent. Everyone had enjoyed Paul's speech and been particularly delighted by the time he took talking to the guests after dinner. I have known Paul for a number of years ‐ my husband used to play cricket with him at Warwickshire. We lost touch for a while but we met up again when we attended his book launch at Waterstones in Birmingham for his autobiography, "WASTED?", followed by a Q&A session. Paul is a very talented writer and his book is one of the most moving and shocking sports books I have ever read. He literally hit rock bottom but turned his life around and called upon his experiences to work through cricket with underprivileged young people both her in the UK and in America. During the Q&A session there were no subjects off limits and Paul spoke openly and candidly, moving many of the audience to tears before another amusing recollection had them throwing back their heads with laughter. Paul Smith has a natural gift of "engagement" with the relaxed ability to identify the needs and relate to his audiences. Old Hill Cricket Club will defiantly be inviting Paul back some time in the future and would have no hesitation in recommending him as an after dinner speaker, motivational or relaxed Q&A speaker." - Ruth Hopkins Club Secretary / Chairman of the Youth Committee Old Hill Cricket Club 

"Paul has spoken at our Cricket Dinners on a couple of occasions and has always been well received. His experience as a professional sportsman and more latterly with the Princes Trust provide him with ample material to enlighten us all with.Paul is not the norm when it comes to after dinner speakers where typically funny stories are recounted but not actually the speaker. Paul rather provides his insight into situations that he faced and gives a very frank and open view of the circumstances and the individuals involved. Having played with many of the "games greats" he has some very interesting stories to tell. Paul's style is very relaxed and he is happy to take questions from the audience which makes the evening more personal. He also stayed after Dinner and answered further questions whilst mingling with the audience. I would have no hesitation in recommending Paul based on our experience." - Russell Longhorn Social Chairman Four Oak Saints CC

"On behalf of Enville Cricket Club thank you for speaking at our Annual Dinner. Your speech based on your cricket career and your experiences travelling the world was most illuminating and was well received by the mixed audience. The Members very much appreciated that, after the Dinner, you were happy to mix socially and continue to discuss many aspects of your career." - David R Thomas Honorary Secretary Enville Cricket Club

"A great speaker with some very interesting tales about cricket both on and off the field. This guy quite clearly should have played a lot of cricket for England if it was not for his reputation. Certainly not the usual bland anecdotes." - Barry Evans Chairman Benwell Hill CC Newcastle upon Tyne

"I have known Paul for many years, indeed since he played for Warwickshire CCC. It's no joke to say that Paul has always been a team player. I have been involved with Moseley Ashfield Cricket Club in many capacities over the years and am now the Chairman of the Youth Section. This is the largest section of the club and we put on many events over the year. Paul has been great in attending this events and
handing out the prizes etc to the Youth members. This year we re‐started an annual dinner and we were pleased when Paul accepted our invitation to be the Guest Speaker. Paul was funny, informative and kept everyone entertained over the evening. Paul was kind enough to remain behind afterwards allowing pictures and book signing to take place. I have to say that Paul was one of the few speakers I've seen on the circuit that I'd be happy to go and see again." - Ian Vesey Chairman of the Youth Section Moseley Ashfield Cricket Club

"I am a charity manager, a campaigner for children's rights and a company director. I have known Paul for over 20 years, personally and later professionally when I have booked him to speak. The first time I saw Paul speak was at a sportsman's dinner at Jesmond cricket club during his benefit year for Warwickshire. This was the club where Paul first started playing cricket, hence the audience was pretty friendly. He had a tough act to follow as Dermot Reeve and a local comedian had already done a spot, he was less accomplished and experienced as in later years, but was non‐the less able to effectively engage the audience with his entertaining anecdotes from on and off the field. I have seen him speak several times since over the years and his performance always improves, he has a far wider experience of life than many and is able to cover a wide range of topics and speak with authority. It's also fair to say Paul is very engaging with the audience, both during his performance and after when chatting to guests around the venue, being very patient and generous with his time to all. Over the years I have become acquainted with Paul socially through mutual friends, and I value his company, friendship and advice. I booked him in 2011 for a conference for the
campaign group I led, the audience had no background as cricket fans and most had not even heard of him. Paul had no brief, just to speak for 20 minutes on why he was supportive to the campaign He was able to speak about his own experiences of the subject matter and relate it to the conference, he had new ideas and insights to share, never speaking once about cricket analogies this time. Paul remains a great all rounder, and not just in the cricketing sense." - Leigh Davison Chair Scotswood Centre 466‐474 Armstrong Road Scotswood Newcastle Upon Tyne NE15 6BY