Iconic Ashes Winning Cricketer & Leading Speaker
Image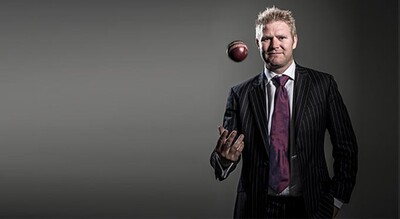 A vital member in the England side which won the 2005 Ashes series, Matthew Hoggard MBE is one of the most successful international cricketers to have played for England. Best known for playing and captaining Leicester County Cricket Club and also representing his country on ninety three occasions.
His career kicked off when he helped propel England to their first series victory in the West Indies for 36 years and led the attack on England's tour of India in 2001/2002. Later this year, Matthew took seven wickets for sixty three runs against New Zealand and in 2004 he achieved the rare feat of his first and England's thirty fourth test hat-trick.
Matthew continued to dominate the game in 2005 when he took twelve wickets for 205 in the fourth Test Match of the series in South Africa. England hadn't seen figures this impressive since Ian Botham's thirteen for 106 against India in 1979/1980. As an invaluable member of the England team, Matthew provided a constant threat with his fast, orthodox swing. In the 2005 Ashes series he helped secure England's 2-1 series victory by his score of eight not out with Ashley Giles against Australia in the fourth Test at Trent Bridge.
Now Matthew is a qualified cricket coach and passes on his expertise to the team's younger professionals as a mentor. On the side of coaching he also features across a range of popular TV programmes and has become extremely sought after to cover cricket for the BBC, Sky Sports and BT Sport.
Matthews world class performances have resulted in him being awarded in the 2006 New Year's Honours list for an MBE. 2006 also saw him officially ranked the 4th Best Test Match Bowler In The World and named one of Wisden's Cricketers of the Year. Matthew has excelled in his field and he holds the impressive acclaim of being the 6th highest wicket-taker in England's test match history, with 248 wickets from 67 matches.
As one of the most established personalities in the sporting world Matthew would make for an excellent host and speaker. With over a decade experience and with an outstanding reputation as a role model to young and old Matthew is ideal for event and corporate hosting, award ceremonies and after dinner speaking. Matthew can entertain an audience with his remarkable story and tales of competing against some of the greatest cricketers in history. With an unforgettable enthusiasm Matthew can tailor his topics and themes to ensure he delivers in the best possible manner for your audience ensuring the corporate messages are communicated clearly and concisely.
How to hire Matthew Hoggard
Contact the Champions Speakers agency to book Matthew Hoggard for your event today. Simply call a booking agent on 0207 1010 553 or email us at agent@championsukplc.com for a free quote.
** We do not accept requests for autographs, signed merchandise, fan mail, birthday messages, or any other non-commercial contact with our speakers or acts.
When he's at corporate events, Matthew is known to cover the following topics:
Cricket Speaker
Twenty20
Sports Speaker
Peak Performance
Maximising Success
Leadership
Achieving Goals
Drive & Determination
"We had a marvellous Annual Dinner on Saturday when Hoggy was our guest speaker. Hoggy mingled with members and guests pre-dinner, gave a brilliant talk about his cricketing experiences which was very well received by ALL the audience and then followed it with a very entertaining Q & A session. Nothing was too much trouble for Hoggy with numerous photographs and signings being requested – he certainly enhanced our evening and I would thoroughly recommend him. Thanks Hoggy you're a star".
Richard  – Lapworth Cricket Club
"Matthew was nothing short of phenomenal. The evening was a huge success for the club with 150 people attending, Matthew took the time to talk to everyone before doing the awards, including playing a quite exquisite cover drive with a spade across my arse, a moment that will forever live with me. His after-dinner speech was outstanding, how he had everyone on the edge of their seats, truly captivating. I honestly can't praise him highly enough, the bar has well and truly been set, the worry is that we will never top it".
Chris - Forton Cricket Club
"Matthew Hoggard was the perfect guest of honour at our dinner. Friendly, funny and entertaining. He was willing to help us in any way he could on the night which ended with his fantastic speech which was packed with laughs. Incredibly easy to deal with, he made our evening a wonderful success. I would wholly recommend him".
Paul  - Brainwave
"It was great to meet Matthew at the annual dinner for our village cricket club, Burton Agnes. He was able to chat with our players and guests and his speech or his reflections on a career stretching from Pudsey to an MBE proved that success hadn't spoiled him. You can take a Yorkshireman out of his county but success hasn't taken the Yorkshire out of Matthew".
Dave  - Burton Agnes Cricket Club
"Thank you for your assistance with the arrangements with Matthew for our dinner on Friday night. Could you please pass on my thanks on to Matthew as well. The night appears to have gone down as a success and I think in many ways down to Matthew who was a great speaker and guest. I would highly recommend him for future dinners."

Sophie - Saint & Co Chartered Accountants

"Matthew Hoggard was guest speaker at an Annual Dinner held by Headingley Golf Club, Leeds at the Clubhouse on 6 March 2015. 110 guests were present. Matthew is a local lad, born in Pudsey, who went on to play for Yorkshire in 1996 and England in 2000. He became the fast bowling stalwart of one of the most successful England Cricket Teams of all times. During a golden period between 2004 and 2006 he played in 40 consecutive test matches, beating the West Indies in the Carribean for the first time in 36 years, South Africa on their home grounds and finally winning the Ashes in England for the first time in 18 years. His talk was an inspirational journey from playing junior cricket for Pudsey Congs in the Bradford League to that glorious Ashes win in 2005, Buckingham Palace for an MBE and Downing Street. I would recommend him to you all".
Philip - Headingley Golf Club
"Following a recommendation from another club in South Wales, we were really keen to have Matthew Hoggard amongst us for our latest event last week. His reputation was growing & most attendees would not have heard him before. He didn't disappoint as he was brilliant throughout"
Simon - Mumbles C.C
"Hoggy was the guest speaker at a cricket club fundraiser for our junior practise facilities. We had 130 guests of varying ages and he had them all laughing at his stories. He is very well rehearsed and speaks with ease and passion. We also had a Q&A session where people in the audience asked questions about his playing days and the current England set-up, he spoke openly and honestly and gave a great insight into the life of an England Cricketer. Top Cricketer, Top Man, Top Speaker."
Michael  - Captain, Norton-In-Hales Cricket Club (Shropshire)
"Everything went very well! They loved Hoggy (as did I, fortunately, I sat next to him at dinner so we had numerous chats). Nothing was too much trouble, he talked to everyone who went up to him, told some great stories - TOP MAN!"
Andrew - North Runcton CC
"Hoggy was enjoyed and appreciated by all present – though the cricketers in the audience clearly got the best value on the evening! And a fantastic auctioneer too – he should add that into his repertoire more regularly.Many thanks for your assistance in the behind the scenes arrangements."
Dermont - on behalf of Cole Trade Benevolent association
"We had a marvellous Annual Dinner on Saturday when Hoggy was our guest speaker. Hoggy mingled with members and guests pre-dinner, gave a brilliant talk about his cricketing experiences which was very well received by ALL the audience and then followed it with a very entertaining Q & A session. Nothing was too much trouble for Hoggy with numerous photographs and signings being requested – he certainly enhanced our evening and I would thoroughly recommend him. Thanks Hoggy you're a star."
Richard - Chairman – Lapworth Cricket Club
"Matthew was great and gave the message perfectly to what the swimmers needed about dealing and going into a sport for Australia Thanks for your help Charlotte!"
Diane - Swim England
"Just a short note to say that Matthew was great value last week. He entertained our guests throughout the night Very enjoyable and thanks for your support for enabling him to be there"
Grant - Swim England
"Thank you again, Matthew was brilliant and we will definitely be using your services again!"
- Joel Grant
"It went great thank you Charlotte. Matthew was fabulous, a very good choice!"
Caroline - CITB
"It was a great night and Matthew was absolutely fantastic. Thanks for all your help with the event and look forward to chatting next year"
- Allendale CC
"Matthew was brilliant Mark, please thank him again from all of us at BFGC"
Dave - Beeston Fields Golf Club
"It went really really well thank you! I have currently just gone through the feedback forms and some have already said they want to offer him a job! One even said they want to try and offer him some opportunities in Kuwait – he certainly left an impression."
Chloe - WCBS
"I enjoyed Matthew's talk as I am into cricket and sport and am always interested to hear about how sportspeople's careers evolve. I also enjoy a bit of Yorkshire humour and tales of daring do. Please pass on our hearty thanks to Matthew for making the effort to come and see us for our rescheduled event"
Alison - EEEGR
'Just wanted to drop you a quick line to say how much everyone at the Bearsted and Thurnham Club enjoyed the Matthew Hoggard evening last Thursday. It was great working with you and I look forward to working on future events. Thanks you again for all your help!'.
Matt – Bearsted & Thurnham Club
'He was an excellent guest speaker, very down to earth and extremely funny and he seemed to enjoy himself as much as we did!'
Matt – Bearsted & Thurnham Club
'Matthew was absolutely superb! His charismatic personality and great stories kept us fully engaged and inspired. Matthew shared his incredible sports journey with us and related many aspects to the business world. I would definitely book Matthew again, other than being a great speaker, he is a thoroughly nice person too.'
Rana - Monster Group UK
"We had a great night. Everything went well and Matthew was very entertaining"
John – Faerch

"It went really well thank you! Matthew was great, he was very relaxed and happy to chat to lots of guests at the event in the bar area pre-dinner. The evening was a little later than originally hoped, but he didn't seem to worry at all. He answered a considerable number of questions very honestly which everyone appreciated – he was definitely a hit! And I'd say he was an all rounder, a lot of easy stories that seemed to roll off the tongue! I'd recommend him certainly." - Grace, Bayer Crop Science

"I would be grateful if you could pass on our sincere thanks to Matthew for a great speech last night and for being open and honest about his mental health experiences, which was not easy for him to do. Everyone was really moved and impressed by his words and he went down well off the stage too!" - Stephanie, NHS

"He was absolutely brilliant! A real gentleman, an excellent personality to have around for the evening and he was extremely accommodating of anything we requested all night. I can't thank him enough for making it a great evening for us and also to yourself for how accommodating you've been during the process." - Pendle Forest Cricket Club

"Can you pass on our thanks to Matthew for Saturday evening. It was a great speech and well recieved." - Jonny, Cadons Ltd. 

"We are a very happy client, Hoggy was beyond brilliant for this! Thanks again for everything!" - Babcock DST Mental Health

"Just wanted to say thank you so much for suggesting Matthew Hoggard for our event. He was absolutely spot on. He arrived early, chatted with the guests, was absolutely hilarious during the dinner and entertained the guests round the table. His speech was entertaining, light hearted and funny. Just what we needed. He is also a very nice, down to earth and genuine man and welcomed the obsessed cricket fans that wanted a picture with him!" - Wilkin Chapman LLP
"Thanks for arranging for Matthew to come and speak to us on Saturday night. He is a very genuine and entertaining person, nothing was too much trouble and he spent a lot of time talking to the audience and taking selfies, both before and after the gig. His speech was very entertaining and his q&a session afterwards was both entertaining and very enlightening. I cannot recommend him high enough as an after dinner speaker. Thanks again",
- Michael Annear
"The evening went really well, I went round all the tables at the end to make sure everyone had enjoyed the night and there was plenty of people saying he was the best speaker they had seen at an event. Hoggy made an effort to get round and introduce himself pre-dinner, he then got involved with our pre dinner games and then moved onto his speech, he gave a brilliant talk about his cricketing experiences and then moved onto a Q & A at the end which was a funny honest insight into some of the changing rooms he has been in. Nothing was any trouble for Hoggy with multiple photos and signings. He certainly made a good impression and would like to thank him for that. Also thank you Matthew for a top service in providing the speakers, we will be sure to use your services again in the future" - Liam Curwen, Dalton Cricket Club