WORLD RECORD HOLDER FOR THE FASTEST SPEED FLOWN IN A WINGSUIT
Image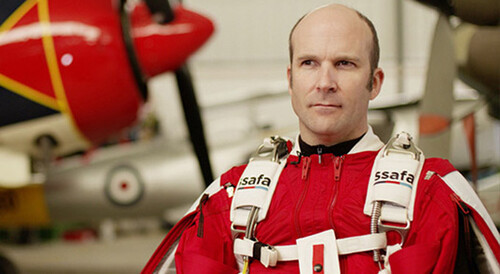 The world record holder for the fastest speed flown in a wingsuit, Fraser Corsan is a revolutionary figure that has pushed the boundaries of limitations and defied common belief. Making his first parachute jump on static line from 3,500ft from a cold and windy North Devon Drop Zone in 1996, it was the initial jump that had him hooked on flight and several weeks later he made his first freefall, thus igniting a passion for freefall that would ultimately lead him to successfully fly wingsuits. A moment that had been a lifetime in the making for Fraser Corsan, if you are looking for an inspirational figure that has taken his passion to become a record breaker, be certain to hire him for your next event through the Champions Speakers agency.
It was evident to anyone close to him that from a young age, Fraser belonged in the sky and was longing to jump! Seeking a career in the Fleet Air Arm to fulfil his dream of flying the Harrier, agonisingly for Corsan having passed selection he was unable to fly when he discovered that he was colour blind. A major setback that could well have put many a person of course in life, what made Fraser so special was his ability to find an alternative. Since his initial career as an aerospace safety engineer through to his current role in Fujitsu Defence; developing new Business in the Air domain, Fraser has kept his passion alive jumping as much as he can.
With multiple freefall qualifications under his belt, Fraser Corsan has completed over 2,300 jumps to date, including one with the Space Shuttle Endeavour launching behind him in 2000. Having initially heard about wingsuit flying in late 2000, by early 2001 Corsan had acquired his own wingsuit and was one of three wingsuit pilots in the UK and about 15 globally at the time to be flying them. Having completed in excess of 1,300 wingsuit jumps and 7,800 miles flown later; Fraser was taking on the challenge of a lifetime, travelling to the USA and Canada in May 2017 to make 2 jumps and to break four wingsuit world records and raise £1 million for SSAFA, the Armed Forces charity.
Despite Fraser's years of experience and qualifications, these world record breaking attempts require specialist skills, dedication and months of intensive training in a custom-built wingsuit built for speed and manoeuvrability. Whilst also addressing the challenges presented by extreme cold and the lack of Oxygen and low ambient pressure. Fraser has worked closely with the UK Armed Forces his entire career and is passionate about lending a helping hand to SSAFA in the work they do supporting the Armed Forces, veterans and their families.
It was an ambitious goal, break four world records and change the lives of countless servicemen and their families for the better. It takes a special kind of person to achieve that. One who is dedicated, steadfast, motivated and born to fly. Fraser Conran is all of those things and so much more and his now the world record holder for the fastest speed achieved in a wingsuit, a real tale of bravery, dedication and following a dream, Conran's story truly is one for the ages! A real-life example of someone who has set out to achieve a goal and got there, of someone who has chased their dream and ran with their passion to make history, the magnificent Fraser Conran is available to hire as a speaker through the Champions Speakers agency where he is certain to deliver an unforgettably inspiring performance.
Contact the Champions Speakers agency to book Fraser Corsan for your event today. Simply call a booking agent on 0207 1010 553 or email us at agent@championsukplc.com for a free quote.
"I just wanted to say that it was such a privilege to meet you yesterday and to hear about your incredible feats. Your presentation was fascinating. I also enjoyed our conversation as we walked the museum grounds, thank you for sharing your thoughts. I wish you every success with your future goal setting and achievements, I have no doubt they will be stratospheric!" - Mark - Brooklands Trust Members