Expert Health & Wellbeing Speaker Who Is The CEO Of 'The Works Company'
Image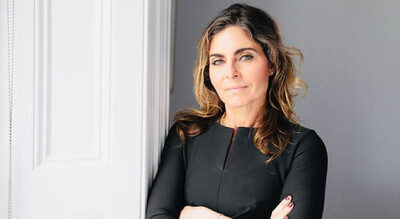 Image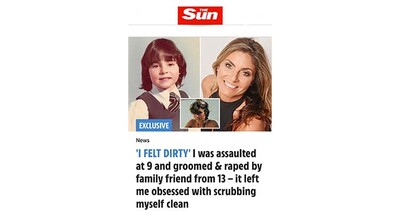 Well-being speaker and motivational self-help expert Emma-Jane Taylor, also known as The Inspirational Mentor, is a fascinating speaker for corporate events, private functions and after-dinner talks. She has experienced the topics she speaks on, making her engagements all the more authentic and powerful, and why she has become such a popular choice of keynote speaker. Motivated to help others overcome childhood trauma, in her book Don't Hold Back, she shares her deeply moving story of child sex abuse and abandonment. Emma-Jane offers hope and insight into the power of the human spirit to overcome adversity and trauma and reveals harrowing experiences that have taught her invaluable life lessons, which have led to her success in business and personal life. As a child Emma-Jane was told she was a failure, the girl going nowhere and had a juvenile delinquent badge slapped on her when she was 13 by her psychiatrist. Being labelled at an early age came with difficulties, leading most people to believe she would be dead or in prison by the time she was 20. Often put into isolation, on report or suspended, she soon reflected on the ineffective education she had been given.
Believing that you need to energise your physical, mental and emotional well-being, she founded The Works Company, in 2000, which encompasses all of the elements of her brand as a keynote speaker, corporate behavioural change trainer, author and advocate for survivors of child sex abuse. She found her personal and professional success through many years of therapy, communication, support, well-being and writing. Emma-Jane is not afraid to speak out and currently presents The Silenced radio show and the Talk The Taboo podcast. Moreover, she has gathered a vast following on her social media accounts, where she normalises discussions surrounding mental health and other topical points of interest. Furthermore, she has a petition published in Parliament and is beginning a high-level political journey in getting the UK government to fund better support schemes for survivors of child sex abuse.
Emma-Jane has worked with the BBC and is the face of The Wellbeing Show for That's TV. In 2022 she was recognised at the United Nations 'as a woman who strives to make the world a better place'. In 2021 Emma-Jane was the keynote speaker at the NSPCC's Celebrity Chef Fundraiser, raising awareness for child sex abuse; her speech alone raised £22k. She is famous for her TEDx Talk  "It's not just the strangers you should be careful of " and was honoured with the Queen's Award for her activism. In 2019 her personal story was shared in various national magazines and headlined in The Sun newspaper. She has also appeared on the front cover of Venus Business Magazine and was recognised as a National Treasure by GB News.
She has been interviewed by the Metro and Grazia Magazine and was featured in That's Life. She has also been featured in The Times and The Daily Telegraph and was a guest on Ian Collin's Talk Radio, discussing relevant news items on Child Sex Abuse and educating young people. Furthermore, Emma-Jane has worked with Amazon, Barclays Bank, Invesco, and Newton Europe, speaking on how well-being links with performance. With over twenty-five years in business, Emma-Jane is a highly sought-after speaker who can inspire your audience, motivate change in your business or empower your employees on their well-being journey.
In January 2021, Emma-Jane spoke to Champions Speakers exclusively about motivation, managing stress and anxiety and building confidence.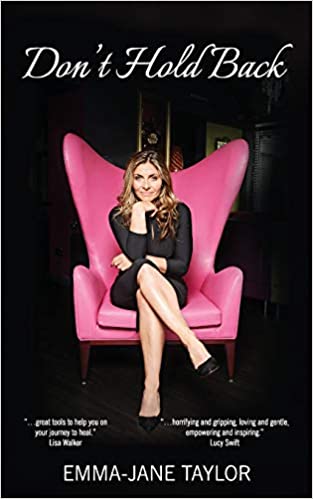 Don't Hold Back
How to hire Emma-Jane Taylor
Contact the Champions Speakers Agency to provisionally enquire about hiring Emma-Jane Taylor for your next event, today. To get in touch, simply call an official booking agent on 0207 1010 553 or email us at [email protected] for more information.
** We do not accept requests for autographs, signed merchandise, fan mail, birthday messages or any other non-commercial contact with the speakers or acts. Each speaker on the website may not have necessarily worked with Champions in the past but are known to perform such engagements within the industry.
Emma's official speaking topics are listed below.
How well-being supports performance - behavioural change is a key part of an individual's development and growth - bringing success to business
Face your fear – key points would be to recognise anxiety and learnings from adversity
Use your voice – key points would be to support others to use their voice, and understand how this can benefit their life and future
You've never failed – key points would be to facilitate learning on all levels and to allow people to embrace any difficulties
Be real, be YOU – key points would be to focus on authenticity, and enjoy the values of transparency
Resilience – key points on why you should never give up
Balance – being aligned with your mental, emotional and physical well-being
What does success look like – how do you identify success in your life
Boundaries – key points would be around strengthening your world for a positive future
Forgiveness – the power of forgiveness, and the freedom this brings
Gratitude - appreciation of a 'gift` that wasn't owed
Discovery - enjoying your balance life
FEEDBACK FROM VIRTUAL EVENTS & WEBINARS:
During the COVID-19 pandemic, Emma-Jane attended many virtual events, booked as the exciting guest speaker. Read the feedback she has received below.
"Emma Jane was an inspiring speaker who understood our requirements and wellbeing challenges and threaded the message through her own inspiring story. - Pritha, Newton Europe
"I have a lot of respect for the work that Emma-Jane does in supporting individuals & groups. She is inspiring & motives me to be the best I can be." - Indy, Business Development Manager, Barclays Bank PLC
"What a great session about 'Discovery & Gratitude'. It double hit me in the evening when I gave it a second thought. Some of your open questions were spot-on and I am still thinking about them, because they deserve proper consideration. And BTW, you got my full attention after the first minute when you said about nature and life as your personal discovery, and reason for gratitude. They are 100% mine too. I highly recommend that session to everyone." - Bart, Business Relationship Manager
"It seemed that everyone engaged well with Emma-Jane and so I would definitely call it a success." - Grace, Welfare Team Manager, Electrical Charity
FEEDBACK FROM IN-PERSON EVENTS:
Emma-Jane is regularly booked to engage audiences at in-person events, read her latest feedback below.
"I worked with Emma Jane on a fundraising speech for one of NSPCC's largest and highest profile fundraising events. From the outset, she showed commitment I've never seen before or since to getting it absolutely right. I could see, hear and feel how important it was to Emma to not just ensure that every single person in the room listened – but also donated money. She achieved both – it was a pin-drop moment of the event (which is not easy with hundreds of people at a dinner) and the NSPCC raised over the expected target for the speech. Emma is one of the most professional yet humble people I have ever worked with. It is not easy for anyone with experience of abuse to talk about it, and it is never easy to listen to, but Emma helped everyone hear her words with grace and eloquence. If you need your audience to sit up and listen, even if it's a difficult topic, Emma will be able to do it" - NSPCC, Ruth McDermott, Senior Real Life Stories and Content Specialist
"Emma Jane touched on very real topics that absolutely resonated with the audience, resulting in a very thought-provoking session. It was an open, honest and interactive 45 minutes, and I certainly came away with food for thought" – Hannah Hodgson, Invesco UK
"We had a guest speaker, a lady by the name of Emma-Jane Taylor was going to lead a workshop about sexual violence and sexual harassment training. Emma- Jane stood up, introduced herself, and within seconds held the whole hall in the palm of her hand when she told us, without emotion, self-pity or embarrassment that she had been groomed and sexually abused as a child. I feel honoured that I have heard Emma-Jane's story, I hope that many people will have that privilege too, she is one of the most inspiring people I have ever had the pleasure to listen to in my life." - David Hogg
"Emma-Jane came to speak to our school about the important topic of Sexual Violence and Sexual Harassment. The talk was moving and inspirational. It was not based on policy and government legislation but was an enlightening and insightful look into the world of someone who had been abused and what could have been done to stop it. Emma-Jane is an outstanding communicator and engaged our staff from the support staff to the senior leadership. Thank you so much for taking the time, I wish you all the best with your project." - Jonathan Parsons , Headteacher at St.Edwards Prep
"The presentation and talk had a positive impact on the teachers and made them understand that we are not only stopping children from becoming victims, but also stopping them becoming perpetrators. Emma-Jane's talk has helped us plan PSHE lessons to focus on healthy, positive relationships online and real life. We are seeing the impact of this. Emma-Jane is a wonderful speaker and it was a pleasure to host her." - Sadiya Mahmood
"Emma-Jane was a knowledgeable and welcoming interviewer and we were honoured to be asked, thank you Emma-Jane." - United Vibe (X Factor) Jan 2020
"Emma-Jane spoke at the House of Commons for Smart Works Reading. Her message was relatable, friendly, authentic and insightful. She is a great speaker who comes across very well in all situations whether it be speaking with a small or large audience. I highly recommend Emma-Jane." - Sarah Burns, MBE
"Author and motivational speaker Emma-Jane Taylor is courageous and unstoppable. She spoke about her book ''Don't Hold Back'' at the Media Hub in the autumn of 2018. Her moving and powerful personal story captivated the audience and even moved some members to tears. Emma-Jane speaks from the heart and is resilience personified. I would definitely recommend Emma-Jane Taylor as a guest speaker - she inspires everyone she meets and offers those encountering challenges in their lives hope." - Sarah Parfitt, Media Hub Founder
"As well as being a fantastic speaker, she is also passionate about listening to her audience and helping them to find their voice, just as she found hers. She is a five-star speaker who manages to engage with any audience, anywhere." - Julie Green
"Emma-Jane is the next 'Oprah'." - Dave, Henley-on-Thames, 2019
"Emma- Jane is a role model for women in business, women in general - independent, focused and speaks from experience, absorbing knowledge, asking the right questions and listening well, extending empathy to those she touches the lives of" - Lorraine, Celebrity Hair & Make-Up Artist
Emma-Jane Taylor presented for us at the Madejski Stadium for the NatWest Venus Awards Thames Valley 2017. She is an amazing woman with an inspirational story. She is engaging, speaks clearly and is full of passion. She had all of our 300 guests engaged - you could have heard a pin drop." - Tara Howard, Venus Awards, Bournemouth
"Emma-Jane worked for me in Las Vegas. She gave a brand presentation to an American TV panel that was thoughtful, energising, detailed, focused and delivered with passion. She works hard to ensure she has perfected her work. Her motivational skills within the group were fun and energising." - Marina, Bio-Extracts
"I worked with Emma Jane at the B2B conference in the USA. I found her to be truly inspirational and extremely dedicated to everything she is doing. She is very professional with brilliant presentation skills and stamina. I very much enjoyed working with her and look forward to future projects together" - Hristina, Bio-Extracts/ London
I've worked with Emma-Jane on a number of productions for TV and Video and she's always been the ultimate professional. Her experience as a presenter allows her to adapt effortlessly to any situation as well as bringing a fresh, creative eye when needed. I'd highly recommend Emma Jane" - Brian, TV Training
"Emma-Jane Taylor hosts The Health and Wellbeing show on That's Oxfordshire TV and each and every talk show is very well executed. Her shows are always of excellent quality and she is consistently able to source a variety of interesting and reliable guests. Personally, Emma-Jane is a pleasure to work with, and maintains a positive outlook on her topic choices. She is well organised, efficient and delivers a thought provoking show." - Hanisha Sethi
"I worked with Emma-Jane on a fundraising speech for one of NSPCC's largest and highest profile fundraising events. From the outset, she showed commitment I've never seen before, or since, to getting it absolutely right. I could see, hear and feel how important it was to Emma-Jane to not just ensure that every single person in the room listened – but that they also donated money. She achieved both – it was a pin-drop moment of the event (which is not easy with hundreds of people at a dinner) and the NSPCC raised over the expected target for her speech. Emma-Jane is one of the most professional yet humble people I have ever worked with. It is not easy for anyone with experience of abuse to talk about it, and it is never easy to listen to, but Emma-Jane helped everyone hear her words with grace and eloquence. If you need your audience to sit up and listen, even if it's a difficult topic, Emma-Jane will be able to do it." – Ruth, NSPCC
"Emma-Jane is the next 'Oprah'." - Dave Reynolds
"I met Emma-Jane first when I heard her speak at the Media Hub, when she was talking about her book. Since then she has spoken at a couple of events and become our Ambassador for Smart Works Reading. She spoke at the House of Commons, Emma-Jane spoke clearly, with care and she was genuine with her approach and kept the audience engaged. Her message was relatable, friendly, authentic and insightful. She is a great speaker who comes across very well in all situations whether it be speaking with a small or large audience. I would highly recommend Emma-Jane". - Sarah Burns, MBE
"Author and motivational speaker Emma-Jane Taylor is courageous and unstoppable. She spoke about her book ''Don't Hold Back'' at the Media Hub in the autumn of 2018. Her moving and powerful personal story captivated the audience and even moved some members to tears. Emma-Jane speaks from the heart and is resilience personified. I would definitely recommend Emma-Jane Taylor as a guest speaker – she inspires everyone she meets and offers those encountering challenges in their lives hope." - Sarah Parfitt, Media Hub Founder