Mayweather Vs McGregor: Everything You Need To Know
Rumours of a boxing match between the MMA double champion and UFC star Conor McGregor nd legendary boxer Floyd Mayweather Jr has been in the works for a while now, however, fans were beginning to doubt if the fight would ever come to fruition.
Fans were naturally thrilled when the fight was publicly announced for 26 August, and ever since the subject has been a hot topic dominating the headlines.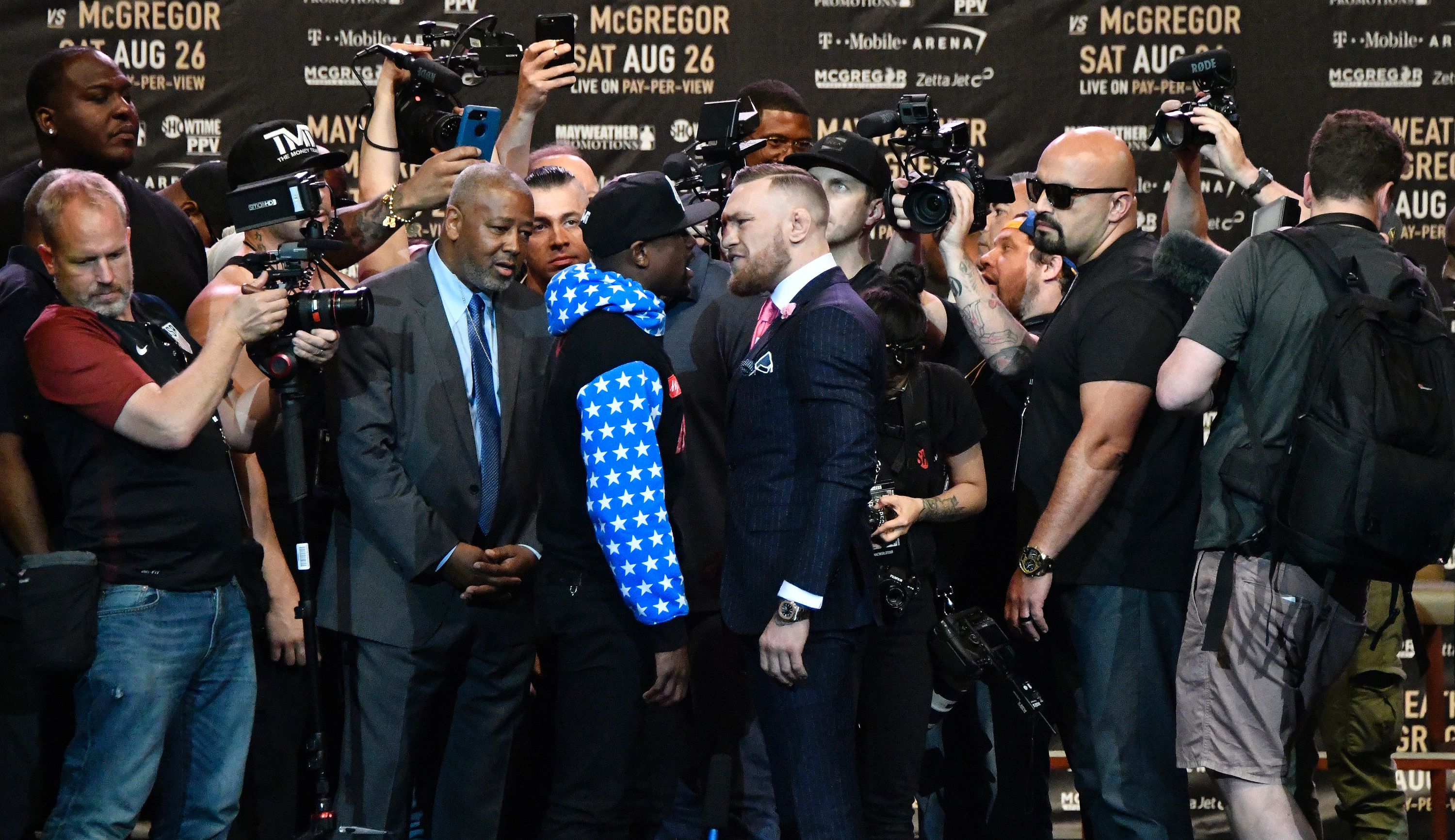 Where did the fight originate from?
The feud began in late 2015 with a comment from McGregor to Mayweather saying: "In a real fight, I would dismantle him in seconds… Why would he take me on?".  This then led to McGregor mentioning the possibility of an organised bout between the two.
Mayweather brushed off the comments until he retired from boxing. This is when he started to retaliate. UFC President Dana White shut down the potential fight by saying: "McGregor-Mayweather? No. Never. We're his promoter. We'd have to make the fight."
Despite this, both Mayweather and McGregor continued to speak about the super-fight on social media, with McGregor even going as far as making a fake fight poster featuring the two.
Mayweather named his price a staggering $100 million but the fight still looked unlikely. Verbal insults continued to be exchanged between the two until the fight was officially announced in June 2017.
About The Contenders
 Conor McGregor:
The 5'9" UFC fighter from Ireland has made quite a name for himself recently, becoming a double champion and dominating two weight classes. The fighter is known for his boxing talents and for using his skills to knock his opponents out in the early rounds. Conor is renowned for his ability to antagonise his opponents before the fights, he is a genius when it comes to hyping up the next event with plenty of videos to display this.
As well as his boxing skills he also uses traditional Tae Kwon Do kicks, such as the spinning back kick while demonstrating some Muay Thai techniques. Despite clearly being a stand-up fighter he is more than skilled fighting on the ground with Brazilian Jiu Jitsu capabilities.
Conor began his MMA career in 2008, four years later he won both the Cage Warriors Featherweight and Lightweight Championships, two titles he held simultaneously before leaving them to sign with UFC.
He made his UFC debut on 6 April 2013 against Marcus Brimage who came out aggressively. Unfazed by this Conor McGregor eventually landed a big uppercut leaving his opponent unstable on his feet. Moments later the fight ended with a two more uppercuts followed by blows on the canvas.
He dominated José Aldo at UFC 194, with an incredible 13-second knockout, the fastest in UFC history.
Prior to defeating Eddie Alvarez at UFC 205, McGregor became the first fighter in UFC history to simultaneously hold two weight division titles.
Floyd Mayweather:
Mayweather is a comparable height to McGregor standing 5'8" tall. The boxing legend from Michigan, USA has dominated the boxing world with an undefeated record with of 49 wins to his name.
One of the best pound-for-pound fighters in history, winning championships in five weight divisions, Floyd started boxing from a very young age. His father Floyd Snr was a welterweight contender and his uncle is a former IBO Super Featherweight Champion so boxing was in his blood.
Floyd was introduced to a gym not long after he could walk, at age seven he was fitted for his first pair of boxing gloves and was nicknamed 'Pretty Boy' early in his career, because of his unmarked face.
After turning professional in October 1996, Floyd began winning matches at an alarming rate. His father served him as both manager and trainer. He won his first world title in 1998 defeating Genaro Herandez in the WBC Super Featherweight Championship.
From the beginning of 2000, Floyd's career skyrocketed, starting him down the path to becoming one of the greatest. He moved up in weight class four times, gaining the WBC lightweight title, the WBC Super Lightweight Title and the IBF, IBO, WBC and IBA welterweight titles.
He is known for his defensive style but also for his accuracy. As well as being a talented fighter Mayweather is also an entrepreneur topping Forbes and Sports Illustrated lists of the 50 highest-paid athletes in 2012 and 2013.
What's Happened From The Announcement To Now?
Thanks to mass-media exposure there aren't many people in the world who aren't aware of the upcoming super-fight. Everybody has their opinion on the outcome with some thinking it shouldn't be taking place at all. Mike Tyson has recently commented on the matter stating McGregor will 'get killed' in the fight. Manny Pacquaio, who thought Mayweather in May 2015, thinks the fight could be 'boring' and said that: "McGregor has no chance in this fight".
The fighters have traded more verbal shots at the recent press tour promoting their fight further. Floyd's father Floyd Mayweather Snr even got in on the act engaged in some trash talk during one of the press conferences.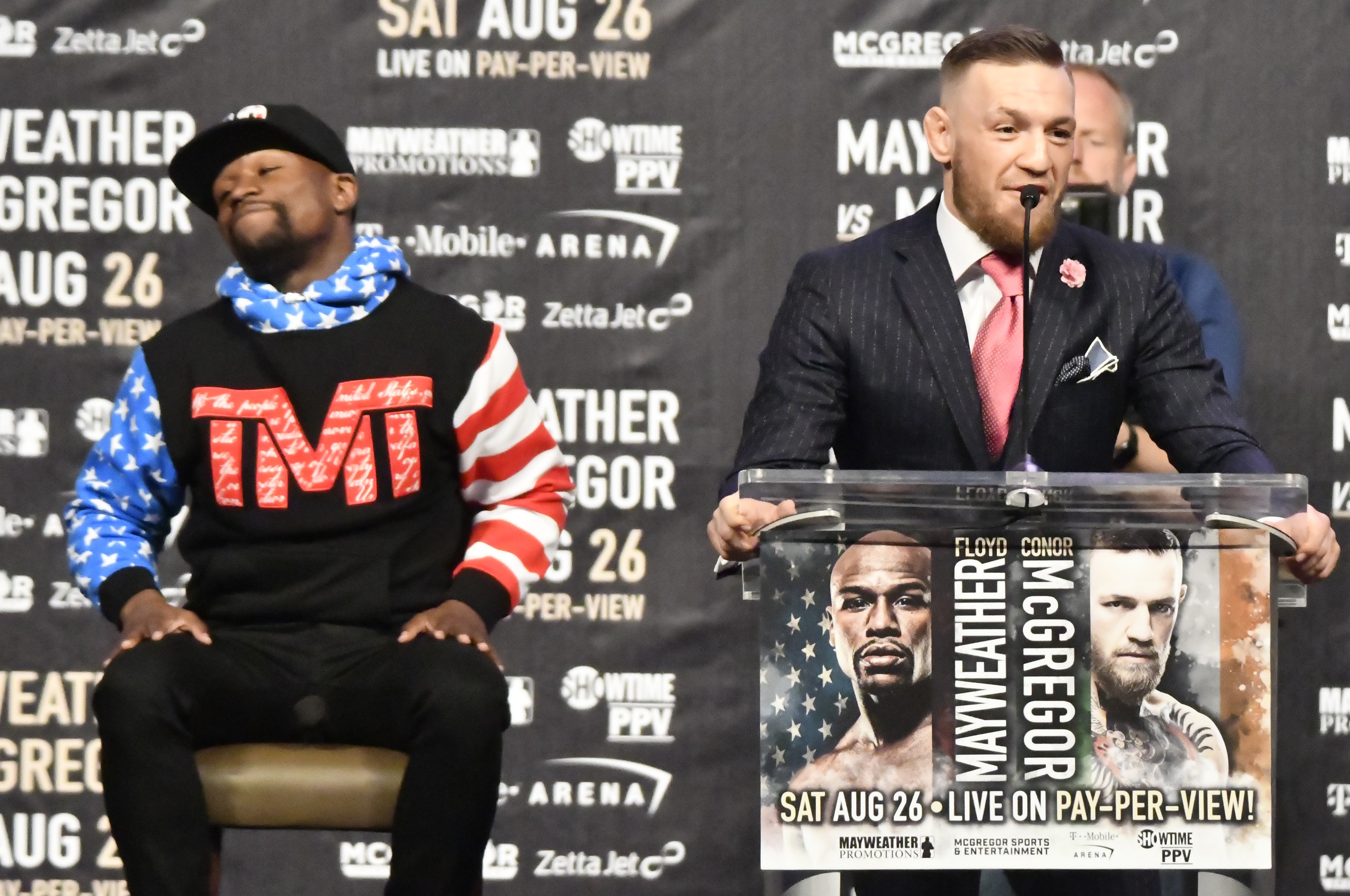 Let's Talk Money...
Most of the fights profit will come from pay-per-view TV with the eyes of the world on Las Vegas in August. US viewers will be charged $99 (£76) to watch in high definition.
The Las Vegas venue has a capacity of 20,000 people and is expected to make $70 million in ticket sales alone with ringside seats costing a huge $10,000 with some selling for an excess of $85,000.
So just how much money are the fighters going to make?
Well, it's estimated that Mayweather is going to make at least $100 million but this could exceed four times that amount dependant on sales. McGregor will make at least $75 million which is five times his usual UFC pay check.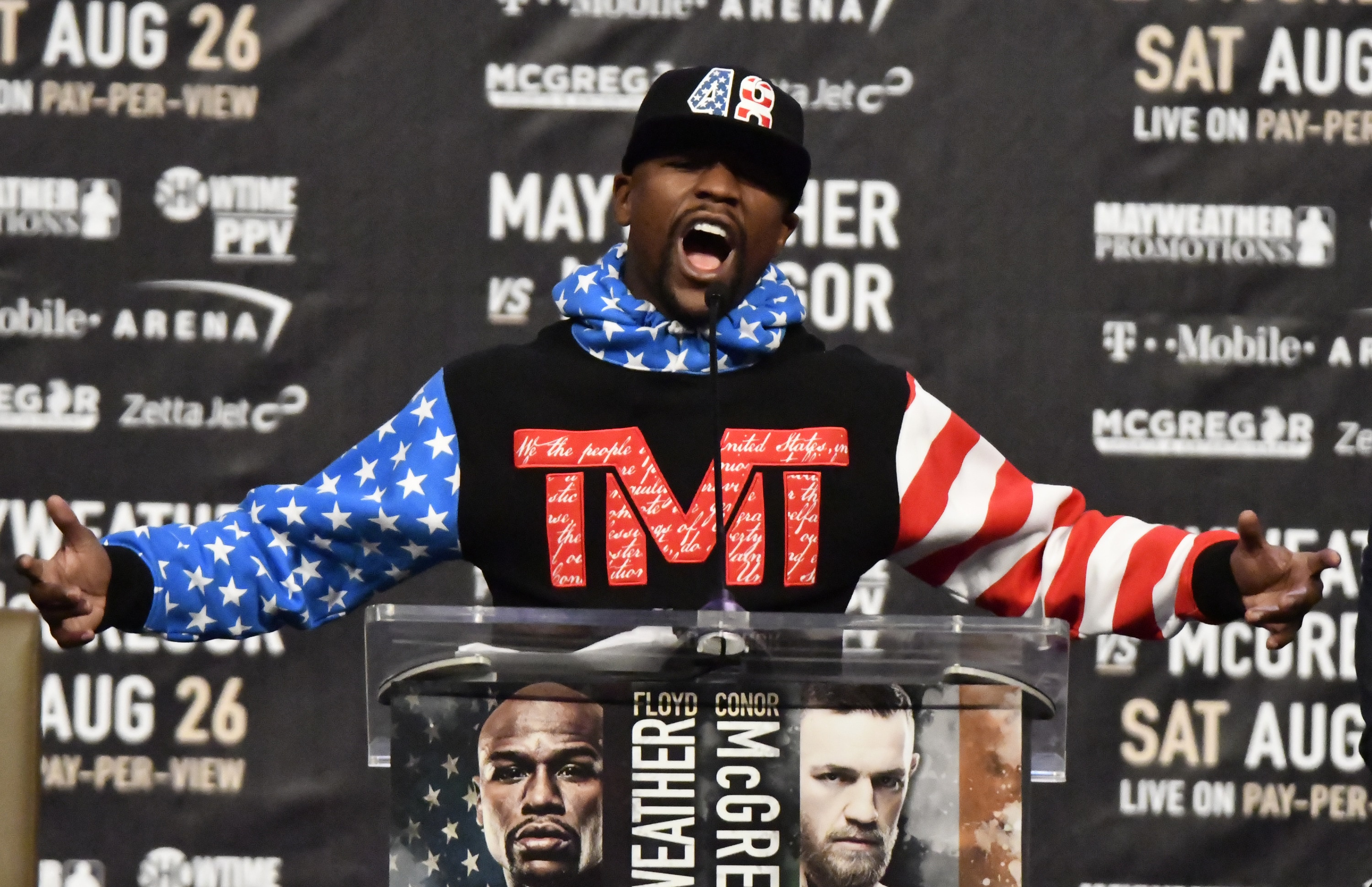 Who Will Be The Fight Undercard?
The truth is we're not completely sure yet.
Three names we do know who have been confirmed for the fight include British amateur boxer, Savannah Marshall who became Britain's first female amateur world champion in 2012 she is now signed up to Mayweather's promotional company.
Another fighter on the list is Gervonta Davis, he will defend his IBF Super Featherweight title. His opponent is still to be confirmed. He has already defended his title once this year against Liam Walsh.
Badou Jack is also featuring being the only fighter to be named on the bill so far, he will step up a weight class to light heavyweight.
Here at the Champions Speakers Agency, we have a brilliant selection of Boxing Speakers who are able to share their opinion on this topic. For more information regarding finding the right speaker for you, contact our agents on 0207 1010 553 or fill out our online form.
Check out a recent interview on the Mayweather v McGregor fight with Kellie Maloney and Spencer Fearon.