minute read
Pioneering polar explorer, Mike Horn, has travelled the globe to witness earth's beauty with his own eyes. From traversing the Amazon in 1997 to completing Pole2Pole, a gruelling mission from the North to the South Pole in 2019, Mike continues to push the limits of exploration.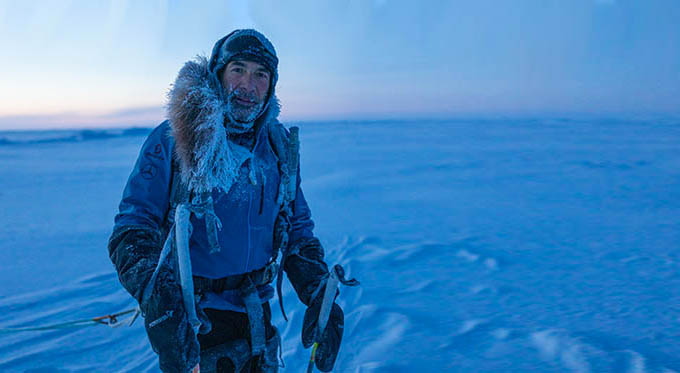 In our latest interview, we discovered how Mike manages loneliness on his missions and the progression of global warming. Read more, here:
Q: What has the Covid-19 lockdown taught you?
"If anything, this lockdown experience has only reinforced the importance of having a free mind! Even if your body is confined in one space, your mind can still travel, imagine and create.
"What is important in these times is to adapt to the situation, continue to dream and plan for the future!"
Q: What is your experience of loneliness while exploring?
"During my expeditions, I'm often alone, but I never feel lonely! It is important to learn how to be alone without feeling lonely because loneliness pulls you down.
"I personally love being isolated because it gives me time with myself to focus on my goals.
"When I find myself in a tent in the middle of the Arctic, I have no choice but to count on myself and that's when I push myself to the max."
Q: How do you build the mental strength to overcome adversity & endure such extreme environments?
"Mental strength is the basis for everything I do. Without a strong mind, the body will never follow. I have strengthened my mind through discipline, trust and open-mindedness, but also through hardship.
"By forcing yourself out of your comfort zone, you find yourself facing obstacles you have no choice but to overcome. It may seem counterintuitive but by putting yourself in tough situations, you learn how to overcome them."
Q: How do you keep your team motivated during expeditions & what advice do you have for businesses?
"I keep my team motivated by giving them responsibilities, by setting them challenges and trusting them!
"The advice I would give any business leader seeking to motivate their team is to adapt, innovate and trust.
"A strong team survives any obstacle thrown their way! You have to keep close, listen and make sure everyone is playing their unique part in the success of your business."
Q: How have you witnessed the effects of global warming first-hand?
"I knew the world was changing because I had witnessed changes here and there, but I never expected these changes to take place so rapidly.
"I knew conditions, like ice thickness, would be worse than previous years, but I probably would have reconsidered the success of my expedition had I known how bad the conditions really were.
"What shocks me most, and where I hold a certain amount of responsibility, is that we have no idea what is going on in the Arctic because nobody lives there.
"This is why I felt it was my duty to share these observations with the world as a first-hand witness, in hopes of spreading a global alert to the current conditions of our polar regions."
Q: If you could give your younger self one piece of advice, what would it be?
"Dream even bigger - you are capable of anything if you set your mind to it!"
Book Mike Horn
Contact the Champions Speakers agency to provisionally enquire about Mike Horn for your event today. Simply call a booking agent on 0207 1010 553 or email us at [email protected] for more information.