minute read
Described by the Sustainable Food Trust as a "consummate storyteller", Rebecca Hosking is a thrilling speaker. She specialises in the environment, sustainability and agriculture, topics that are explored in her speeches for the benefit of her audience. Insightful and dedicated to the planet, Rebecca has set the standard for an eco-friendly lifestyle through her presentations, essential for both corporate and public audiences to employ.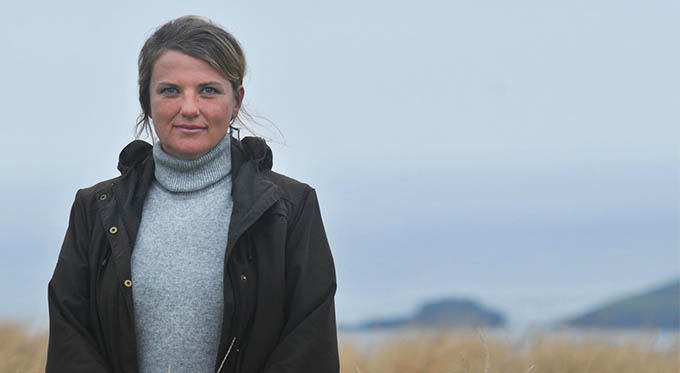 Booking Agent, Katie Clarke, thoroughly enjoyed talking to Rebecca about her campaigning journey and personal connection to the planet. From living a more sustainable lifestyle to her childhood spent on a farm, read more about Rebecca, here.
Q: When did your passion for wildlife and the environment begin?
"I think it's fair to say, almost before I can remember. My parents are both avid naturalists – my mum's interest is perhaps more towards botany and my father's ornithology. But throughout their lives, both have been passionate about perceiving British wildlife on our Devonshire family farm. Given this situation, it's not so surprising my first word wasn't 'mummy' or 'daddy', or 'hello', it was 'duck'!"
"Growing up in a family like mine we never had normal pets, instead we had rescued wild orphans. So rather than a shop-bought rabbit, I was given a wild one to rear. Rather than a budgie, we brought up an abandoned fledgeling rook, and instead of a puppy, we had a pet fox cub. I think it was through these individuals and understanding how they would live in the wild that my own fascination with the living world started."
Q: Growing up, who was your inspiration?
"To give maybe an unusual answer, that inspiration would have to be our farm – the land itself and the wild inhabits that lived there. That one place was more of a constant inspiration than anyone famous. As a child and young teenager, I would spend hours observing, studying, drawing and photographing differing species."
"Once I got into photography, having a camera strung around my neck was a brilliant excuse to spend even more time around wildlife, and I just wanted to do that as a career. Although the times I did spend in front of a TV I longed to have the lifestyle of say Jane Goodall or David Attenborough, really just so I would get to hang out with wildlife all the time."
Q: Being one of the first women to film for Sir David Attenborough's iconic BBC Documentaries is an incredible achievement, what do you remember from your first day of filming?
"My first day, well more my first couple of weeks of filming was transformed into a comedy classic. For my first film job, I was sent to Switzerland to film alpine marmots display calling. This is when the adult males stand up on their back legs on their burrow and repetitively make short calls. They sound much like squeaking toys. Well I filmed them doing this and a year or so later my footage made it into an Attenborough programme, and all was good."
"However, six years later that same footage was redubbed by the BBC comedy team 'Walk on the Wild Side', and took on a life of its own. By putting human voices on the animals they turned my footage into the now-famous marmot that repeatedly calls for his mate 'Alan'."
Q: What was your first experience of the impact climate change is having on the planet?
"Sadly, there were many incidents and I can't actually remember the first. However, the first real inklings that all wasn't well out there was how many film shoots were either being rushed forward or delayed, even cancelled, due to natural events not happening on time or not at all – rains not arriving, birds migrating earlier, massive shoals of fish not feeding off coastlines when they should, snow melting early, snow not falling, heatwaves hitting places that didn't experience heat waves, floods in places that didn't usually flood and so on."
"On the ground one of the starkest memories was swimming over the coral reef that had bleached due to the ocean being too hot. Corals are living organisms that survive in a very precise ocean temperature range – they have done so for tens of thousands of years."
"With the oceans now warming the corals are literally cooking to death, leaving just their skeletal white (bleached) structures behind. It was while swimming over a huge reef that should have been teaming with life, but instead was bleached, dead and never coming back, that the scale of what is happening really hit home."
Q: In your opinion, what human activities are threatening the planet the most?
"Oh blimey, the burning of fossil fuels, logging and burning of the world's forests, disposable plastics in our oceans, the increase in industrial farming and pesticide use, the erosion of the world's topsoils…and so it goes on."
"It's all depressing and each problem is massive. Yet the root cause of it all I believe is our lack of connection with the natural world, viewing ourselves and our lifestyles separate from the living planet. So I would say the biggest human activity threatening the planet is our collective mindset of separation from the rest of life."
"To survive we all need clean air to breath, freshwater to drink, plentiful healthy food to eat and a comfortable temperature to live in. The only way to achieve this is to look after our home, the living planet. By polluting and depleting the living world, we pollute and deplete our own survival and when you realise that hopefully, your mindset begins to change."
Q: It is not all doom and gloom and there are ways everyone can help reduce the impact of climate change. You have turned your family farm into one of the UK's first regenerative farms, what does this entail?
"So much about modern conventional farming is about forcing the will of the farmer onto the land to grow crops and livestock that don't naturally fit. The farmer is able to do this using a large amount of machinery, chemicals and fossil fuel and in doing this damages the soils and waterways dreadfully."
"Regenerative farming means working with natural forces of sun, gravity, water and the wild diversity, right down to the microbes in the soil to restore the land's health. By growing food in this way we regenerate the land, as the name suggests."
"Primarily we do this by working with animals and crops that naturally fit the landscape and working with the ecology of the land. As a by-product, we don't need to use chemicals or a huge amount of machinery so we vastly reduce our needs for fossil fuels and energy."
Q: Do you think it is only a matter of time before we see more regenerative farms across the globe?
"The wonderful thing is they already are. Compared to other parts of the world, we in the UK were the Johnny-come-lately to this game. That's because in the UK we have very forgiving growing conditions – it takes a heck of a lot of soil misuse for crops and grass not to grow."
"Compare our temperate growing conditions to those of Australia, African countries or the Southern States of the US, where the misuse of soil will quickly turn land to a dust bowl. You then see why farmers and ranchers in those areas were fast to adopt these regenerative methods."
"When we started farming in a regenerative way here in the UK we looked abroad to adopt their techniques – those overseas farmers were our teachers."
"What is wonderful is that what started here as a small group of us 10 years ago, has mushroomed. Today hundreds of UK farmers are turning to regenerative methods, which is brilliant to see."
Q: What top tips would you give someone to help reduce their carbon footprint?
"This is one of my favourite questions."
"Two really easy steps everyone overlooks, and they only require a couple of phone calls, are to change who you bank with and your energy provider."
"By changing to a bank that only invests in green projects you stop your money being invested in projects around the world that, unbeknownst to you, are causing great harm and devastation."
"And by changing your energy provider to one that only uses renewables you have stopped funding the dirty fuel energy sector."
"The other really easy tip is to do more of what is free."
"To use energy costs money, but there is so much that is really enjoyable that doesn't use energy. Things such as playing with your kids in the park or garden, walking, riding a bike, outside exercise in general, gardening, chatting with friends and family, reading a good novel, relaxing under a tree, meditation, or just being mindful. All these things are mentally really good for you. Your mind relaxes, and they don't cost you a penny."
"I've found once you start to give time to such simple pleasures, you start to look at other parts of your life and begin to make changes there too. It's an enjoyable process that I, and many of my friends, have been through and learnt a lot, and I now share in talks."
Q: The work you continue to do towards a more sustainable future is essential and you have achieved so much over the years! What has been a career highlight?
"I'm probably meant to say things like receiving my MBE or the honorary doctorates or speaking in front of the royal family. Lovely as they all were, I have to say the real joys are the times I've been quietly approached by a farmer or grower to tell me they've read about my work or heard me speak and been so inspired it led them to farm regeneratively. Or being approached by a teacher or community leader to say they've taught their class about my work and that their students or community is now growing their own vegetables or taking steps to reduce their energy use."
"I guess it's always a real honour when somebody tells you they've heard what you said, taken it on board, saw it was the right thing to do and changed."
Q: You must have been to some incredible places around the world, what has been your favourite destination?
"There are many beautiful places I've visited but they always say the people make a place. I have to agree. I would say my favourite destinations were when I was fortunate enough to work with a tracker or guide from an indigenous culture. The actual location may not have been the most breathtaking but learning a little from the guide about how they saw it certainly was."
"It was through working with some amazing folks from differing cultures that taught me there are many ways of looking at the world and we in the West, despite what we may think, don't have all the answers. So I guess my favourite destinations were the places where I could glimpse the world through the eyes of others."
Book Rebecca Hosking
Contact the Champions Speakers agency to book Rebecca Hosking for your event today. Simply call a booking agent on 0207 1010 553 or email us at [email protected] for a free quote.