minute read
Described by The Guinness Book of Records as 'the greatest living explorer', Sir Ranulph Fiennes has decades worth of captivating stories to tell from his many expeditions to the most remote places on the planet.
From minus 90 degrees in Antarctica to 50 degrees in the Sahara, Ranulph has encountered the most treacherous of terrain, successfully overcoming extreme adversity every time. As the first adventurer to cross the Antarctic continent unsupported and the oldest British person to summit Mount Everest, Ranulph has shown time again his incredible ability to maintain motivation and overcome physical obstacles.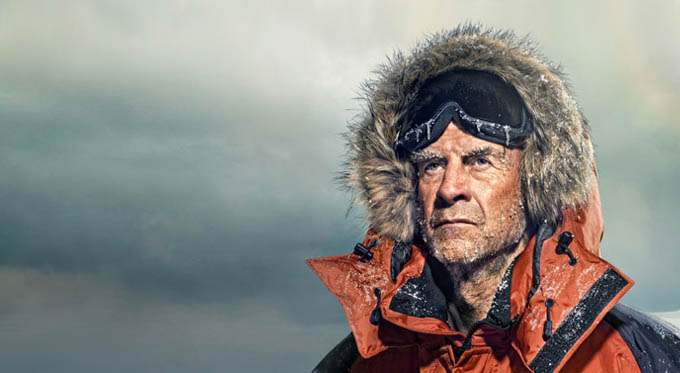 Now a highly sought-after motivational speaker, Ranulph entertains and educates in equal measure, sharing his captivating stories of exploration to inspire audiences globally. Speaking on topics such as risk management, discipline, and handling pressure, Ranulph provides individuals with the strategies necessary to overcome hurdles in their own lives.
In this exclusive interview, Ranulph relates life in lockdown to his expedition experience. He reveals how he maintains a healthy mindset and describes his greatest achievement to date.
Q: How is life in lockdown similar to your expedition experience?
"I relate it to the problems we encountered on expeditions, sitting in a tent for eight months, floating around on a bit of ice north of Siberia with one other person in the tent. Leaving the tent every time the ice on which we are floating cracks, hoping to go down with the currents if it goes towards Russia - you get to know the other person pretty well.
"Every day we had to patrol outside the tent to make sure that polar bears hadn't come on our ice floe. Living in Antarctica, in a cardboard hut 500 miles from any human being with three other people, in my case, I was lucky because one of them was my late wife. We spent six years preparing for that expedition together in an office in London and got to know each other pretty well.
"Nobody was paid anything, and it wasn't for money, it was for the experience of breaking a world record. We then got to know each other in lockdown circumstances in Antarctica for eight months of darkness, waiting for the sun to come back. You could go outside to get away from the others, but you'd soon come back inside again as there were blizzards and wind chill down to minus 122 degrees with winds of up to 166 knots.
"So, you'd stay inside the hut, which was made of cardboard. We knew that after eight months it would start falling to bits. The insulation was snowdrifts that came up on both sides of it. You really got to know those people well, more than you have done in lockdown here.
"My late wife died, of course, and I married again six years later. So, I'm back with my wife in a normal house in lockdown. And it's got one or two similar lessons, the biggest being don't lose your cool at any stage. Be thoughtful and try to just get on. Get the best side of your nature, even if it means delving deep."
Q: How do you manage loneliness and isolation?
"By cutting up each day. Plan exactly what you're going to be doing. For example, plan that at a certain time you'll go for a walk or a run or whatever for an hour and a half.
"If you're writing a book or working, you do research for that book or plan time for that work and do it from a certain time to a certain time."
Q: What keeps you motivated during the most challenging times and how do you keep others motivated?
"I stay motivated by whatever process I'm about to be tested by next, whether it is writing a book or lecturing on Zoom. That is a great help to stay motivated.
"Because all my normal lectures have been heavily postponed by a year or more, I have tried to do as much Zooming as I can to stay motivated and motivate others."
Q: How do you maintain a healthy mindset?
"Depends what you call a healthy mindset and how you define the word healthy could be in several sort of different ways. But in my particular case, to be physically healthy, I basically eat vegetables and fruit in order to counteract all the chocolate I eat during the day! So that's how I stay physically healthy.
"To stay mentally healthy, I stay busy and keep doing things like, for example, working out and writing down an important book to suggest to publishers."
Q: Of all the experiences and places you've visited, what is the most memorable?
"The answer to your question is not precise, I can't give you an exact place. But the most memorable experience was probably the time we did the first journey around planet Earth vertically without flying. My late wife came up with the idea in 1972, and we didn't set out until 1979, having worked for seven years to do this geographic expedition.
"We set out from Greenwich Meridian and for three and a bit years later, the ship came back and dropped us off back at Greenwich after doing the first vertical circumpolar surface journey around Earth. I had over 800 applicants for the expedition and I chose 2. Neither of them had a polar experience, we didn't choose them for that, we chose them for their character.
"Out of the 800, one of them who had in fact been a beer salesman for nine years in London with no experience, it was entirely on character and the powerfulness of their motivation, ability to fight off frostbite, teeth falling out, eating frozen chocolate, crotch rot - which is very uncomfortable. We travelled 2.5 thousand miles to do a single team crossing of the Antarctic continent, which is bigger than the United States, but has no Tescos en route!"
Q: Can you describe when you have seen some of the most shocking effects of global warming?
"I think that even watching TV, the fires in Australia, the fires in California, the floods etc…and we know it's getting worse, in many, many countries. I mean, it's dreadful.
"The efforts to lessen global warming are good but they need to increase to action against climate change."
Q: What have you learnt from your world-firsts and what qualities are needed to set world firsts?
"From our expeditions, including World Firsts, we have learnt that motivation is what you must look for in the team. So when they get that weak voice coming into their head after doing 900 miles and getting blisters, red toes, their back is hurting and they've got crotch rot, they can fight that wimpish voice in their head.
"The voice says, 'I can't keep going tomorrow', and I get the same thing. How do you stop it? Well, first of all, you choose your team very carefully. The people with the best motivation, the best ability to fight the wimpishness in their head, which is asking them to stop and go no further.
"I've got my own way of fighting this voice in my head, which is to imagine that the two people I respect most, my dad and my granddad. My dad was killed just before I was born, in the war, and my Granddad also died just before I was born. So, I didn't know either of them, but Mum brought me up on stories about them, their bravery.
"And so when I'm doing expeditions and that nasty voice comes and says, 'you've got to give up', I know they're watching, dad and granddad, and I don't want them to be ashamed of me if I'm the first of the group to give up, so I won't give up."
Q: What is your greatest achievement?
"When we heard that nobody had ever crossed the whole of the continent of Antarctica from side-to-side, the landmass of Antarctica, I got together with Professor Michael Stroud, who is an expert in how the human body reacts to starvation over long periods.
"We decided that we could find that out by doing the very first unsupported crossing from the Atlantic side to get to the pole and then across to the Pacific side, holding everything we would need for about 100 days. We would have to carry 500-pound loads on sledges without dogs, without ponies, without any depots laid by anyone else. This had never been done, and so we decided to do it.
"We trained carefully for it. We practised everything, the navigation and so on. When we started in Antarctica at the time, there were no polar-orbiting satellites and therefore no GPS or satnav or smartphone. And so, for instance, I had on the left wrist the Greenwich Time and on the other wrist was the local time. You'd have to look at the sun to know which direction to go in.
"Mike and I used this to do the first-ever unsupported circle crossing of the whole of the continent, bigger than America, just by taking 500 pounds, whereas the previous maximum target had been 280 without dogs. He was scientifically testing both of us every day for his research, which has helped many scientific projects since then. He discovered that over 97 days we use an average output of 11.5 thousand calories.
"To put that in perspective, if you run a marathon, you might have an output of 2000 calories. Every day for 97 days we did 60 nautical miles - even Weight Watchers would not recommend it."
Q: If you could give your younger self any advice now, what would it be?
"It would be to do more research to discover what could go wrong on the expeditions. Even though we spent seven years unpaid working in an SAS barracks to get 1900 sponsors for a single expedition, working in pubs on the weekends in order to pay the gas bill.
"We eventually got all those sponsors and paid nothing to anybody. We had no chequebook or bank account, and yet we did the first journey around Earth with a team of people - motivation was vital, not finances."
Book Sir Ranulph Fiennes
Contact the Champions Speakers agency to provisionally enquire about Sir Ranulph Fiennes for your event today. Simply call a booking agent on 0207 1010 553 or email us at [email protected] for more information.