Derek Redmond & The IAAF World Athletics Championships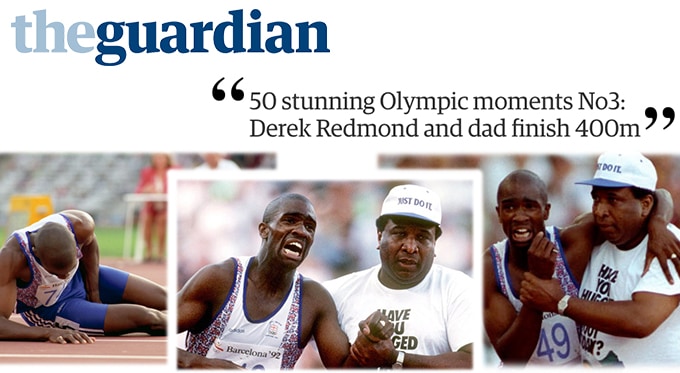 Next month, the famous Bird's Nest Stadium in Beijing plays host to the IAAF World Athletics Championships. From 22nd – 30th August, athletes will descend on the city that saw world records broken and new heroes emerge at the Olympic Games in 2008.
The week sets up a fantastic series of individual and team contests. The competition kicks off with the marathon, an event that symbolises the incredible determination and motivation exemplified by athletes. Indeed, it is often the moments where athletes defy the odds and overcome adversity that are later immortalised in sporting history.
Derek Redmond is an athlete renowned for his resolve in overcoming seemingly impossible barriers. Derek's remarkable sense of perseverance and courage was shown during the 1992 Olympic 400m semi-final in Barcelona when, having suffered a torn hamstring on the back straight, he refused to accept defeat and crossed the finish line on the arm of his father, who had broken through the security cordon to help and console his stricken son.
Voted the third most memorable Olympic moment of all time by viewers of the US TV station NBC, Derek's iconic refusal to quit in Barcelona even drew comment from US President Barack Obama years later.
The most powerful man on the planet said, "Derek Redmond bravely making it through with little help, moments of euphoria after years of hard work. Moments when the human spirit triumphs over injury that should have been impossible to overcome."
As one of the leading lights of British 400 metre running in the mid-to-late 1980s and early 1990s, Derek twice broke the British record for the distance. In 1986 he won both European and Commonwealth relay gold but perhaps his crowning moment came in Tokyo at the 1991 World Championships when he was part of a quartet, including Kriss Akabusi, John Regis and Roger Black, that beat an American squad who had dominated for several years.
Derek's sporting accomplishments make him the perfect motivational speaker and a truly inspirational figure to the young and the old. He now delivers keynote speeches to leading businesses, relating to delegates the many ways in which they can learn professional lessons from his experiences in athletics.
For more information on booking Derek Redmond, or in fact any of our sports speakers, please call the Champions Speakers agency on 0207 1010 553 today, or fill out any of our online forms.