When Steven Gerrard announced his retirement from football after a 19-year career, he wasn't short of former teammates, managers and professionals from the wider footballing world congratulating him on his extraordinary achievements in the game. One of the best midfielders of his generation, Gerrard was lucky enough to play alongside some of the best players in world football, amassed 114 England caps and won every trophy in the game with Liverpool, apart from that elusive Premier League title.
One of the former teammates he has previously described as having one of the biggest influences on his career is former Scotland, Liverpool and Leeds midfielder Gary McAllister. With Steven Gerrard just 20 years of age and slowly making his name on Merseyside, Gary McAllister arrived at the club and his experience and knowledge of the game helped Gerrard become the global superstar he is regarded as today.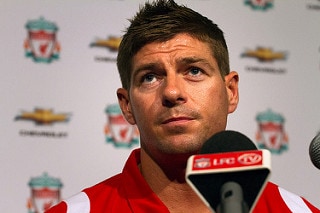 Steven Gerrard has listed Gary as one of his biggest 
Starting his career with Scottish side Motherwell in 1981, it wasn't long until he moved south of the border. Watching Gary win the Scottish first division title in 1985, he was snapped up by Leicester City where he made a name for himself in England, playing 225 times and scoring 52 goals from midfield.
From there he moved onto Leeds United in 1990 where he became a cult hero, playing for six years, making 294 appearances and scoring 45 times as the Yorkshire club won the Division One title in 1992.
In 1996, Gary was bought for £3 million by Coventry City; a fee that at the time was considered very high for a player over the age of 30. He instantly justified his fee though with a string of outstanding performances in midfield.
Gary was renowned for consistency throughout his career and played at the highest level for every club he represented. Being able to sustain such high performances in a professional sporting environment is something that Gary can discuss during his after-dinner speaking events as these qualities can be applied to many different aspects of life.
After four years with Coventry, Gary made the move to Liverpool where most of his success came. Now aged 35, eyebrows were raised by supporters after his signing, but he quickly became a firm fan's favourite.
Best known for scoring a superb last-minute free kick in the Merseyside derby against Everton, Gary also played a key role in the 2001 treble-winning side that was victorious in the FA Cup, League Cup and UEFA Cup finals.
Gary scored the winning penalty against Barcelona in the UEFA Cup semi-final and then started the 5-4 victory against Alaves in the final. He scored once and contributed to three other goals in this game. Having success on such a high level has left Gary with a wealth of anecdotes to share with audiences during his speaking engagements, with his stories of being a professional footballer, winning medals and playing a key role in the dressing room enjoyable for football fans of all ages.
He left Liverpool in 2004, with many fans wishing he had been signed earlier in his career, he ended his playing days back at former club Coventry before going into coaching.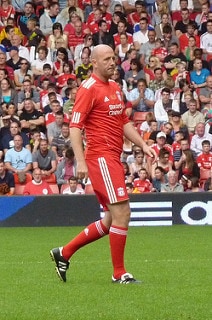 Gary is still loved by fans at Anfield.
He has since managed former clubs Coventry and Leeds before having coaching positions at Aston Villa and Liverpool. Being highly respected in the game, Gary knows exactly what is required to succeed at the highest level and, during his football speaking events, will discuss and offer advice on topics such as sustaining success, teamwork and leadership.
Fernando Torres, Luis Suarez, Xabi Alonso; the list of stars Steven Gerrard has played alongside goes on and on, so for Gary to be named as one of the biggest influences on his career is a real testament to the type of footballer and person Gary is.
To hear all about Gary's memories of a young Steven Gerrard and his career as a whole, contact our team here at Champions Speakers on 0207 1010 553 or fill out our online booking form to make an enquiry.