minute read
Mandy Hickson's life story is filled with determination, perseverance and the strength needed to dismantle societal stereotypes. Having enjoyed a thriving career with the RAF, where she became the second female pilot to captain a fighter jet on the front line, the TED talk speaker now retells her story of military success. Mandy is an influential motivational speaker, using her platform to inspire audiences to set and achieve their goals, despite the hurdles along the way.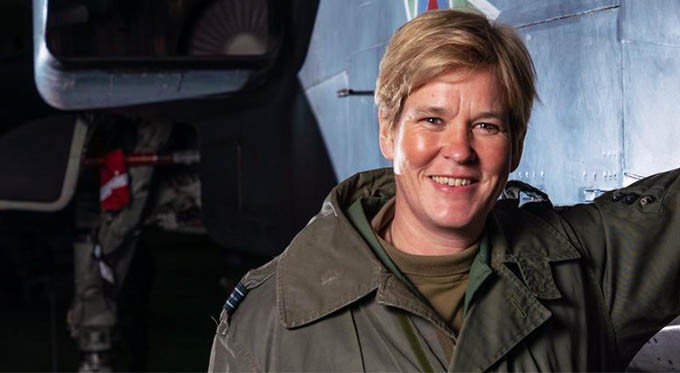 Our Director Jack Hayes had the privilege to interview the incredible Mandy Hickson. From her career in the military to the challenges she faced as a woman, she opened up about the personal strategies she employed to remain determined. When booked for events, Mandy leaves audiences with a stronger understanding of their own potential.
Q: How did you find working in an all-male squadron, was your gender ever an issue with any of the team?
"When I first started on my squadron it took a short while for everyone to adjust, myself included. I had to make sure that I kept my own identity as I did not want to be "just one of the men". Once the initial period was over, it was a huge benefit and as we see in all teams, the more diverse the better for a more successful outcome."
Q: What is it like to fly a fighter jet on the front line?
"Exhilarating, challenging, demanding and incredibly rewarding. Pretty much every superlative that you could imagine!"
Q: If you could give a piece of advice to your younger self, what would it be?
"Just because someone else does not believe it's possible, don't let their fears rub off onto you. It is amazing what you can achieve when you work hard and maintain a positive attitude. Be nice and kind to everyone as you never know when you may need their help."
Q: How do the lessons and skill sets you've learnt in the RAF transfer into everyday business?
"Wow - the list is endless. The ability to make good, well thought out decisions under pressure and to remain calm when stress is really important. To understand the power of the team and to empower everyone within that team to speak up and challenge each other."
"To lead others and to be led when necessary, not in an autocratic manner but often from stepping back so you can see the bigger picture. To name but a few!"
Q: What is your favourite motivational quote?
"Try to be a rainbow in someone's cloud" - Maya Angelou"
Q: Was being a woman in the RAF a barrier, and if so, how did you overcome it?
"It was challenging but not a barrier as it certainly did not stop me. I've always enjoyed working with and being surrounded by men and so that was not a problem. I did miss female company especially when away on detachments overseas though. There was often unconscious bias from more senior colleagues, but there has to be pioneers for any environment to change and I am proud to have been one of these."
Q: What are your best tips for creating an efficient and communicative team environment?
"It's essential to endorse a just, honest and transparent culture. One where everyone from the top management team down, talks openly about mistakes and demonstrates that they are human. By doing so, it in turn encourages the team to start to push the boundaries and be more creative in a positive way as they are not fearful of "doing the wrong thing"."
Q: As an inspirational female figure, what can you teach other women who dare to challenge the norm?
"It's important to be true to yourself. Don't be hard on yourself when you need to ask for help. Don't constantly be thinking "can we have it all" because "all" is very different for everyone. Be a role model and take others with you on that journey - what goes around comes around, EVERY time."
Book Mandy Hickson For Your Event
To book the inspiring Mandy Hickson, simply complete our online booking form or call us on 0207 1010 553.
Want more of Mandy? Her book, An Officer, Not a Gentleman explores her thrilling experiences as a fighter pilot on the front line. Starting with her humble beginnings, the memoir showcases Mandy's journey from her RAF scholarship all the way to becoming the commander of an all-male squadron. Mandy takes the reader on her life journey, transporting them to hostile environments and heart-stopping missions.