World's biggest blue diamond to dazzle at auction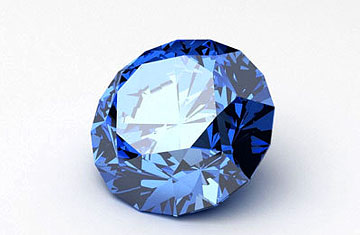 It was announced last week that Christies, one of the biggest auction house services in the world, have acquired the rights to auction the world's biggest blue diamond at the Magnificent Jewels auction in Geneva in May.
"The Blue" a stunning cobalt blue pear-shaped diamond has been in private ownership for some time, the owner, who wishes to remain anonymous, approached the auctioneers after seeing several other coloured diamonds fetch record prices at auction sales in recent months.
One auctioneer expressed their amazement at the jewel, saying: "the combination of its size, natural origin, hue, and saturated colour makes it an extremely unusual occurrence."
A flawless stone "the Blue", also known as "Blue Perfection", weighs a little over 13 carats, diamond experts at Christie's stating that to find a diamond of such size is extremely unusual. Though the origin of the diamond is not certain it is assumed that, as with most blue diamonds, "the Blue" was mined in South Africa. The stone is also notable for its quality; a stone of such size in such excellent condition is almost unheard of, both its interior and exterior are flawless leaving experts to estimate the sale of the gem to go as high as $25million.
A large contributor to the diamond's worth is the extreme rarity of blue diamonds on the whole; making up as little as 2% of the world's total diamond production, making an entirely perfect and extremely large blue diamond one of the rarest gems to go on sale in recent years.
To date the most expensive diamond to be sold at auction is the Pink Star diamond which went for more than $80million at Christie's rival auction house, Sotheby's in 2013. Whilst Christie's sold 14 carat orange diamond "the Orange" for $35.5million last year, topping the auctioneer's original estimate of $17million considerably.
Christie's auction, which will also include the 5 carat blue-green gem "the Ocean Dream" is estimated to be worth a total of $80million. The auction house's competitor, Sotheby's will hold its own Magnificent Jewels auction in the same month where one of the world's largest yellow diamonds will be set for auction also for an estimated $25million.
Expert auctioneers, such as those working for specialist auction houses like Christie's and Sotheby's, are available for hire with Champions Speakers. Celebrity auctioneers and event hosts are also available for charity auctions and events. To book an auctioneer for your event contact Champions Speakers by completing the online form or by telephone on 0207 1010 553