What Price Is The Gherkin?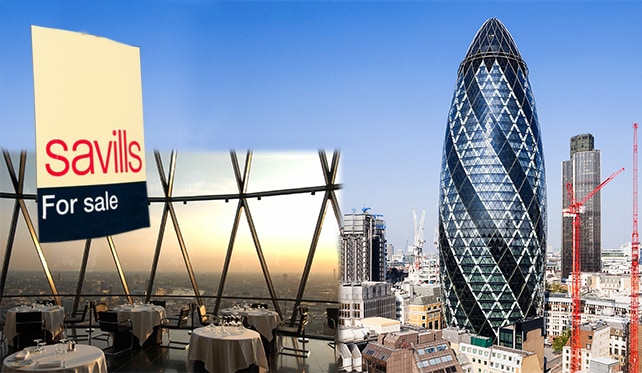 The estate agency Savills have announced that the iconic 'Gherkin' building in London, or 30 St Mary's Axe to give it its formal name, has been put up for sale on the open market. It is expected to fetch a sum of somewhere in the region of £600 - £650 million and it is anticipated that interest in the 40 storey skyscraper will come from all round the globe.
The 'Gherkin' has 505,000 sq ft (46,900 sq m) of office space and was designed by Lord Foster, who also boasts City Hall and the new Wembley Stadium as part of his architectural portfolio. It opened to great fanfare in 2004 and soon became a seminal feature of 21st century London's skyline and one of Britain's most recognised buildings thanks to its appearances on a number of films and TV shows.
The tower is currently owned jointly by the private equity firm Evans Randall and the German property investor IVG Immobilien, who bought it for a then record sum of £600 million in 2006 from the insurer Swiss Re, who still occupy as much as half of the building alongside almost 20 other tenants.
As one of the capital's trophy buildings, the 'Gherkin' will attract no shortage of potential investors and analysts expect the eventual buyer to come from overseas, most likely the Far East or North America. London's commercial property market has seen unprecedented demand from abroad in recent years, with Savills claiming that £47.7bn of a total investment of £71.1bn in office and retail property has come in from overseas.
The City's insurance district, where the 'Gherkin' is sited, is particularly buoyant as a result of the economic recovery, with insurers embarking on a flurry of leasing activity in new developments like the architect Rafael Vinoly's 'Walkie-Talkie' building in Fenchurch Street.
Stephen Down of Savills said "I suspect there will be an iconic element to this sale. After a vetting process on both sides, either one party will be selected or a number of sealed bids will be accepted, by the end of September or the beginning of October. We could see offers in excess of £650m."
Champions Speakers have a broad range of business speakers to speak at your event or function. Fill out our online form or call 0207 1010 553 to discuss your options further.