minute read
If you want your company to thrive, ensure that your staff – and especially your management team – continuously expand their knowledge and develop their skills. Business speakers are the ideal experts to help you do just that, as many have built their brands from the ground up with staggering results. 
Here at Champions Speakers, we believe in matching business speakers with companies and organisations that we know will benefit from their expertise. Gifted with natural entrepreneurial talent and years of experience, these individuals have a proven track record in the world of business, and an infectious passion for entrepreneurialism.
Top Business Speakers:
Use our handy key below to go straight to the speaker of your choice. 
Karan Bilimoria
Karan Bilimoria started his business management career by bringing Indian polo sticks into the UK and selling them through such prestigious retail outlets as Harrods. He later joined forces with Arjun Reddy Karan to create Cobra Beer, the immensely popular Indian beer brand that filled a gap in the market for a smoother beverage. 
How Bilimoria turned a brand new beer into a national and international bestseller – and how the business went from strength to strength over nearly three decades – is a story that captivates conference delegates. He is famed for his high-energy speeches that leave audiences with a newfound passion for business, a signature trait that sets Karan apart on the speaking circuit. 
Geoff Ramm
As one of the UK's most inspirational marketing and sales speakers, Geoff Ramm combines his energy and passion to ensure that each event is tailored to exceed your needs. President of the Professional Speaking Association UK, Geoff is known as the 'Billy Connolly of Marketing', seeking to inspire and entertain audiences with interactive sessions. His unique style will take you on a journey full of real-life marketing stories, that will help you gain more customers and stand out from the competition.
The creator of Observational Marketing and Well That's Fantastic, Geoff takes his audience on a real-life marketing adventure, allowing them to improve their efforts and entice new consumers. He uses case studies, videos and personal anecdotes as vehicles for his advice, to ensure audiences are both educated and entertained. A presentation by Geoff will revolutionise how you view traditional marketing strategies. 
Andy Hanselman
Author of the book Think In 3D – Seven Characteristics of 3D Businesses, Andy Hanselman encourages business to be "Dramatically and Demonstrably Different" to stay ahead of the competition. The ideology suggests the need to develop a range of skills, services, products or ways of working that your competitors simply cannot match, to lead your market.
Andy has more than 25 years of experience helping businesses to think differently, and as a motivational speaker, he offers delegates a unique insight into productive business strategies. Andy specialises in thinking outside of the box. Customising his speech to suit every audience, Andy challenges audiences to analyse – and change – their current ways of thinking, through his interactive presentations.
Every speech Andy gives aims to deliver practical solutions to business problems, quoting real case studies and examples to illustrate how his "3D" theories actually work.
Barbara Cassani
Leadership is a key quality of any successful business. It is also something that American businesswoman Barbara Cassani has in abundance. Making her name in the airline industry, she is best known for being the first leader of London's successful bid for the 2012 Olympics. As a speaker, she reveals the determination and hard work that went into such an achievement.
Barbara is a pinnacle figure on the speaking circuit. Highly respected for her insight, her vast experience founding the budget airline Go Fly reflects Barbara's understanding of business management, organisation and strategy. In celebration of her work, she was awarded the Veuve Clicquot Businesswoman of the Year Awards, and several literary awards for her book, Go - An Airline Adventure. Barbara's speeches leave audiences inspired to pursue their own entrepreneurial goals.
Colin Wilkinson
Colin Wilkinson shot to fame after taking part in the BBC TV shows Dragon's Den and You're Fired, a spin-off from the popular programme The Apprentice, headed by major business management guru Alan Sugar. Such mainstream appearances often leave audiences star struck, and make Colin one of the most sought after speakers on the circuit. 
Colin is highly experienced in taking an idea and making it into a successful business. At events, he presents to audiences how he manages – within a relatively short timeframe – to turn brand new companies into organisations with more than £10m worth of turnover. What Colin also shares with his audience is unbridled enthusiasm, optimism, and self-belief backed by a genuine passion for business.
Bianca Miller-Cole
Star of The Apprentice, Bianca Miller-Cole was named on Forbes' 30 Under 30 List, a testament to her corporate success. The serial entrepreneur specialises in turning her corporate audiences' dreams into a reality, through results-driven advice on strategy, innovation and marketing.
In 2012, Bianca founded The Be Group, a personal development service that focused on building personal brands for her clients. She is also the owner of Bianca Miller London, a hosiery brand committed to increasing options for darker-skinned consumers, who had previously been left out of the "nude" colour palette.
Many will recognise Bianca from the hit business reality show, The Apprentice. She proved her worth on the programme in 2014 when 10 million viewers watched her fight for the coveted number one spot for 12 weeks. Now a popular business speaker, she teaches entrepreneurs how to build their own brand from the ground up, using her personal story to inspire professional growth.
Kevin Byrne
An expert business management speaker and entrepreneur, Kevin Byrne is the founder of Checkatrade.com, a website that specialises in monitoring trade service providers. Following its launch in 1998, the website – then the first of its kind – quickly prospered and has become one of the most trusted companies in its field. It has generated over £2.7 billion a year for more than 20,000 companies.
With nearly one million visits a month, Checkatrade.com is a UK household name and is estimated to save the consumer over £200m a year by avoiding rogue trades. It has also generated £1.5bn worth of work for their trade members.
A man who understands that a great business lies firmly on the foundation of brand reputation, Kevin is the archetypal entrepreneur who located a gap in the market. As a business management speaker, he discusses a variety of subjects, like brand image and building consumer relationships, as well as his own experience growing a company from the ground up.
Karren Brady
Having more women in high-profile business roles is extremely important, and one woman who can discuss what it is like to be at the top of her industry is Karren Brady. Well known for her role as an advisor on the popular business reality show The Apprentice, Karren made history as one of the youngest Managing Directors at Birmingham City Football club in 1993, aged just 23.
Labelled 'the first woman in football', she encountered a great deal of sexism in the role. At events, she recounts how she overcame such criticism, revealing the secrets to overcoming adversity. Now working as Vice-Chairman at West Ham United, she continues to succeed in the world of football and is regarded as one of Britain's greatest business people.
Pete Cohen
Pete Cohen is one of the UK's leading corporate performance and motivational business speakers. A published author and established media personality with more than 20 years of experience, he is well adept at inspiring business leaders, executives and employees of all levels.
Highly regarded by the likes of IBM, Pfizer, BAA, Royal Bank of Scotland, Boehringer Ingelheim and Thomas Cook, Pete's interactive, humorous and engaging style has always gone down a treat with his audiences. The author of 14 best-selling books with titles such as Shut the Duck Up!, Life DIY and Sort Your Life Out, Pete has worked with a host of sporting giants like Ronnie O'Sullivan and Ellen MacArthur, instilling them with a sense of confidence, discipline and leadership.
Gifted with an impressive ability to inspire and galvanise people, Pete truly understands the way the human mind works. Using this exceptional skill, he can maximise potential and unlock talent in any individual.
Gareth Davis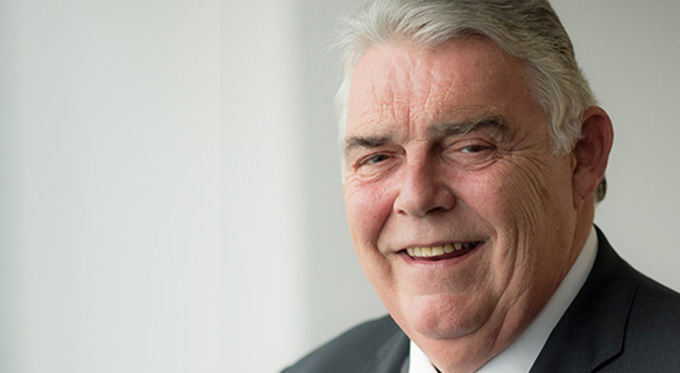 Officially one of the most successful active CEOs in the world, Gareth Davis spent 38 years at Imperial Tobacco in several roles, including Director of Finance and Executive Director, where he helped transform the company into one of the most efficient in the world. He initially retired in 2010, but after a three-month break went on to become chairman of bookmaker William Hill and, by 2012, added two more chairmanships to his name; FTSE 100 plumbing supplier Wolseley, and packaging firm DS Smith.
An internationally renowned business speaker, Gareth delivers comprehensive talks on issues including corporate transformation, as well as management and leadership of large companies with an emphasis on business and finance.
One of his recent speaking engagements was for the Merchant Risk Council at the world's largest e-commerce and payment conference in Paris, where 95 per cent of the audience rated him "excellent". Gareth's years of expertise in the industry and confident presenting style allows him to tailor his speeches to suit different industries, making him an ideal speaker for any corporate event.
Book A Speaker Today
To book any of the business management speakers on our books, contact us by filling in our online contact form or by giving us a call directly on 0207 1010 553.