Stats Put Matthew Hoggard Top Of The English Test Bowling Pile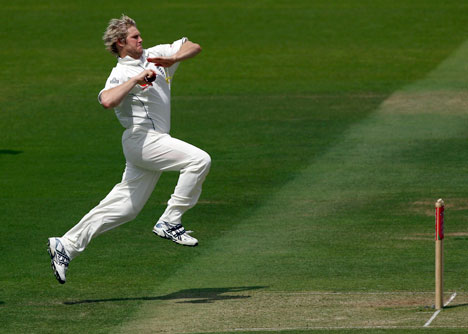 With a grand total of 248 Test wickets, the former Yorkshire and Leicestershire seamer, Matthew Hoggard MBE, is ninth on the all-time list of England wicket-takers, but a recent BBC Test Match Special study has revealed a new statistic that confirms Matthew as England's greatest ever Test bowler!
Since his retirement from cricket, Matthew has become a strong presence on the after dinner speaker circuit. Renowned for both his sense of humour and his honest and forthright opinions on the game, he is in great demand for all manner of corporate events and private functions and his views are increasingly sought by the traditional and digital media.
Research weighted batsmen by their place in the order – 11 points for the opener taking strike, down to 1 point for the Number 11 batter – and then each bowler's career victims' points totals were totted up. Finally, each bowler's total was then divided by the number of wickets he'd taken, to give an average total.
This innovative metric demonstrates that Matthew, who was often portrayed as a foil for other faster bowlers such as Steve Harmison and Simon Jones, was able to make more of the new ball than his colleagues. The study shows he is followed in the pecking order by Graeme Swann and James Anderson, who is just three wickets shy of Sir Ian Botham's all-time Test wicket haul of 383 at the time of writing.
Matthew was never one to allow praise, even of this nature, to go to his head. When interviewed about the accolade, he told the BBC "My role was very much on the shopfloor, sweeping up after the main strike bowlers like Jones, Harmy and Jimmy Anderson. The job was to contain opposition batters and keep the scoring low but often, having survived a few overs against my faster mates, they fancied whacking me all over that shop and got a bit sloppy – not that I was complaining!"
The 2005 Ashes winner has real personality, a wonderful stage presence and more than a few great stories to share from his time at the pinnacle of world cricket. He makes a fantastic impact as an after dinner speaker and measures line and length of his delivery to the precise requirements of his audiences.
To book Matthew Hoggard MBE for your next company event or function, fill out our online form or call Champions Speakers on 08453 31 30 31.