Sports 'Super Sunday' Viewing Figures Soar
Wow. The hearts of the nation have barely had a chance to slow since we were treated to a magnificent Sunday of sport. In this article we take a look at the weekend's winners, from who won the TV rankings to who cemented their sporting legacy.
1. England Win the ICC World Cup
7.9 million tuned in to watch the ICC Cricket World Cup Final
England may have won the cup but cricket won the day, as the fixture went all the way to a Super Over following Stokes' superhuman showing at the crease. England got the rub of the green in many respects, against a battling New Zealand team, who must go down as one of the most unlucky teams and most honourable runner ups in history. In terms of sportsmanship, Player of the Tournament, Kane Williamson and his team deserve special praise for an outstanding performance and a stellar sporting reaction to losing in such circumstances.
Ben Stokes almost single-handedly turned a likely Kiwi victory into a tie in normal time. Tired, yet dogged, Stokes returned to the field for the Super Over alongside big-hitter Jos Buttler, as the two racked up an impressive 15 runs from six balls. It was then up to the dynamic twenty-four-year-old bowler, Jofra Archer, to send England into delirium.
After giving a wide away in his first ball and getting hit for six on his second, Archer regained his composure with the support of England captain, Eoin Morgan to ensure the Three Lions walked away with the trophy in what former England captain Andrew Strauss said was "The greatest game of cricket in history".
It may have been edged out by Wimbledon viewing figures in British homes but with thousands congregated around city streets, there is no doubt this is one that has inspired people around the UK and the world. Already an inspirational sportsperson, the game and tournament established Ben Stokes as the clear frontrunner for the BBC Sports Personality of the Year awards.
The Champions Speakers Agency recently teamed up with STH & ICC to deliver the services of cricket speakers including Henry Blofeld to Matthew Hoggard for hospitality events surrounding the ICC World Cup fixtures.
2. Novak Djokovic Defeats Roger Federer in 5-Set Wimbledon Thriller
BBC One's Wimbledon coverage peaked at 9.6 million
A thriller if ever we've seen one. Novak Djokovic proved his elite temperament as he returned from two match points down to beat an inspired Roger Federer in the longest Wimbledon match-up in history. It was an intense battle between the world number one and three as both continued to square up the contest but it was Djokovic who edged out Federer in a five-set contest that ended in a tie-break - the first time the new rule of playing a fifth set tie-break at 12 all had been used.
There was a nice moment at the end of the game when Djokovic said of 37-year-old Roger Federer, 'you inspire me' cementing both players statuses as great sporting personalities.
See our selection of tennis speakers today.
3. Hamilton Wins a Record Sixth British Grand Prix
2.5 million watched Hamilton make history
Any other weekend, Lewis Hamilton's record-breaking sixth British Grand Prix win would have been the undisputed headliner. But this was no ordinary weekend. Hamilton pulled off a strategic masterclass as he overcame the threat of Valtteri Bottas to overtake Jim Clark and Alain Prost's British Grand Prix record to bring it home, in a day he will remember until his 'dying day'. Another contender for sportsman of the year, Hamilton will hope to rival the likes of Ben Stokes for the BBC Sports Personality of the Year award in December 2019.
We work with the world's leading motorsports speakers from former World Champions to popular television commentators. You can even book the original Stig, Perry McCarthy!
4. Simona Beats Serena in Straight Sets
Simona Halep was another whose dream came true over the weekend, as she saw off Serena Williams in a spectacular straight sets victory. In a performance that has been described as 'a portrait of focus', 'fearless' and 'magical', Simona Halep proved in a stunning Centre Court performance that she has the tools to be an all-time great.
5. Daryl Impney Wins 9th Stage of the Tour de France
Daryl Impey's stormed to his first stage win in the ninth stage of the Tour de France. A memorable day for the South African -cyclist was also a good one for Julian Alapilippe who won back the Yellow Jersey with a late attack. It was a day relatively free of drama compared to Saturday in St-Etienne which saw Geraint Thomas come back from his second crash in the tournament to keep his hopes of success in the tour alive.
Book cycling speakers & world-famous Olympic speakers today!
6. A Quiet Weekend in Football?
In the height of summer, football transfer rumours are inevitably deafening. Noises were unusually mute though as other sports showed off to the world. A couple of Africa Cup of Nations finals barely made the back pages of sports publications despite Premier League stars such as Sadio Mane and Rihad Mahrez reaching the final of the competition with Senegal and Algeria respectively.
Crouchy Retires
Elsewhere, Peter Crouch retired this weekend to an outpouring of warmth from the British public. The beanpole behind the famous robotic celebration, Peter Crouch retired after 599 domestic appearances and 42 international caps which yielded a return of 22 England goals. But it is perhaps his status as one of football's most likeable stars that have won over the hearts of the nation. Honest, endearing and often hilarious, he is the voice of the hugely popular series, That Peter Crouch Podcast.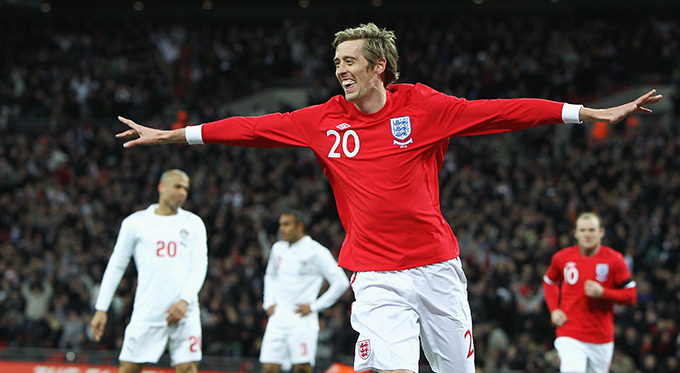 £80 million for Maguire
Harry Maguire - One of England's World Cup heroes, is set to be the world's most expensive defender should his proposed £80 million transfer to Manchester United go through. Leicester City is supposedly looking to replace him with Lewis Dunk, in a £45 million deal.
Book a football speaker today!
Check out our regular blog posts for the latest sports news and commentary. To book sporting personalities, sports leaders and sports speakers from the world of Formula One, Tennis, Cricket, Cycling, Football and more, contact the Champions Speakers agency by filling in our online contact form or by calling a booking agent directly on 0207 1010 553.