Sochi 2014: Jamaican Bobsleigh Team Qualify for Winter Olympics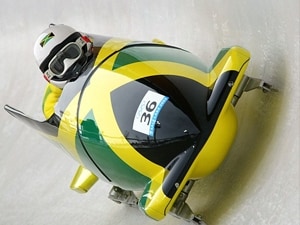 After a twelve year absence from the sport, Jamaica have once again qualified to compete in the Winter Olympics 2-Man Bobsleigh. The team will consist of 46 year old driver Winston Watts and brakeman Marvin Dixon. Team leader Watts has spent approximately £100,000 in order to qualify for the Games, as well as receiving charitable donations from online institutions and funding from the Olympic organisers.
When Jamaica initially qualified for the Bobsleigh at the 1988 Calgary Olympic Winter Games, the inspirational story that ensued led to the hit film Cool Runnings, a fictional depiction of the squad's journey in order to compete and fulfill their dreams, the story of their achievement is notable due to Jamaica's lack of both snowy winters and bobsled tradition. Ever since the film's screening in 1993, Jamaica have enjoyed a worldwide following in their efforts to compete in various Winter Olympic disciplines.
Watts and the Jamaican bobsled team's efforts have been commended by Great Britain bobsleigh director Gary Anderson:
"I know how hard Winston works, he's a great athlete and ambassador for the sport, It is great to have countries that aren't traditional alpine nations competing against the bigger nations in the sport."
Champions Speakers have a range of Olympic Speakers to provide after dinner or keynote speeches, or to host an event or conference. You can browse our speakers to find your ideal personality and fill in our online form or call us to discuss what you need on 0207 1010 553