Sir Christopher Chataway, former world record holder and Roger Bannister's pacemaker, dies aged 82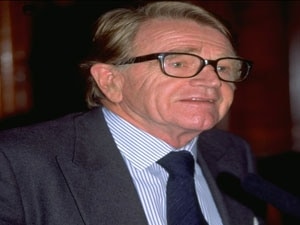 An integral part of one of sport's most iconic moments, Sir Christopher Chataway, who acted as pacemaker during Roger Bannister's four-minute mile, has died aged 82. He even eclipsed his good friend to become the very first winner of the prestigious BBC Sports Personality of the Year award after breaking the 5000m world record.
In a race between London and Moscow at London's White City, Chataway faced current record-holder Vladimir Kuts in a much-anticipated contest. Chataway came into the race as an amateur who did not train more than four days a week.
With 12 million watching on TV, Chataway kept pace with Kuts throughout, leading to an exciting showdown. The Briton managed to beat the man from the Soviet Union by a fifth of a second, the first time at a metric distance that a world record had been broken by a Briton on British soil.
Chataway had won the British Empire and Commonwealth gold at 5,000m already that year when Bannister won the mile.  He went on to become ITV's first newsreader, later a Tory MP and a minister in the Macmillan government.
Champions Speakers has an incredible selection of sports speakers, including a large number of Olympians. Browse through our after dinner speakers to find the perfect personality for your event or conference. Call Champions Speakers on 0207 1010 553 for more information.