Scotland Votes to Stay in the United Kingdom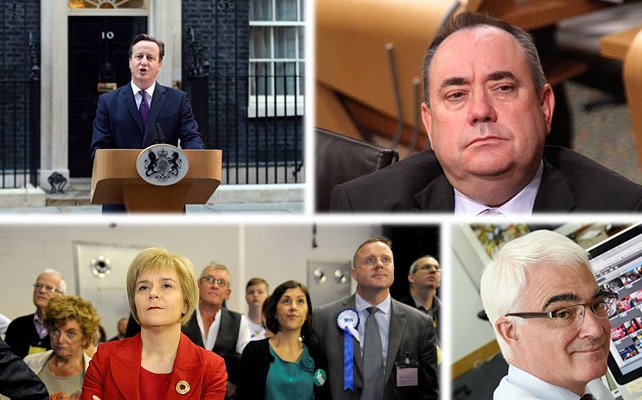 The results are in and the Scotland's decision to stay in the United Kingdom has been finalised. The rollercoaster ride to keep Scotland unionised began at the start of 2012 on a bleak January morning, where David Cameron announced on TV Presenter Andrew Marr's Sunday show that he would push Alex Salmond into making up his mind over independence.
Settling the issue of independence once and for all, Cameron ensured that this wouldn't become a 'neverendum', by not letting Salmond another question on the ballot sheet to give voters the option to opt for a so-called 'Devo-Max', keeping nationalists from revisiting the question of independence over and over again.
Fighting a well-oiled and well-funded campaign, David Cameron enlisted the help of Alistair Darling, MP for Edinburgh South West, to lead the campaign, being one of the few labour ministers to emerge from the previous disastrous Labour campaign relatively unscathed.
Darling proved his worth by the time of television debates, showing a passionate and heart-felt side to his argument that outshone a hesitant Alex Salmond. With the emergence of Gordon Brown to bolster the ranks of the No campaign, both campaigns went into the ballot day with everything to play for.
A huge turnout of 86% across Scotland saw one of the most prominent and legitimate democratic actions seen in the modern era of politics. After the votes were counted, the result was announced at breakfast time this morning, with 55.3% of voters opting to stay part of the United Kingdom.
David Cameron was overjoyed with the news:
"The people of Scotland have spoken and it is a clear result. They've kept our country of four nations together and like millions of other people, I am delighted. As I said during the campaign, it would have broken my heart to see our United Kingdom come to an end and I know that this sentiment was shared not just by people across our country but also around the world. Now the debate has been settled for a generation, or as Alex Salmond has said, perhaps for a lifetime. So there can be no disputes, no reruns - we have heard the settled will of the Scottish people."
The result marks a new lease of life for the four nations of the United Kingdom, with further devolution of powers to Scotland that will ensure Scottish Parliament has more of a say over the governing of their nation, yet remains part of a union that should prove beneficial to all.
A landmark political event for the United Kingdom, you can be sure to enlist the services of any of our business speakers to find out what all this really means for trade and business relations in the UK going forward. For more information, either browse our website or call our after dinner speaker team on 0207 1010 553 today.