The Revenant wins big at 73rd Golden Globes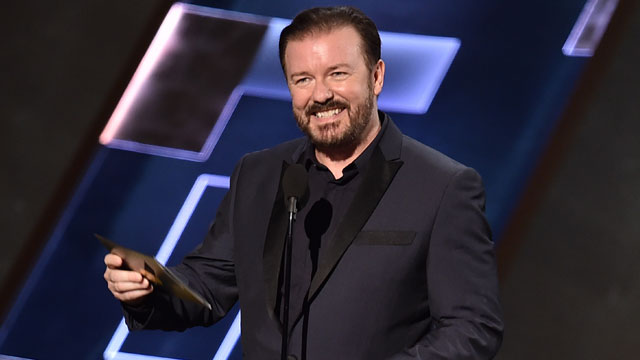 The eyes of the showbiz world all turned to the Beverly Hills Hilton on Sunday 10 January as the 73rd Golden Globe Awards took place, honouring the best in film and American television of 2015.
A glitzy and star-studded occasion as always, the event was hosted once again by British comedian Ricky Gervais, his fourth time on the podium. He last appeared as host in 2012 – when he attracted controversy for some of his more colourful comments about the assembled Hollywood glitterati.
The Office star was on form again four years on, entertaining and shocking the audience in equal measure with his hilarious, close-to-the-knuckle humour – and as with his previous three appearances, those following the event on television and on social media loved every second of it.
The event's big winner was The Revenant, which picked up three awards – leading man Leonardo DiCaprio won best actor in a drama, Alejandro G Inarritu won for its direction, and the movie itself won best dramatic film.
Other award winners include Matt Damon (best actor in a musical or comedy) and his film The Martian (best musical or comedy film), Jennifer Lawrence (best actress in a musical or comedy for Joy), Brie Larson (best actress in a drama) and Sylvester Stallone (best supporting actor).
At Champions Speakers we have both actors and comedians on our books, meaning you can select the perfect individual to win your production an industry award as well as the one to bestow it.
Two actors who have experienced the glory of winning accolades are James Buckley and Greg Davies, who played obnoxious compulsive liar Jay Cartwright and sadistic headteacher Mr Phil Gilbert in hit comedy television show The Inbetweeners, which won a plethora of awards including a National Television Award for Digital Choice.
Alternatively, you could opt for a comedian with experience of hosting shows, such as Dara O Briain, the well-loved presenter of Mock the Week, or Dominic Holland, who has hosted many awards ceremonies and caused hundreds of audiences to erupt in laughter thanks to his acerbic yet clean-cut humour.
To find out about James Buckley, Greg Davies, Dara O Briain, Dominic Holland or any other of our actors and comedians, contact Champions Speakers by telephone on: 0207 1010 553 or by completing the online form today.