Record Sums Change Hands As The Transfer Window Shuts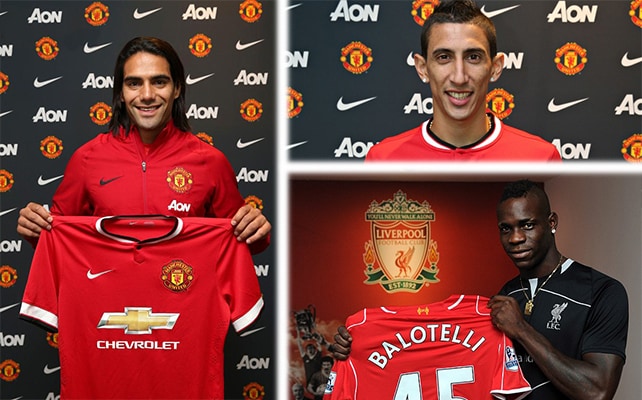 It has become very much part of our footballing culture in recent years that, as the transfer window slams shut on September 1st, there is a last-minute flurry of activity in the market. This year's trolley dash, though, has broken all records. In the summer of 2013 Barclays Premier League clubs spent a total of £630m, a figure seen as enormous at the time, but that has this year been put in the shade by a 32.5% increase in the amount of money changing hands.
According to the analysis of business advisory firm Deloitte, this £835m outlay is almost double that of La Liga in Spain and confirms once more the Premier League's status as the richest league on the planet. During the 2012-13 season clubs in England's top-flight took fully £25m more apiece from broadcasting contracts than the preceding season, boosted by BT Sport's entry into the market.
Despite relegation, last season, bottom side Cardiff City took £62m in prize and TV money and the top four all banked between £90m and £100m. Premier League status now confers such riches the scramble for survival understandably translates into increased transfer spending. Champions Speakers has a wonderful stable of both football speakers and keynote finance speakers ready to give your event their take on the latest on-field and off-field patterns in elite football.
In addition to a record overall spend, new ground was broken by Manchester United who was able to lavish Real Madrid with £59.7m in exchange for the services of Argentinian midfielder, Ángel Di María. United were the biggest spenders, setting a British record of £150m in summer squad enhancement.
Many would argue that this level of spending by United was overdue after a difficult season that saw them fail to qualify for the bonanza of the UEFA Champions League and having failed to match years of largesse by Chelsea and their local rivals, Manchester City. Others maintain that United's summer additions have failed to strengthen a depleted defence and point to the last minute £6m loan arrival of Radamel Falcao, on a reported weekly wage of £346,000, as a reactive step aimed at stabilising the club's share price in New York.
It has not all been an unfettered free-for-all, however. Manchester City is among those who have led the spending in recent years but this summer they have been restrained by UEFA's Financial Fair Play rules that seek to level the playing field somewhat. Still, the champions remain many people's favourites to retain the title.
Chelsea have also had a relatively quiet window by their standards, taking care of much of their business before the World Cup with the additions of Diego Costa and Cesc Fabregas, albeit for a combined total of £62m, and only going in for striker, Loïc Rémy, over the weekend. Liverpool on the other hand have made £117m of signings, responding to the demands of European football by bulking out their squad with the likes of Dejan Lovren, Adam Lallana and Rickie Lambert, all from Southampton, and last week Mario Balotelli from Milan for a reported £16m fee.
Other notable spenders included Southampton, who pocketed a net profit over the summer despite splashing £75m, and Hull City who were arguably deadline day's busiest traders with an outlay of over £30m. For a club of Hull's size and relative budget that kind of spending, along with the subsequent wage commitments, represents a sizeable risk, one ultimately predicated on avoiding the Premier League drop and securing further millions next season.
To book Peter Shilton OBE or anyone of our broad range of football speakers for your corporate function, fill out our online form or call Champions Speakers on 0207 1010 553 today.