Portuguese Football Legend Eusebio Dies At Age Of 71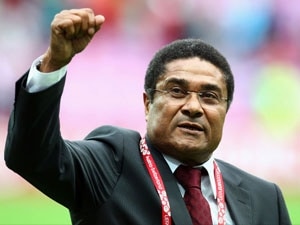 Portuguese Football legend and one of the greats of the 1966 World Cup Eusebio da Silva Ferreira has died just three weeks before his 72nd birthday.
Famed for his blistering performances during the 1966 Football World Cup, Eusebio guided his side to third place in the tournament whilst becoming the competition's highest scorer with nine goals.
Nicknamed the 'Black Panther', Eusebio's legendary explosive acceleration and amazing dribbling skills enabled him to score 733 goals in 745 professional Football appearances. This record established him as one of the world's greatest ever goalscorers.
Eusebio spent fifteen years of his professional career at Benfica, where he played a major role in winning ten league championships, five Portuguese cups and the European Cup in 1962.
Along with his huge natural talent, Eusebio's inspirational unpretentious and caring manner on the pitch marks him as one of the greats of the game. An inspiring quality best shown during the 1968 European Cup Final, a fine save from Manchester Goalkeeper Alex Stepney stopped a crucial shot by Eusebio. Leading to Eusebio stopping to applaud his efforts despite the ongoing play in perhaps one of the most important games of his life.
English Football Legend and Football Speaker Gary Lineker paid tribute to Eusebio: 'Sad news that Eusebio has died. One of the greats of his generation. Could play and strike a ball like very few others'.